Epic Systems is one of the largest providers of health information technology, used primarily by large U.S. hospitals and health systems to access, organize, store and share electronic medical records.
The company has a reputation as both a technological leader and one that comes with an expensive price -- sometimes more than $1 billion -- for its products and related installations.
History, earnings and culture
Started in 1979 by computer programmer Judy Faulkner, who is now the company's CEO, Epic is a privately held company offering products tailored to address various aspects of medical center operations, including population health management, patient engagement and revenue cycle management.
Since the federal government established electronic health record incentive programs in 2009 to promote the adoption of EHRs through meaningful use of the technology, Epic has seen its client base grow.
In 2017, the Milwaukee Journal Sentinel reported that Epic employed 9,700 people and earned revenue of $2.5 billion in 2016.
Epic has created an imaginative corporate campus in Verona, Wis., that includes features such as a large treehouse, beautiful outdoor settings and a faux subway station indoors. The company hosts thousands of visitors at a user conference each year at its headquarters, with a highlight being what costume Faulkner will don during her keynote (past choices included a wizard and Lucille Ball).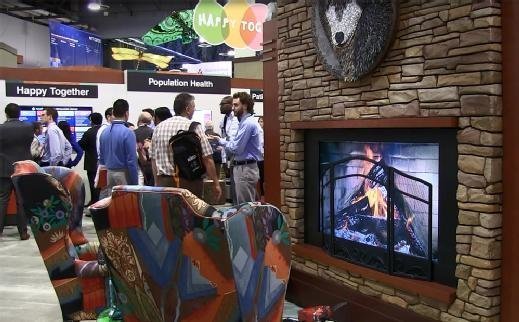 Meanwhile, at conferences the company exhibits at, its booth has included quirky additions such as a large butterfly and fireplace (which symbolized Epic's support of the Fast Healthcare Interoperability Resources, or FHIR, standard.)
Market share and major competitors
Epic states that 190 million people across the world use its technology. Meanwhile, Forbes has estimated that at least 40% of the U.S. population has medical data stored on an Epic EHR, and Epic's clients include some of the biggest names in healthcare.
KLAS Research concluded in 2017 that Epic had the largest EHR market share in acute care hospitals at 25.8%. Epic's top competitor, Cerner Corp., took 24.6% of the market, showing the close tug of war between the two companies for customers.
Other competitors include Allscripts (which in 2017 bought McKesson Corp.'s EHR technology), Meditech and AthenaHealth.
Key products and services
Epic Systems' offerings integrate across a variety of settings and functions. Here are some of the company's prominent products and services:
EpicCare, the core EHR product, is tailored for physicians and organizations and focuses on clinical care, decision support and streamlined processes.
MyChart provides patient engagement features, including family health information.
Healthy Planet uses data interoperability to boost population health management efforts.
Revenue cycle management software helps handle patient claims and billing.
Tapestry addresses managed care activities.
Mobile interfaces -- including Haiku for smartphones, Canto for tablets and Limeric for the Apple Watch -- aid patient care via mobile devices.
In 2018, Epic plans to release Sonnet, an EHR for smaller hospitals that is less expensive than the company's main products but also has fewer functions.
Criticisms of Epic software
Due to its influence, product costs and, in some cases, practices, the company is often criticized.
CIO of Massachusetts General Hospital discusses Epic EHR installation.
One of the chief complaints, historically, has been against its EHR systems' lack of interoperability with other vendors' products. Epic seems to have recognized this problem and is taking steps to change.
The company was also not as fast as smaller EHR vendors to embrace cloud-based medical records systems.
The costs for installing an Epic system can be enormous. For example, Partners HealthCare -- a health system that includes Massachusetts General Hospital -- rolled out Epic's EHR in 2016. The project took three years to finish, and the initial price tag of $600 million doubled to $1.2 billion by the time the Epic implementation ended.
Recent news: CVS and Supreme Court
In October 2017, Epic Systems and CVS Health announced an initiative to help lower drug costs using Epic's population health and analytics platform. The project will give providers real-time information about prescription insurance coverage and less expensive alternative drugs, the companies said.
Meanwhile, in 2018, the U.S. Supreme Court is expected to rule on Epic Systems Corp. v. Lewis. The case centers on whether an agreement by a company and employee to settle employment disputes through individual arbitration, rather than class action, is allowed under the Federal Arbitration Act, according to the Supreme Court's blog, SCOTUSblog.
This was last updated in
January 2018
Continue Reading About Epic Systems