Kapley - Fotolia
A chemical company simplifies workflows using RPA
Software from Automation Anywhere, an RPA vendor, was easy for Eastman Chemical Company employees to use at a desktop level to automatically handle daily tasks.
Business end users at the Eastman Chemical Company, particularly in the finance department, had taken Microsoft Excel to its technological capacity.
"They were kind of pushing Excel to it limits with macros," said Marshall Couch, intelligent automation consultant at Eastman.
So, about a year ago, Eastman, a leading manufacturer of chemicals, plastics and fibers with more than $10 billion in revenue annually, began looking for a robotic process automation (RPA) vendor to automate enterprise-level and desktop-level processes by using RPA.
Picking Automation Anywhere
The company, based in Kingsport, Tenn., chose Automation Anywhere, an RPA vendor headquartered in San Jose, Calif. Earlier this month, the vendor released a major update to its platform, Enterprise A2019, which, among other things, enables customers to use the platform fully in the cloud.
The vendor has more than 3,000 customers in some 90 countries, and works with hundreds of partners to enable users to pair technologies from other vendors, including many AI vendors, with its RPA platform.
Eastman decided to go with Automation Anywhere a few months before Couch joined the automation team, but he said he understands why Eastman picked Automation Anywhere.
"It really came down to just the workflow," he said.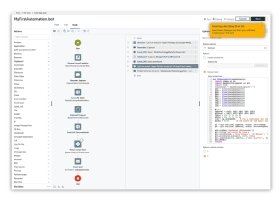 Compared to UiPath and Blue Prism, two of the largest RPA vendors in the world, Automation Anywhere has a cleaner and easier workflow, Couch said.
With the other two platforms, "it's a little bit more like a flow document," Couch said. Automation Anywhere, however, is a "little more codelike, but still drag and drop," enabling Eastman to use the platform for large, overarching processes, such as processing sales, as well as enabling individual business users at the company to start using RPA at their desks.
Using RPA
Eastman, a sprawling global enterprise with 15,000 employees, has "a ton of systems," Couch said, and uses Automation Anywhere to aid in a variety of different business processes.
[Going with Automation Anywhere] really came down to just the workflow.

Marshall CouchIntelligent automation consultant, Eastman Chemical Company
Using RPA, the chemical manufacturer, for example, automatically processes emailed purchase orders, Couch said. Using OCR with Automation Anywhere, Eastman can automatically read emails, extract relevant data and change purchase orders to sales orders, Couch said. The platform enables Eastman to automate orders or other processes in bulk as well.
At their desktops, business can, for example, easily , set up a process to automatically log in to a regulation website and download information about recent regulations, Couch said.
Challenges and the new release
While Automation Anywhere has worked well for Eastman, Couch noted a few challenges Eastman has had with the platform, though some of the problems have been remedied in the Oct. 4 Enterprise A2019 release, he said.
The release, which, in addition to enabling customers to use the platform entirely on the cloud, simplified the interface, added and enhanced built-in AI-driven capabilities, and enhanced its attended automation capabilities, enabling bots working front-end processes to signal to humans when they encounter problems.
"It's slick," Couch said of the release. "There are lots of improvements overall."
The update, for one, made it easier to get to the metabot commands, which Couch said had been somewhat confusing to find. Before, reaching a bot involved several steps. Now, "if you want a bot, you log in, find it and open it up," Couch said.
"They absolutely removed a lot of friction in the process of building a bot," he said.
The update also added new scripting capabilities, notably, Python, Couch said. Now that the platform can run entirely in the cloud, Eastman can also worry a little less about its IT infrastructure, Couch added.
Still, he said, there are a few things the update didn't address. In particular, Couch said he would love to see more to link a daemon with system errors to, for example, identify if an application a bot is working with has gone into a nonresponsive state. Right now, the bots Eastman use are unable to detect if a document is nonresponsive.
"A better dameon integration in system-level events would be super awesome," Couch said.
Yet, he added, that might not even be possible unless a custom-built operating system was used with the RPA platform. The problem, then, might not lie specifically with Automation Anywhere, and may not be fixable on its end, he said.