RPA use cases that take RPA to next level
Taking RPA use cases to the next level entails automating complex processes, establishing a governance program and using management techniques such as Six Sigma.
CB&S Bank was no stranger to automation when it started to invest in robotic process automation a few years ago.
Based in Russellville, Ala., the financial institution had been using scripts to automate small, specific tasks to improve efficiencies for the past seven years; the ROI was impressive, saving the organization about 800 hours personnel time a year by eliminating manual tasks, like data entry.
Buoyed by the ROI, CB&S Bank pursued RPA use cases, initially utilizing Nintex Foxtrot software to develop and deploy bots to retrieve loan documents and move data points from those documents to the various other systems.
Today, the bank has bots handling 10 different processes within the organization.
Justin Hof, who, as chief digital officer, oversees technology operations and transformation, said his IT team in recent years worked to move beyond easy wins to find more complex financial processes that could benefit from RPA.
An RPA use case in point: deploying bots for the bank's customer identification program, which applies logic and targets multiple data points to flag new customer accounts that could be fronts for fraud, money laundering or other illegal activity.
"We're beyond the small ones, where it does three or four steps and it's done," Hof said. CB&S had learned enough about RPA to take "a big leap."
Bots on the rise
The use of RPA is on the rise. Deloitte's 2018 Global RPA Survey, its most recent release, found that 53% of the 400-plus respondents have already started using RPA, with another 19% planning to implement the technology within two years.
The report predicted that RPA "will have achieved near-universal adoption within the next five years" if the current adoption rate continues.
Despite the aggressive adoption rates, however, organizations haven't yet widely deployed bots. The same Deloitte survey found that 30% of respondents have investigated or built a proof of value for RPA deployment, with one to five robots in operation. But only 12% have six to 10 robots, only 8% have 11 to 50 robots and a mere 3% have 50 or more.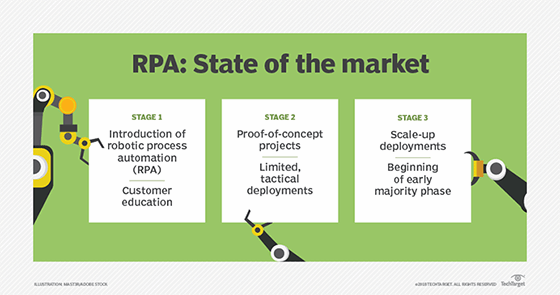 A report from consulting firm Protiviti drew similar conclusions.
Its 2019 survey, Taking RPA to the Next Level, conducted in collaboration with ESI ThoughtLab, surveyed 450 executives around the world and found that, on average, companies are investing a hefty $5 million in RPA in the current fiscal year, with the highest investment -- $10 million to $20 million -- coming from the largest organizations surveyed.
Yet, it also found that 40% have trouble prioritizing potential RPA initiatives, 32% struggle to make convincing business cases for its use and 30% find it difficult to decide on the best applications of the technology.
"We're still talking to a lot of organizations who are just sort of figuring this out, so they're contemplating really small starting points. There are still uncertainties, questions about whether this is something they should be doing and whether the technology is going to be around," said Tony Abel, managing director and global RPA practice lead at Protiviti. "They're just not thinking about the business case and the ROI comprehensively enough. They're thinking, 'Let's just see what this thing has to offer.'"
Such thinking is a mistake, one that could cost organizations both savings and revenue, according to Abel.
Instead, enterprise leaders need to develop strategies to move beyond proof-of-concept projects and easy-win RPA use cases and into the development and deployment of bots that automate more and more complex processes as part of the organization's larger digital transformation roadmap.
Data governance, Six Sigma underpin mature RPA
That's where CB&S Bank is now, Hof said, noting that his IT team is looking at more processes where bots could generate even greater efficiencies.
To support that effort, he said his staff continues to refine its data and data governance programs. Hof said CB&S Bank is also focusing on how to create leaner processes overall, a move that has required him to train staff in the Six Sigma principles. CB&S Bank has also opted for an iterative approach to RPA adoption, leaning on project management skills, such as using ongoing to gain buy-in, Hof said.
Hof acknowledged that moving RPA past those first, elementary RPA use cases has some challenges. Initial deployments RPA tend to raise employee concerns about job loss. Scaling RPA, however, requires businesses to adopt a data-driven approach to getting work done. Hof said he has had to work on "getting everybody on the same page [with the idea] that data can make decisions, that we can trust the data. And then, that we can trust the processes."
Building an RPA program
Protiviti's Abel said organizations shouldn't rush into complex RPA projects but rather start with deploying bots to automate simple tasks -- an approach that lets staff build skills and prove the value of RPA. This approach certainly follows the long-standing IT principle of using small wins to build support for bigger deployments.
However, Abel said, IT shouldn't unnecessarily limit itself to deploying bots for only those simple use cases.
"There's a need for balance. Don't take on the world, and don't take on very complex, end-to-end processes [initially], but RPA is powerful enough that you should take on a meaningful enough process so that, when it's automated, there's excitement and interest," he explained.
Abel said he advises organizations to look for large processes with repetitive tasks that could be automated, make the changes needed to optimize the process and then add bots to more and more pieces of the process.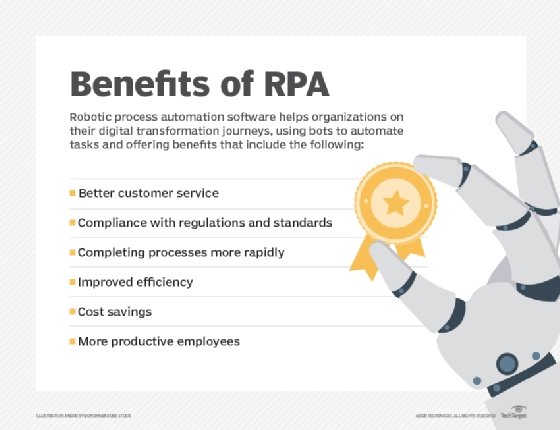 "Start with a small piece of a larger process and take on more," he said. "Then, look upstream and downstream, and ask, 'How do we take that small use case and expand the scope of what the bot is automating? Can we take on more steps in the process, or can we initiate the automation earlier in the process to grow?'"
At the same time, Abel said CIOs should create an RPA center of excellence and develop the tech talent needed to take on bigger RPA use cases. He agreed that a strong RPA governance program to ensure the bots are monitored and address any change control procedures is crucial. It's also essential to maintain a strong data governance program, he said, as the bots need good data to operate accurately.
Additionally, Abel said he advises CIOs to work with other enterprise executives to develop RPA use cases that align to business objectives so that RPA deployments have long-term value. Abel pointed to one client's experience as a cautionary tale. He said that company jumped right into RPA, deploying bots to automate various tasks. However, none of those bots was in operation 18 months later, due to changes to the applications they interacted with -- upgrades and replacements had rendered the bots obsolete.
Tackling complexity
Ismael Peinado, CTO of Toptal, a platform company connecting freelance workers and employers, said his team has used Automation Anywhere software to deploy bots into its environment. Like other CIOs, he said his company developed first bots to automate simple tasks that delivered quick wins.
With success there, Peinado said his team is now looking at deploying bots for more complex processes, such as handling tickets for external customers who need support.
To ensure that its efforts to scale RPA are successful, the company has invested in bot monitoring tools, Peinado said. Toptal uses New Relic for application performance monitoring, as well as New Relic's Browser, Insights and Infrastructure tools. It also uses an in-house monitoring tool, which was based on the open source monitoring software tool Zabbix but will be migrated to Prometheus.
The monitoring systems are divided into three modules: data gathering, monitoring and alerting. Peinado said the monitoring and alerting modules make use of the company's platform so that IT receives alerts in Slack if there are any failures or recoveries in the automation processes.
Peinado has also formed a team dedicated to finding and analyzing processes that are good candidates for automation.
Avoiding monoliths
Melissa Harris, who, as an IT director, owns automation and workflow management at insurance company Unum, has a different take on scaling the use RPA bots in the enterprise, in that she believes there's value in sticking with simpler automation tasks.
Harris said her company started using RPA and robotic desktop automation from Pegasystems in early 2016, first deploying the technology in its contact center to quickly surface information for workers.
The company now has both attended and unattended bots (see sidebar) throughout many business areas and has matured its approach to evaluating RPA use cases.
Harris said Unum implemented a process for evaluating whether a proposed task was a good candidate for bots. A team analyzes the existing process, as well as the time and resources it takes to complete tasks, what systems the process requires and how those systems fit into the company's overall strategic plans. It also considers whether implementing bots for the process would deliver ROI. The team then considers whether optimizing the process without bots will deliver results.
"I don't think automation is always the answer," Harris said.
Attended vs. unattended bots
RPA bots can be classified in one two different categories: attended and unattended.
Attended bots require some level human involvement or action. They're generally deployed to handle tasks within a larger process that cannot be automated end to end; so, human workers work alongside the bots, triggering the bots when needed to advance work through the overall process.
In contrast, unattended bots perform their tasks -- from start through execution and to completion --independent any human involvement. These bots, which are sometimes also called headless bots, can be programmed to start automatically on a schedule or in response to a triggering event.
The process has led to RPA use cases with good ROI.
Yet, despite such success, Harris cautioned against hyping RPA as a cure-all and against using RPA for overly large, complex processes.
She said she is concerned that automating large, complex processes could turn RPA deployments into monolithic entities, like the legacy ones that she is still trying to dismantle as part digital transformation.
Harris added: "To really see value with RPA, I think we need to use bots for processes that are as discreet as possible, because making large investments that span many apps just to get operational efficiency might not be in your best interests. Any time you build anything monolithic, you're setting yourself up for pain in the future."