Manufacturing AI projects open partner opportunities
IT consultants and integrators could see increased business in manufacturing AI, but they will need to overcome data quality problems and cultural issues along the way.
Manufacturers are turning to AI to get the most out of the increasing volume of data they collect. However, the technology is at an early stage of deployment, and the business case for manufacturing AI projects runs counter to the industry's culture. As a result, businesses in this sector may benefit from channel partner input in overcoming hurdles and gaining competitive advantage.
Like organizations in other vertical markets, manufacturers face more demanding customers. Manufacturing companies want more design options, faster service and quicker delivery -- all without paying extra.
"Disruption is hitting industries, like manufacturing, that operated in a set fashion for a long time, really hard," explained Michael Guilfoyle, research director at ARC Advisory Group, a technology market research firm in Dedham, Mass. "For instance, cars have been getting smarter for more than 10 years, but expectations are even greater now with the emergence of self-driving vehicles."
Data is at the heart of digital disruption. "Big data is old data," explained Amit Bahree, CTO for AI at Avanade Inc., a Seattle-based solutions consulting company formed by Microsoft and Accenture. "Companies do not want to simply collect data. They want to start to use it in meaningful ways."
AI and machine learning have the potential to enable those new ways. They let companies mine gold nuggets, revealing connections among different data points, so suppliers can make changes that significantly improve their operations.
Manufacturing AI projects: Where to begin?
Maintenance
Maintenance is an area where the technology may have an impact. Companies can maximize equipment uptime and lifecycles by more accurately predicting mechanical failures. "Corporations set parameters, such as temperatures being too hot, then they get an alert that illustrates that the system may need to be tuned," said Andrew Bolivar, director of the Center of Excellence at Ultra Consultants, a Chicago company that specializes in manufacturing ERP systems consulting.
Intelligent edge
Another low-hanging fruit is the intelligent edge. Manufacturers are deploying IoT sensors on devices at various points in their supply chains and manufacturing networks. "When you move intelligence closer to the edge, better decisions can be made," Bahree explained. Manufacturing companies collect real-time data from a variety of points in their operation, and AI stitches all that data together so they get a complete performance picture. If a problem is brewing, the system takes steps to alleviate any potential damage.
Customer service
Customer service is another area where AI is taking root. "Businesses use chatbots internally and externally," Bolivar noted. Chatbots offload data entry tasks from customer service representatives and streamline report generation for executives.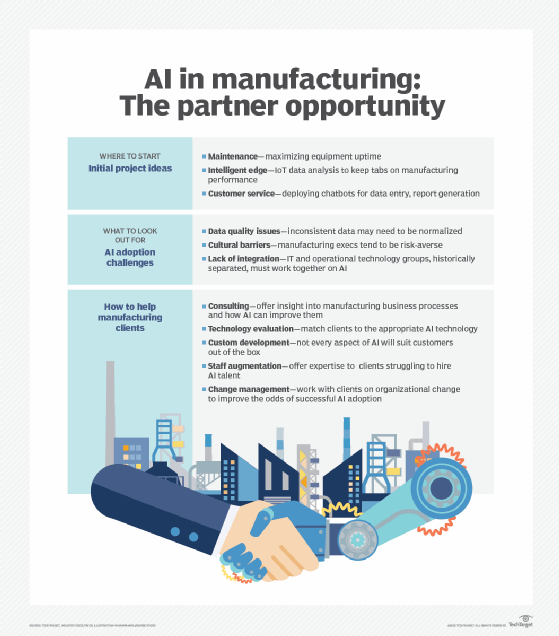 Hitting a few snags
But the emerging technology presents challenges. Data consistency is one problem. Businesses collect data from different applications, which format information in various ways. For instance, customer information has a variety of fields and records with different lengths. Organizations need to homogenize that information before they use it for analysis.
Building AI applications is complex and time-consuming. "AI works in a Lego-like fashion," Bahree said. "In some cases, a lot of the scaffolding is provided, but others require a lot of development work."
In addition, manufacturers may need to undertake dramatic, internal reorganizational work to reap the potential benefits. "Digital transformation is not a one-use-case or one-application technology," he added. "It is a journey with multiple stops that involves significant change in an organization."
Management often needs to change its outlook. "Traditionally, manufacturing executives have been conservative: They are risk-averse and slow to adapt,"
Guilfoyle said. "Now, there is increasing business pressure to change quickly and dramatically."
[Channel partners] can play a crucial role in helping manufacturers take advantage of AI and machine learning.

Michael GuilfoyleResearch director, ARC Advisory Group
Also, enterprises must break down traditional silos of operation. Often, manufacturers had an IT group, which oversaw back-office business applications, and an operational technology business unit, which worked with plant floor solutions. Now, those groups need to be brought together.
And, from the HR standpoint, the ability to execute manufacturing AI projects requires hiring experienced personnel. That's no simple task in a field that is new and evolving at a rapid pace. "There is a shortage of good, experienced AI personnel," Bahree said. "Vendors can offer a lot of money and perks, so they have been gobbling up a lot of the top talent."
Channel opportunities
The various challenges, however, offer new opportunities for channel partners. "A few years ago, I thought that channel partners and systems integrators were going to be kneecapped and knocked right out of business because of the way that technology was changing," Guilfoyle said. "Now, I think they can play a crucial role in helping manufacturers take advantage of AI and machine learning."
Many manufacturers are having a difficult time adapting to today's technical landscape. Partners bring the technical knowledge needed to examine manufacturing business processes in new disruptive ways. They can match a client to the appropriate technology and smooth out any bumps that occur during the transition.
Dig Deeper on Emerging technologies for MSPs