Democratization of AI, 5G nets among top 2019 opportunities
Channel partners may find opportunities in artificial intelligence, 5G networks and the rise of enterprise 3D printing as 2019 unfolds, according to a Deloitte report.
Technology moves at a breakneck pace, so channel partners need to keep their ears to the ground and prepare themselves for the next big thing. The democratization of AI, deployment of 5G networks, and the rise of 3D printing offer solution providers significant revenue opportunities in 2019, according to the 18th edition of "Technology, Media & Telecommunications Predictions," a report from Deloitte LLP.
The democratization of AI
To date, AI use has been largely limited to tech giants, like Google, Facebook and Microsoft. Building AI models and writing algorithms so that machines make sound decisions is a complex, compute-intensive, challenging task. These large firms have the technical knowhow, financial means and computing resources needed to take on such work.
Recently, cloud became the primary means of accessing these services and is poised to simplify AI development and broaden market usage. AI is becoming easier to use in two ways. More than 70% of organizations tweak AI features found in cloud enterprise applications to meet the needs of their businesses, according to the Deloitte report. In addition, 65% of businesses use AI platform-as-a-service solutions to build their own AI applications. Sometimes, the latter is used in a hybrid environment, where sensitive information remains on customer premises.
Amid the democratization of AI, new opportunities emerge for channel partners.
"Corporations need help identifying the best use cases for AI," explained Jeff Loucks, executive director of Deloitte's center for technology, media & telecommunications at Deloitte Services LP.
A separate Deloitte report, "State of AI in the Enterprise, 2nd Edition," found 88% of the 1,100 U.S. IT and line-of-business executives surveyed said they plan to increase their AI spending in 2019. That report identified IT automation, quality control and cybersecurity as the top three areas for planned AI use.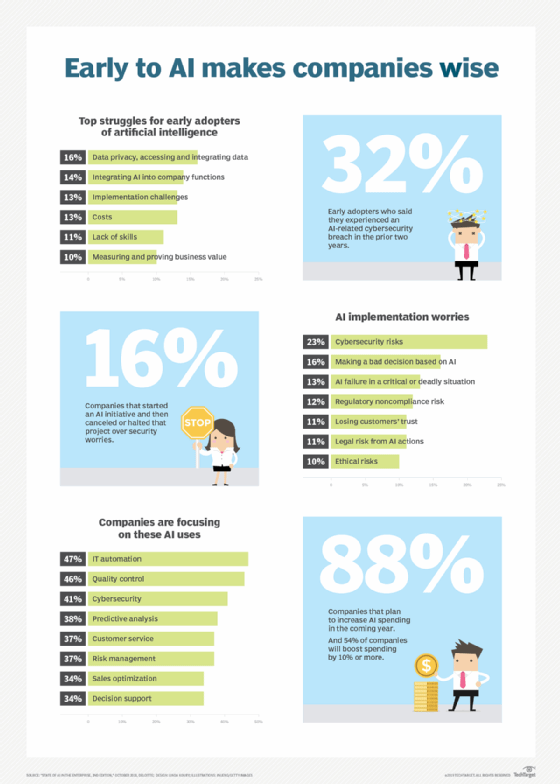 Higher-speed wireless networks abound
Wireless communications has become common among businesses, and the cellular market is poised for a major transition from 4G to 5G technology. "About every 10 years, service providers move to a new generation of network equipment," noted Duncan Stewart, director of technology, media and telecommunications research for Deloitte Canada.
Corporations need help identifying the best use cases for AI.

Jeff Loucksexecutive director of Deloitte's center for technology, media & telecommunications, Deloitte Services LP
In 2019, 25 wireless operators will launch 5G service, a figure that will likely double by 2020. They are expected to sell more than 1 million 5G handsets in 2019, and that number should rise to 15 to 20 million units by 2020. In addition, one million 5G modems/pucks are expected to be purchased in the new year, according to Deloitte.
Higher speeds are always an attraction with network upgrades and 5G has the potential to operate much faster than its predecessor. 4G networks typically topped out in the low 100s of Mbps; 5G has the potential to operate at 10 Gbps.
Perhaps more importantly, 5G lowers network latency. 4G operated with about 50 milliseconds of latency; 5G lowers that number to approximately 1 millisecond. The change offers resellers the opportunity to help customers retool their networks.
"Corporations are starting to examine replacing Wi-Fi with 5G," Stewart explained. Previously, the latency experienced on 4G was too high for business applications, which must deliver fast response time. 5G clears that barrier. Interest in corporate 5G networks has been evident in Europe, especially Germany, and Stewart anticipates that U.S. businesses will soon need help determining if it makes sense for them.
Gaining traction: The rise of 3D printing
After initial hype, 3D printer sales leveled off. Hardware improvements, the introduction of new printing materials, and software enhancements have solved many of the traditional deployment obstacles, according to Stewart. Consequentially, Deloitte expects that sales of enterprise 3D printers, materials and services from large public companies will surpass $2.7 billion in 2019 and top $3 billion in 2020, growing at a 12.5% compound aggregate growth rate.
The technology is being integrated into various manufacturing, healthcare, and oil and gas industry applications. Financial services organizations are also demonstrating interest. These businesses will need help melding the new capabilities into their existing business processes, thus creating more opportunities for partners.
Technology moves at a rapid pace, forcing channel partners to constantly adapt. The democratization of AI, 5G technology and 3D printing have the potential for high growth in 2019, so managed service providers and resellers should prepare themselves to take advantage of the rising interest.
Additional reporting by John Moore.