cherezoff - Fotolia
Expect 5G infrastructure to generate new wave of channel opportunities
It's time to think about 5G. The widespread rollout of 5G infrastructure is likely to create new prospects for channel-provided solutions and services, industry experts say.
With limited deployments being planned and the promise of new jobs and services, interest in fifth-generation wireless technology continues to grow, making it something channel firms should have on their radar, even though widespread adoption is still a few years away.
Fifth-generation wireless technology is poised to make a number of improvements to 4G. The technology promises faster wireless data transmission speeds and greater capacity, making it attractive for IoT and smart cities initiatives. For example, 5G infrastructure offers more efficient management of vehicle traffic and electrical grids, which could result in significant savings through reductions in energy usage, traffic congestion and fuel costs, according to the Accenture report, "How 5G Can Help Municipalities Become Vibrant Smart Cities."
"If municipal and regulatory leaders wish to reap economic benefits, including jobs and GDP growth, and accelerate their journey to becoming a Smart City," the report stated, "they should strive to be among the first to streamline permitting, change their fee structures and reduce regulatory hurdles to support the new small-cell deployment model required for this next generation of wireless technology."
Full realization of the economic growth and cost savings from utilizing smart city applications built on 5G infrastructure will, however, depend on how robustly 5G networks are deployed locally, Accenture cautioned.
The federal government is also studying 5G -- specifically, whether 5G infrastructure will enhance broadband access in underserved, rural parts of the country. At a recent hearing of the Senate Subcommittee on Communications, Technology, Innovation and the Internet, subcommittee Chairman Sen. Roger Wicker, R-Miss., said it is time to modernize outdated regulatory rules "that delay and add unnecessary costs to broadband infrastructure deployment," according to MeriTalk.
The future of 5G infrastructure opportunities
For partners, all of this means an opportunity to provide solutions and services on top of the wireless network infrastructure built using small-cell networks employing 5G technology.
When we look at the complexity [of 5G], there has to be new partnerships, both public and private, to accelerate deployment.

Tejas Raomanaging director at Accenture
"When we look at the complexity [of 5G infrastructure], there has to be new partnerships, both public and private, to accelerate deployment," said Tejas Rao, managing director and global 5G offering lead for Accenture's network practice.
"To enable the vision, I do see opportunities for third-party partnerships and system integrators to build out the applications and the innovative systems and solutions," he said. 5G provides new features like "network slicing," Rao said, and will allow partners to package network-as-a-service offerings and solutions on top of the new network.
Miguel Sanchez, a solutions engineer at technology services distributor Telecom Brokerage Inc., said the firm is now mostly engaged in discussions on how 5G infrastructure will open up more opportunities for the channel. "It's a technology everyone wants to talk about, which can lead to other services, adding more value to the customer," he said.
Those internal discussions "are typically in conjunction with the expansion of IoT and the effect on networks, both customers and carriers." Customer discussions typically center around "5G LTE's initial launch as a last-mile solution," Sanchez said, "whether that's for backup, temporary service or eventual primary network connections."
The greater bandwidth will provide more user consumption and IoT devices, Sanchez said. "Networks need to be smarter and automated, so SD-WAN is great. IoT needs someone to deploy and secure these devices. Automation will be key, and channel partners can provide all of these services."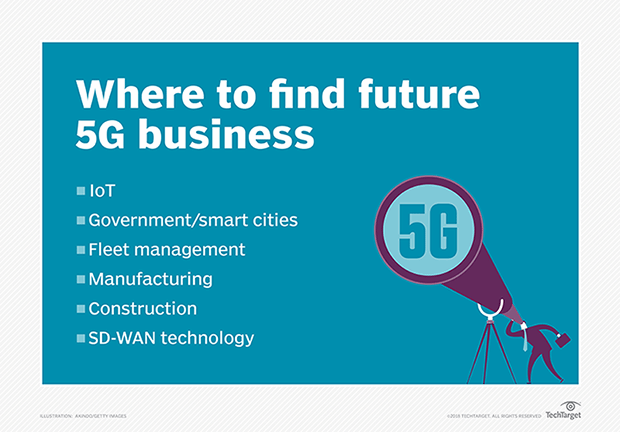 Rollout of 5G sparks other prospects
Other areas where partners can benefit from 5G are in fleet management, manufacturing and construction, Sanchez said. Partners that want to take advantage of the enhanced network will need to have a good understanding of 5G's capabilities, he noted. If they specialize in security services, for example, they will need to know how those services apply to the added number of devices expected from their customers using 5G networks.
In the enterprise, Rao believes the enhanced wireless broadband speed will mean opportunities to "drive new ways of [using] learning technologies and providing real-time feedback on courses people are taking." There will also be more dynamic communications services and greater compute power available for smartphones. Augmented reality and virtual reality are also expected to benefit from 5G due to the enhanced data-streaming capabilities and lower latencies. "Edge computing on the network will allow you to get more data for processing, whether video or audio related," Rao said.
U.S. carriers will begin conducting trials later this year, Rao said, and some operators have announced that they will be launching services in five to 10 markets in 2019. "That will give a lot of operators time to see what their 5G plans will look like," he said.

But the time to start thinking about opportunities around 5G infrastructure is now. Mobile data research firm GSMA Intelligence called 2018 "another important year for 5G" and is forecasting 5G adoption in the U.S. to grow as fast as 4G adoption did. The firm predicted that the U.S will reach 100 million 5G connections in early 2023, about four years after the 5G rollout. The forecast doesn't include 5G-based fixed wireless connections.
"By 2025, 5G will become the lead mobile network technology in the U.S. with more than 190 million mobile connections, accounting for around half of total mobile connections," according to GSMA.