zapp2photo - Fotolia
Technology trends 2019: Expect AI, blockchain uncertainty
AI and blockchain uses are on the cusp of expansion. Or are they? IT service provider executives discuss the timing and prospects for emerging technology.
Editor's note: Channel technology trends 2019: Part one of this two-part feature focuses on the prospects for blockchain and AI. Part two covers cloud computing as an enabler for emerging technologies, edge computing, small and medium-sized business technology uptake and IoT developments.
When it comes to technology trends, 2019 looks likely to be a year of ambiguity for IT service providers.
Blockchain distributed ledger technology seems on the verge of a breakthrough, but is it really on the cusp of widespread deployment? AI garners a lot of discussion, but how much of it is marketing hype and how much of it will yield practical solutions for customers?
At the very least, IT services companies, regardless of size, should familiarize themselves with the cutting edge to manage customer expectations and help them with deployment if the time comes.
Carolyn April, director of industry analysis at CompTIA, said technologies such as AI are trickling down and showing up on the smaller players' radar. As developments such as AI and blockchain become common knowledge, through advertising, for example, businesses are turning to their service providers for more details.
"A lot of the smaller folks in the channel are being pulled into these markets because their customers are demanding it," April said.
Here's an overview of some of the technology trends 2019 will have in store for the channel.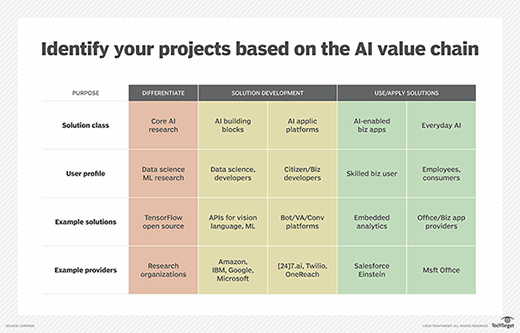 AI: Ready or not
The example of Unified Office, a managed service provider in Nashua, N.H., demonstrates the instability of AI. The company last year temporarily discontinued an AI-based offering when its underlying components -- commercially available AI products -- proved insufficient.
A lot of the smaller folks in the channel are being pulled into these markets because their customers are demanding it.

Carolyn Aprilsenior director of industry analysis, CompTIA
Unified Office wanted a way to help its quick-service restaurant customer comb through thousands of recorded customer interactions and flag those calls demanding attention. It turned to AI as the means to detect keywords and identify emotion -- anger, in particular -- in recorded calls, said Ray Pasquale, CEO at Unified Office. But the AI technology on the market produced too many false positives and wasn't good enough for customers' production environments, he noted.
Unified Office "went back to the lab," however, and plans to reintroduce an AI product to its customers in the first quarter of 2019, according to Pasquale. The product, a sentiment analysis offering, is based on a neural network architecture that Unified Office designed.
With an improving positive hit rate on keywords, the product should be ready to go back to the market in a controlled rollout, Pasquale said. Initially, the AI offering will be sold with Unified Office's business communications platform. Pasquale said he is also weighing whether to deliver the sentiment analysis component on an as-a-service basis as well.
SD-WAN unlocks lucrative channel business
The technology trends 2019 will have on offer will include a rapidly expanding software-defined WAN market. That sector isn't expected to slow down anytime soon.
According to TBI, SD-WAN will continue to be in high demand in 2019. TBI's Dave Landsberger, director of training and events, said that he "absolutely anticipates [SD-WAN] growing and growing extremely lucratively for the channel."
"Our partners are going hard after SD-WAN," he added. "There has not been a challenge there. ... We have seen tremendous buy-in."
While Unified Office is getting better results with AI, Pasquale views the AI space, in general, as inundated with "lots of marketing noise" as opposed to "real products solving real problems."
Other industry executives, however, see practical AI applications playing a role in 2019. Fields such as supply chain optimization appear ripe for deployment.
Megan Amdahl, senior vice president of operations at Insight Enterprises, a systems integrator based in Tempe, Ariz., predicted AI will be included in "a wide variety of supply chain activities." As an example, she cited robotic process automation and cognitive learning software that can translate an email purchase order, extract the pertinent information, and generate a sales order and invoice without human intervention.
Amdahl said Insight works with Automation Anywhere, an RPA software vendor that also offers IQBot, a stand-alone offering that provides cognitive machine learning.
Deloitte, meanwhile, predicted companies will "accelerate" their use of cloud-based AI software and services, according to the company's "Technology, Media and Telecommunications Predictions 2019" report. Among AI adopters, 70% will access AI via cloud-based enterprise software, the Deloitte report noted. Sixty-five percent will use cloud-based development services to build AI applications.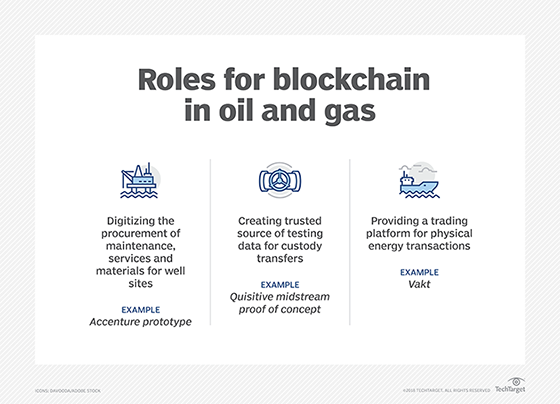 Technology trends 2019: Blockchain now or later?
Three and a half years ago, blockchain began its transition from cryptocurrency to enterprise applications. Blockchain use cases first clustered around financial services, but signs point to widening customer interest next year in industries from energy to healthcare.
In oil and gas, for example, proof of concepts, prototypes and emerging platforms address procurement, custody transfer and physical commodity trading. Potential blockchain applications in healthcare range from prehospital care to electronic health records.
Speaking at recent blockchain webinar, Scotty Perkins, senior vice president of product innovation at Quisitive Technology Solutions, a Microsoft solutions provider, outlined prehospital use cases, including structuring and storing a patient care report on blockchain. Emergency medical services personnel compile a patient care report when transporting and treating patients, which is relayed to a hospital's emergency department. Perkins said this blockchain application can "streamline patient intake" and make sure there are no omissions or miscommunications.
Value in single-party blockchain
While multiparty and public, permissionless blockchain deployments are part of the blockchain vision, Quisitive's Perkins said the more basic, single-party projects also provide value.
Perkins said there's no question that permissionless blockchain networks are valuable, citing self-sovereign identity as an important example down the road. But he said it is a misconception that multiple partners are required to get value out of blockchain. He cited the example of individual companies using blockchain to streamline the financial audit process.
"There are very effective ways to implement blockchain at a very simple level," he said.
Blockchain could also see use as a mechanism for quickly and reliably recording a record of narcotics an EMS crew administers to a patient. In addition, blockchain could be used to record and track patient custody transfers from ambulance to hospital or from one healthcare provider to another.
Other healthcare use cases include electronic health records (EHRs). Perkins said blockchain could also underpin self-sovereign identity, which would give patients the ability to control and grant access to their EHRs.
The healthcare sector will launch quite a few proof of concept (POC) blockchain projects in 2019, moving on to larger-scale production projects in 2020, Perkins said. Pilots in areas such as pharmaceutical track and trace will be among the first movers, while initiatives such as self-sovereign identity are longer-term projects, he said.
Some pilots are already getting underway. Synaptic Health Alliance was launched in 2018 to create a blockchain pilot project that aims to create a cooperatively owned provider data exchange. That consortium will enter 2019 with new members; in December 2018, insurance company Aetna and health system Ascension joined the Synaptic Health Alliance. Other members include Humana, MultiPlan, Optum, Quest Diagnostics and UnitedHealthcare.
But the blockchain technology trends 2019 may foster seem likely to fall short of the blockchain vision of decentralized, permissionless networks open for anyone to join. Most of the blockchain investment from mainstream institutions is in the realm of permissioned networks and that pattern may continue. Companies or consortia typically control access to those types of blockchain networks.
Tim Coates, who heads the blockchain business at Synechron, said he expects blockchain to evolve into hybrid solutions. Synechron, a digital, business consulting and technology services firm based in New York, has worked on 40 blockchain projects thus far. Coates believes the public permissionless systems like Ethereum will become more private and permissioned, using channels and zero knowledge poofs. The private permissioned solutions will become more open and accessible for non-enterprise grade use. Such offersing will be inherently more public, although will likely remain permissioned to some degree, he added.
"We think that is where the space will end up," he said.
If blockchain doesn't follow the hybrid path, the technology's long-term effects will be mild, Coates said. Blockchain, however, could live up to the "transformative hype," he said, if permissioned solutions become more open and permissionless systems become more private.
In any event, blockchain will face "a lot of technical unknowns to work through in the coming years," Coates said.
Matt Jackson, vice president of services at Insight, also characterized blockchain's full flowering as a longer-term development. He said he is bullish on blockchain, but believes large-scale enterprise applications are a couple of years away.
"Blockchain ... will have its year, but not yet -- more likely in 2022," he said.
Jackson said business leaders are struggling to identify use cases -- outside of a few obvious scenarios like cryptocurrency -- that would drive a measurable ROI within their organizations. In addition, use cases that do make sense, such as multiparty contracts, depend on multiple organizations agreeing to standards that don't yet exist, he said. Standards will take a few years to sort out, he added, noting standards are likely to come from industry trade groups before governments act.
Finally, the technology to deploy blockchain is not pervasive enough, according to Jackson.
"Some players like Microsoft have built solid platforms and tools, but we are seeing clients interested in small POCs at this stage," he said. "It will be a few years before they are ready to invest the millions it will take to build scalable enterprise applications using blockchain."
Dig Deeper on Emerging technologies for MSPs