Succeed at implementing RPA: Top tips from execs at IBM Think
Implementing RPA requires planning and coordination between multiple parts of the business to be effective. Execs at IBM Think share tips on how to craft a winning RPA strategy.
Launching an RPA initiative to improve business processes requires balancing a lot of moving pieces, getting buy-in from users, and some planning to be effective, said executives at the IBM Think Conference in San Francisco.
Executives from TTI, Suncor, and Keppel discussed their experience deploying bots with technology from IBM and RPA vendor Automation Anywhere. One key point: It's important to get a few quick, easy wins when implementing RPA. A good way to start is to bring business leaders together to discuss how RPA technology works and to identify low-hanging fruit for automation.
For example, TTI, an electronics manufacturing business in Fort Worth, Texas, launched its RPA program by holding an internal workshop. Susan Sumners, senior vice president of IT at TTI, said the workshop group decided to focus first on creating bots for corporate departments first like finance, products, and sales, where they identified a few key processes that could benefit from automation.
Another early project targeted TTI's offshore operations, where employees do mainly manual work. Although the labor costs are cheaper, sales and product staff in the U.S. must wait a day to get results back. "My focus is to eliminate that [delay] and get efficiency to employees as quickly as possible," Sumners said.
Once these early opportunities were identified, Sumners said implementing RPA was straightforward. Over the course of the summer, one young intern was able to deploy the first couple of bots with some guidance from, BP3, TTI's implementation partner. TTI now has 10 bots in production that have already saved the company about $600,000, eliminated many mundane processes, and eliminated the need to hire about 18 employees, she said.
Going forward, Sumners said she plans to develop an RPA center of excellence with the goal of increasing revenue per employee. They plan to launch about 30 bots in the next six months.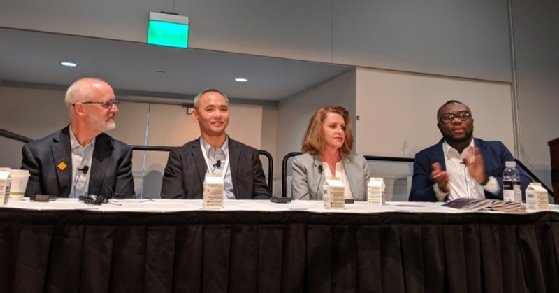 Making sense of complex processes
Keppel Infrastructure Holdings in Singapore, which provides consulting services to the energy industry in Singapore, has been working with IBM and Dimension Data to help streamline processes that crossed multiple departments. Andrew Sim, head of cyber technology information at Keppel, looked at bots when he was pressured by business groups to find a way to speed up these processes. His team had its first proof of concept up in three days.
The early benefit was in improving customer experience by reducing the time required to onboard customers, which could stretch out two weeks owing to various credit checks and vetting processes. Customer acquisition speed increased by about 50%. Keppel started with two bots, and the business leaders at Keppel began running workshops for the other departments, which led to the creation of 10 bots.
Another benefit was codifying and improving subprocesses that were known only by the employees who completed them. "We are starting to put in a process that is mostly in everyone's head into a digital form," Sim said. This gives them an opportunity to identify how they might build a better process.
Suncor starts with business managers
At Suncor Energy, an energy giant based in Calgary, Alta., the RPA implementation was led by business managers rather than IT, said Brad Thompson, general manager of supply chain operations at the company. Managers did proofs of concepts for both the finance and supply chain groups, and ultimately selected an RPA solution from Automation Anywhere, working with IBM as the implementation partner. The company has successfully implemented 11 bots across different groups in Suncor in areas, including HR, supply chain, maintenance and reliability.
Thompson's favorite bot is called Tardy, which sends emails to suppliers about overdue supplies, because it drove consistency to the process. Prior to the bot, employees in his department had different approaches to updating delayed POs. Tardy brought a new level of discipline to dealing with suppliers. It went into production last year and has already reduced the number of overdue materials to 2,500 from 5,000.
Selecting the best use case
Thompson said that at Suncor it was important to select a use case that was easy to implement and would bring value in order to get additional business units to buy into RPA. Since many people weren't familiar with RPA, business buy-in also required educating managers on the technology and criteria for best use cases.
Suncor's RPA working group decided to start with accounts payable processes. "The primary reason was it was a pretty self-contained lower risk area," Thompson said.
When TTI held its internal RPA workshop, it came to light that one woman who was retiring had been solely responsible for a pricing update process that required 27 manual steps. No one else knew how to do it. "We agreed that was the best process to automate," Sumners said.
Keep IT in the loop
Although RPA can enable business managers to create and customize their own bots, it's still important to keep IT in the loop, Thompson said. IT can help work out some of the security issues. In addition, the IT department can provide guidance on building a sustainable RPA program to ensure processes can be reused or continue to work as IT infrastructure is changed.
The IT department can also identify problems business users might not be familiar with. For example, many servers automatically shut down after a period of inactivity or outside of normal business hours. In the RPA world, part of the benefit is that the bots don't have to sleep, but they don't work if the server clocks out. "It is important your server does not clock out or you won't get the value," Thompson said.
Automate the bad processes too
There is some debate around whether businesses should automate bad processes or streamline them first. All three executives suggested it's better to automate a bad process, and then figure out how to make it better down the road. And in the short run, it can still save humans time, TTI's Sumners said.
In addition, the exercise of putting an existing manual process into a digital form helps managers to make sense of long processes. It can be hard to figure out how some processes can be improved, particularly ones that span multiple departments. For example, Keppel's onboarding process for enterprise customs required multiple levels of validation, checks and changes.
"I do feel it is a bad process, but we still want to bring immediate value to teams by automating it," Keppel's Sim said. After automation, he said they will investigate the process and find ways to make it better or change steps with a greater understanding of why each step is required.
Thompson said that his team at Suncor found that bringing existing processes into a digital flow eliminated many steps. For example, Suncor used to require a human to stamp the data and time on sheets before scanning documents. RPA allowed these timestamps to be added automatically.
Who pays for the bots?
Every IT department needs to devise its own accounting scheme for funding a bot program. TTI and Suncor simply fund their bot programs at the corporate level, which makes it easier to streamline processes that cross departments.
Keppel's bot rollout is funded by each business group that creates the bots. John Sneh, worldwide growth executive for digital business automation at IBM, said one of IBM's customers in Latin America has gone so far as to create a bot catalog. The catalog includes bots for processes like accounts payable and inventory, complete with cost and an implementation timeline. Line-of-business managers pay for these bots out of department funds, and then the IT department writes scripts to customize these bots for a specific process. The revenue from the bot store is reported back to the CFO as IT revenue.