Getty Images
CES 2023 highlights enterprise push toward sustainability
CES 2023, the annual consumer electronics show, is giving attention to sustainability and tech, including blockchain, that can track and reduce carbon emissions.
LAS VEGAS -- Innovation and sustainability took center stage at CES 2023 as business leaders detailed technology advancements built to lessen the environmental impact.
During the opening keynote Thursday, John Deere chair and CEO John May said his firm's farming equipment uses multiple technologies, including sensors to provide precise information, machine learning for data analytics and cloud computing to help farmers "executive their jobs more efficiently and sustainably."
Business leaders are increasingly focused on sustainability, naming it a top 10 priority in 2022, according to Gartner's annual survey of CEOs and senior business executives. Using new technologies to advance sustainability goals is what drew Yancho Gerdjikov, solutions architect at food and beverage company Nestlé, to a session Thursday at CES called "E-merging Energy: Incentivizing a Greener Future with Crypto and Blockchain."
"I think we are underutilizing digital technologies all together," Gerdjikov said.
Using technology to advance sustainability
Offsetting carbon emissions is one of the most common ways companies seek to advance their sustainability goals -- something highlighted by companies during the emerging energy session Gerdjikov attended.
ClimateTrade uses blockchain, which enables digital record keeping, to help companies offset carbon emissions, categorized as scope 1, 2 and 3.
While scope 1 and 2 are a company's direct carbon emissions, scope 3 encompasses emissions produced by partners and other businesses that a company works with and are traditionally harder to track. ClimateTrade uses blockchain to provide traceability and insight into multiple companies' emissions, helping each company take action to offset emissions.
"That's our bread and butter, is making it easy for people to offset their carbon usage as well as for their customers to do so," said Kat O'Brien, ClimateTrade chief partnerships officer, during the session.
Santander Bank, a ClimateTrade customer, allows its customers to use ClimateTrade to track carbon emissions for certain projects and work to offset emissions, O'Brien said.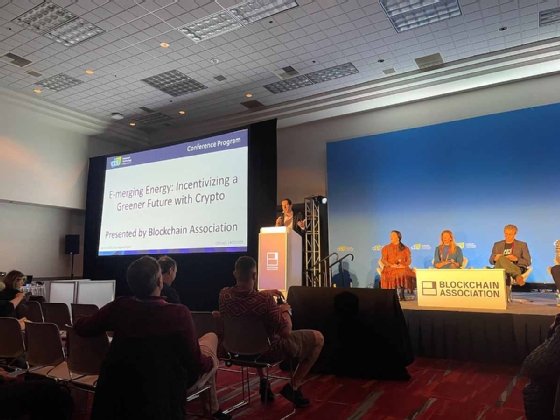 Meanwhile, Allinfra, developer of enterprise software Allinfra Climate, uses a suite of tools, including blockchain, to provide digital verification of the impact of companies' investments in carbon credits and other measures to reduce carbon emissions. Providing proof means companies can receive financial credit for the reduction, said Allinfra co-founder Bill Kentrup.
"In terms of the offsets, it's verified evidence that an emission reduction happened somewhere through some means at a particular time -- the digital trail that an emission abatement has happened," Kentrup said during the session.
Being able to track and prove investment in carbon reduction is significant, Gerdjikov said.
"I've been an auditor for about 10 years. I know what it takes to audit and provide trustworthy evidence," he said. "Using blockchain to simplify this process and produce the evidence to make sure it's a credible investment will be a game changer."
I know what it takes to audit and provide trustworthy evidence. Using blockchain to simplify this process and produce the evidence to make sure it's a credible investment will be a game changer.

Yancho GerdjikovSolutions architect, Nestlé
Ariadne Costa, IT innovation lead at Nestlé, who also attended the session, said the biggest challenge she faces is "how do we innovate finance." Finding the right technology to advance goals such as sustainability means seeing the right use cases and being careful before adopting one technology over another.
"It's hard. And I think we are looking for opportunities to see how we can get into new tech and ways to simplify and improve the processes, not only from the corporation perspective but also for our consumers, our clients," she said.
Makenzie Holland is a news writer covering big tech and federal regulation. Prior to joining TechTarget, she was a general reporter for the Wilmington StarNews and a crime and education reporter at the Wabash Plain Dealer.