Getty Images
11 ESG and sustainability conferences to attend in 2023
These 11 sustainability conferences will provide business professionals with the skills they need to adapt to changing sustainability and ESG requirements.
One of the best ways to stay on top of technology trends in any industry is to attend conferences.
At conferences and summits, professionals can gather to share knowledge, display their work and set expectations for the future of their industries. Whether in person or virtual, they also present a prime opportunity for networking with other like-minded professionals.
Sustainability and environmental, social and governance (ESG) is a growing field in which more and more companies are becoming involved. The U.N. Climate Change Conference is perhaps the most important conference in the sustainability and ESG space, where world leaders gather to make decisions about the world's response to the climate crisis. Also known as the Conference of the Parties (COP), past iterations of this event have focused on governing the 2030 Agenda for Sustainable Development and delivering a set of biodiversity goals to be reached by 2050.
Although COP is primarily for world leaders and not business leaders, it is still something business leaders should follow, in part because it sets the tone for other sustainability conferences.
Here are some conferences where you will get access to industry experts and information on this challenging topic.
1. Future Food-Tech
When: March 16-17
Where: San Francisco and virtual
Cost: $795 virtual, $2,495 in person
Where to register: https://futurefoodtechsf.com/register/
This conference unites leadership, investors and startups to collaborate on innovations in the food tech industry. Some key themes of the event include scaling alternative proteins, diving into the alt-seafood innovation, commercial opportunities at the intersection of food and medicine, the power of fungi, and strengthening sustainable food systems. The summit connects 1,500 international food brands to discuss the biggest issues in the modern food industry.
Speakers include the following:
Dariush Ajami -- CIO at Beyond Meat.
Amy Chen -- COO at Upside Foods.
Kim Coffin -- senior vice president and chief forager at Sprouts Farmers Market.
2. Remade Circular Economy Tech Summit and Conference
When: March 20-21
Where: Washington, D.C.
Cost: $299-$699
Where to register: https://remadeinstitute.org/registration
This conference aims to advance the national dialogue on approaches to the circular economy and sustainable manufacturing's role in meeting national energy, economic and environmental goals. Some of the specific topics on the agenda include mechanical recycling, AI and machine learning-powered circular economy, and e-waste recycling.
Speakers include the following:
Barbara Reck -- senior research scientist at Yale School of the Environment.
Muhammad Rabnawaz -- associate professor and researcher in the Sustainable Materials Group at Michigan State University.
Amin Sarafraz -- research assistant professor in the Department of Civil, Architectural and Environmental Engineering at the University of Miami.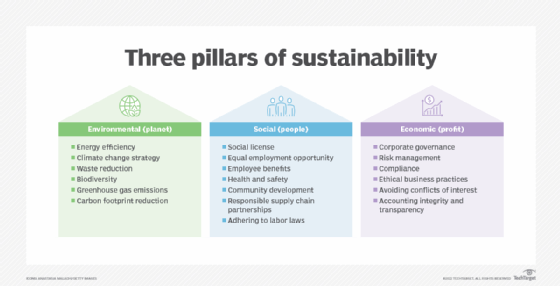 3. Economist Impact 8th Annual Sustainability Week
When: March 29-31
Where: London and virtual
Cost: Free to attend virtually, $1,080 in person (price converted from British pounds)
Where to register: https://events.economist.com/sustainability-week
Economist Impact's eighth annual Sustainability Week aims to empower businesses to develop new practices that will help reach the 2030 Sustainable Development Goals. The event will cover green finance and investment, decarbonizing business models, circular economy models, and measuring the S in ESG, among other topics. The event aims to help businesses reach sustainability goals that provide business value.
Speakers include the following:
Antoine Sautenet -- chief sustainability officer at Michelin.
António Guterres -- secretary-general of the United Nations.
Jon Banner -- executive vice president and global chief impact officer at McDonald's.
4. Responsible Business USA 2023
When: April 4-5
Where: New York City
Cost: $1,999-$3,999
Where to register: https://events.reutersevents.com/sustainable-business/responsible-business-usa
This conference is designed for leaders who want to find what their key stakeholders are thinking to tailor their sustainability and business models to that. Executives will gain access to more than 20 real-life case studies that will help guide strategic focus.
Speakers include the following:
Jason Buechel -- CEO at Whole Foods Market.
Sanda Ojiambo -- assistant secretary-general and CEO at U.N. Global Compact.
Ann Tracy -- chief sustainability officer at Colgate-Palmolive.
Cynthia Williams -- global director of sustainability at Ford Motor Company.
5. EarthX 2023
When: April 19-23
Where: Dallas
Cost: Free to attend expo, $300-$500 to attend conferences
Where to register: https://earthx.org
The EarthX Expo and Congress of Conferences cover several sustainability topics, including built environment, energy, farming, ranching, forest, land, wildlife conservation, climate adaptation, e-capital and oceans. Although the conferences cost money, the expo is free to attend and features live music, food and recycling workshops.
Speakers include:
Lars Dyrud -- CEO of EarthOptics
Nicole Ferrini- Alderete – climate and sustainability Officer of El Paso
Mattie Rodrigue – science program director at OceanX
6. MIT Sustainability Summit
When: April 28
Where: Cambridge, Mass., and virtual
Cost: $12.51-$138.43
Where to register: https://sustainabilitysummit.mit.edu
The MIT Sustainability Summit is a student-run event that seeks to demystify carbon markets for present and future leaders. The summit will focus on the goals of carbon markets, the challenges they face in reaching those goals and exploring durable, equitable solutions to those problems.
Speakers include the following:
LaTricea Adams -- CEO of Black Millennials for Flint.
Dominique Drakeford -- co-founder of Sustainable Brooklyn.
Dune Lankard -- president and founder of Native Conservancy.
Julian Brave NoiseCat -- writer, activist and fellow at Data for Progress.
Saif Rahman -- environment and advocacy team at Patagonia.
7. Sustainability Live
When: Sept. 6-7
Where: London and virtual
Cost: Free
Where to register: https://sustainability-live.com
Some of the topics at this year's Sustainability Live virtual stage include "Plant Powered to Become Planet Positive," "Investing in the Blue Economy," "Digitalize to Decarbonize" and "Sustainable Procurement." The 2022 conference is available to watch on demand. There is also a Sustainability Live New York event happening virtually April 1.
Speakers include the following:
Hannah Brown -- chief of staff at Formula E.
Musidora Jorgensen -- chief sustainability officer at Microsoft.
Karin Meurk-Harvey -- chief commercial officer at Smart DCC.
8. Climate Week NYC 2023
When: Sept. 17-24
Where: New York City and virtual
Cost: Varies by event, most are free
Where to register: https://www.climateweeknyc.org
Hosted by Climate Group, the 15th annual Climate Week NYC brings together leaders in business, government and the climate community with 10 themes: built environment, energy, environmental justice, finance, food, industry, nature, policy, transport and sustainable living. Attendees will be invited to join several interactive networking sessions and debates. The week will feature more than 400 events. Some events include:
Shaping a sustainable future for palm and other edible fats and oils in turbulent times
Portfolio decarbonization: Turning ambition into action
The road to Egypt: Holding governments and corporations accountable for their climate justice commitments at COP27 and beyond
Speakers include:
Katharine Hayhoe, Ph.D -- chief scientist at The Nature Conservancy.
Ahsley Orgain – chief impact officer at the Seventh Generation.
David Simas – president of the Obama Foundation.
9. Sustainable Brands SB'23
When: Oct. 16-19
Where: San Diego
Cost: $3,095-$4,195
Where to register: https://events.sustainablebrands.com/conferences/sustainablebrands
The event will convene a global community of brand leaders to participate in a collection of workshops, breakout sessions, activities and plenaries. The goal of the conference is to challenge business as usual and adopt sustainable practices. Some themes for the event will be activating brand purpose, influencing consumer behavior at scale, regenerative operations and transformative governance and metrics.
Speakers have not yet been announced.
10. PSX 2023
When: Oct. 17-19
Where: Boston
Cost: $210-$1,177
Where to register: https://www.psx.org
Product stewardship is focused on reducing health, safety and environmental impacts of consumer goods throughout the product lifecycle. Past PSX event topics included communicating compliance jargon to executives, ESG disclosure in supply chains and circular economy best practices.
Speakers have not yet been announced.
11. Verge 23
When: Oct. 24-26
Where: San Jose, Calif.
Cost: $1,775
Where to register: https://www.greenbiz.com/events/verge/2023
Verge 23 is an event that focuses on emerging climate tech and how it can be used to address the climate crisis. Programs at the event include buildings, carbon, energy, food, startup and transport.
Speakers have not yet been announced.
Learn how supply chain sustainability software works and how it can be used to boost corporate social responsibility efforts.