ileezhun - Fotolia
5 PSA software tools to help MSPs streamline business processes
Professional services automation tools offer MSPs and IT consulting firms with a variety of integrated applications they can use to manage projects, billing, assets and inventory.
MSPs and IT consulting firms are continually looking for ways to improve services to their clients while reducing their operating costs. One way to do this is by using professional services automation software.
Professional services automation (PSA) software combines separate applications into a centralized platform for planning, managing and measuring client projects throughout their entire lifecycle. MSPs and IT consulting firms can also use PSA software for other functions, including organizing and managing information about processes, billing and tracking of assets and inventory. The software can be critical for managing an MSP's back-end business processes.
These tools offer a wide range of features for project management, proposal generation, time tracing and resource management. PSA tools provide MSPs with a central repository for organizing information and managing clients. Many PSA platforms integrate with third-party tools for inventory management, procurement, network monitoring and remote connectivity.
Here, we examine some of the features and functionality of five prominent PSA products using information obtained from the vendors.
ConnectWise Manage
Organizations can deploy ConnectWise Manage both on premises and in the cloud. The product targets small and medium-sized managed IT services firms, but companies of all sizes can use this PSA tool.
The key product modules are:
Service Delivery. Keeps clients informed of all service requests using clear communication and documentation.
Time Tracking. Records how much time is spent on a ticket or project.
Automated Billing. Keeps track of time or new services and automatically delivers invoices.
Business Insights. Provides data-driven reports that can help organizations make better informed business decisions.
ConnectWise Manage integrates with other MSP software products offered by ConnectWise, including its remote monitoring and management (RMM) software, ConnectWise Automate. Additionally, ConnectWise Manage uses open APIs, which enable the integration of various third-party tools. ConnectWise also has a team that can support the API build-out process.
ConnectWise offers its PSA tool with a subscription-type model.
The company provides product support as well as ConnectWise University, an online educational and training hub.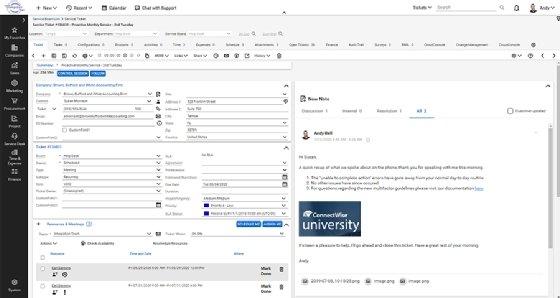 Datto Autotask PSA
Datto Inc.'s cloud-based PSA offering helps MSPs deliver IT services primarily to SMBs or to co-managed IT settings, typically in larger enterprises where the MSP supplements an in-house IT department.
Key product modules in Autotask PSA include:
Service Desk. Collects and organizes customer information, such as contracts, emails and incidents.
Time and Billing. Manages a variety of contract types, terms and billing options. To streamline billing, MSPs can integrate timesheets and expenses with an accounting system.
Project Management. Offers several task and resource management tools, in addition to project workflow automation.
Contracts and SLAs. Manages different contract types such as service-level agreements (SLAs), terms and billing options that integrate with workflows throughout the platform to ensure compliance and service quality, and reduce billing processing time.
Datto Autotask PSA integrates with Datto RMM. Additionally, the Autotask open platform PSA supports more than 170 integrations with MSP-focused tools. Both a Simple Object Access Protocol and REST API are available for developers and MSPs to build their own integrations.
Datto provides onboarding and implementation support 24/7. MSPs can use the Datto Academy self-service learning site for product information and training certifications, as well as a knowledge base and community forum.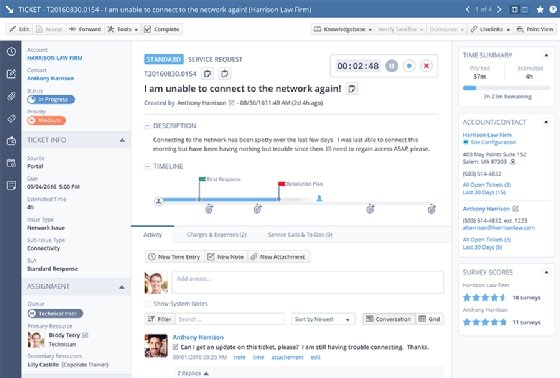 HarmonyPSA
Harmony Business Systems Ltd.'s HarmonyPSA is available both in the cloud and on premises. The platform is built for MSPs, consultancies and tech companies, and it does not use a modular system design.
The PSA product integrates features such as Service Desk, Quoting, Contract Management and Billing. Harmony's third-party RMM software integrations can enable systems analysis, asset synchronization, and automatic ticket open and incident closure actions.
Harmony offers annual SaaS pricing for $55 per user, per month, as well as monthly SaaS and annual on-premises rates.
The company offers an implementation consultancy package with purchase.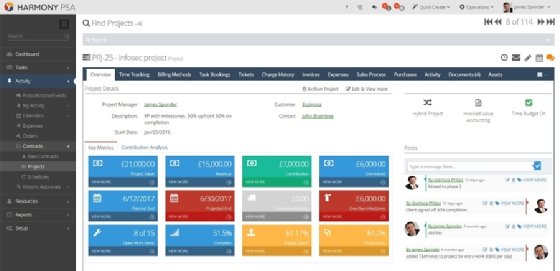 Kaseya Business Management Solution
The Kaseya BMS cloud-based PSA software is a key piece of the vendor's IT Complete Platform for MSPs.
Key modules include:
Service Desk. Helps technicians manage service tickets and respond quickly to troubleshoot and resolve customer issues.
Customer Relationship Management. Enables MSPs to keep track of current customer accounts, new revenue opportunities and communications in a single
Finance and Billing. Automatically creates invoices from time of entry and expense reports.
Project Management. Manages IT projects and provides real-time project status reports, while also improving forecasting.
As part of the Kaseya IT Complete platform, BMS natively integrates with Kaseya VSA RMM endpoint management and network monitoring software and IT Glue, Kaseya's IT documentation software. BMS also integrates with popular third-party applications, such as QuickBooks and Xero, and platforms, including Microsoft Office 365, BrightGauge, QuoteWerks and Pax8.
Kaseya's Technology Alliance Program enables third-party technology vendors to integrate applications and solutions into the IT Complete suite, via an open architecture.
Subscriptions start at $35 per user, per month.
Consulting programs are available to assist with onboarding. Users can also work with Kaseya's professional services team to ensure their workflows, financial data and contracts are built effectively when migrating to BMS.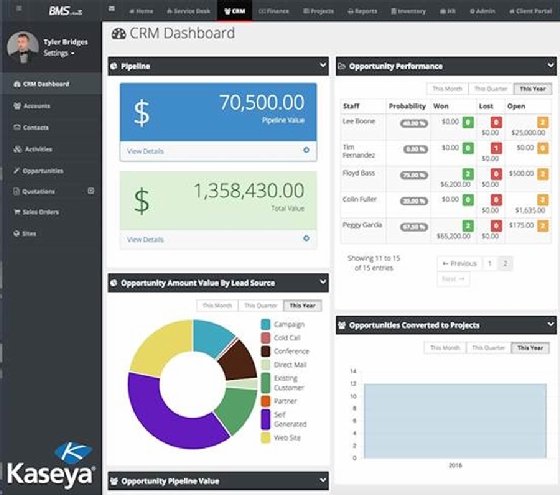 Kimble
Kimble Applications' PSA software is a pure SaaS offering that resides on the Salesforce platform. Users can run Kimble integrated with Sales Cloud and Service Cloud or standalone without requiring additional components from Salesforce.
Kimble is built for midsize and large enterprise project-based businesses.
Key product modules include:
Scoping and Selling. Offers tools for creating proposals and supports multiple billing models.
Resource Management. Provides resource managers a real-time view of the resource impact of all current projects combined with scheduled work.
Project Management. Gives access to project collaboration and project portfolio management capabilities, as well as insights into projects.
Billing and Revenue Recognition. Ensures all revenue is invoiced quickly to maximize cash flow and reduce debt. Kimble tracks purchase orders to help avoid disputes and ensure invoices are paid promptly.
MSPs can configure Kimble's open interface layer to support connections with third-party applications. Its out-of-the-box connectors and prebuilt interface mappings can share data to other products, including Sage Intacct, Atlassian Jira, Avalara AvaTax, Microsoft Dynamics, NetSuite, Oracle, QuickBooks, SAP and Workday. Kimble also provides generic interface mappings for common application types the product integrates with, including finance, human capital management and CRM.
Organizations can use Kimble's Supplier Portal API to build a supplier portal and integrate it with Kimble PSA.
Pricing is based on usage and volume; entry-level license pricing is around $35 per user, per month.
As part of the implementation, Kimble offers role-specific training and reference materials for end-user communities, as well as extensive documentation and regular training and webinars.
A customer success manager helps MSPs work with clients. Product support professionals in both the U.S. and the U.K. provide 24/7 support with adherence to service-level agreements and ITIL best practices.