Minerva Studio - Fotolia
4 tips for creating a content marketing SEO strategy
There are multiple components to a good SEO strategy, and it's important for businesses to stay plugged in and evolve with those strategies over time.
Businesses often ask how long search engine optimization takes. While it's difficult to give an exact timeframe, some SEO experts suggest it could take several months to begin seeing results, and those results should continue to grow over time.
But yielding those results is not a single-serving project; businesses need a good SEO strategy that is always on and constantly evolving with the changes to search engine algorithms and end-user search behaviors.
SEO is an important component of content marketing; it helps get the right content in front of the right people and shouldn't be overlooked. Here are four tips organizations should consider when developing an SEO strategy for content marketing.
Understand what search engines look for when ranking pages
Historically, search engines focused content ranking primarily on singular keywords. SEO meant how often businesses used those keywords on their website, and how content was created so search engines could read it. There was no regard to content quality or relevance. It was about making sure there was a page title, header, body copy and even alt text in images. While these items are an important baseline, other factors also matter.
SEO is an important component of content marketing; it helps get the right content in front of the right people.
Keywords are still important in building authority around search terms, but the components of a good SEO strategy have changed. Search engines now look at how people engage with a brand or service, as well as the following:
page authority, which is the value a search engine assigns a web page -- the higher the value, the more likely it is the page will show up early in organic search;
internal and external page links within content; and
engagement metrics, such as page visits, exit rate, bounce rate and time spent on page.
Another consideration is intent -- what users are actually looking for when they search the web -- and the use of long-tail keywords is a result of how search behavior has become more conversational and contextual. For example, users who type the generic term "cookbook" into a search engine will be inundated with results, but likely not find what they want on the first try. By adding additional words, such as "classic French cookbook," a user can narrow down the results to find exactly what they are looking for.
Create valuable website content
Today's marketers should create content that meets user's needs or answers a problem they are trying to solve.
To create strong website content, businesses should look at the on-page content already on their websites and address the needs of end-user search queries. Website content should remain relatively static to build authority and ranking over time. Too many or too frequent changes to core website copy will have a negative effect on SEO.
However, creating new website pages or copy in the form of downloadable offers or an up-to date blog will support the website copy and further boost an organization's SEO performance.
Build backlinks for good SEO
Backlinks are another important aspect to an SEO content strategy. Backlinks are incoming links to a webpage on a business's website and are often a major metric for the ranking of a webpage. They can improve organic rankings, index pages faster in search engines and bring quality referral traffic.
An old practice for creating backlinks is to find other websites and build "spammy" links back to a business webpage. While these types of backlinks -- found as referral links to a website from any webpage on the internet -- are common in today's SEO strategies, they don't yield high-quality results for page authority and ranking.
Building a better backlinking strategy in 2020 revolves around building relationships. Finding partners, influencers in the same industry, or trade publications to cross-promote or share content with each other is the best way to build high-quality backlinks.
Create topic clusters for better SEO
Topic clusters are the next evolution of SEO. This content marketing strategy is a collection of interlinked articles or pages that are all related to one umbrella topic, known as a content pillar page. For example, a business might have a pillar page for cookbooks, with related pages for specific types of cuisine branching off from that.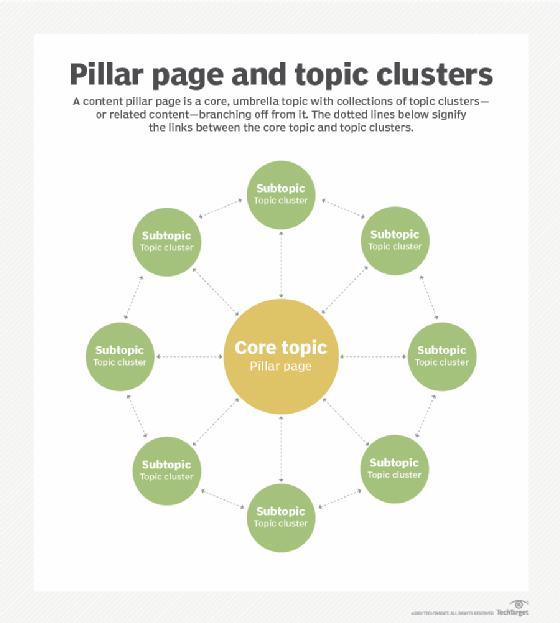 These clusters enable businesses to provide greater visibility for search engines to identify their content through a connected web. A content strategy that includes topic clusters gives businesses the opportunity to gain search traffic for highly focused keywords and phrases.
These collections of core topics -- and interlinking related content -- help with contextual marketing practices, building the use of internal links and creating more authority for a website's content.
Dig Deeper on Marketing and sales