stock.adobe.com
8 ways to improve your search engine ranking
Through processes such as keyword research, on-page SEO practices and ensuring a page is mobile-friendly, a website can appear higher in the search engine rankings.
People use the internet every day to research products, read reviews and find local businesses. Ensuring your business appears in an organic search can help more customers find you.
An organic search result is the largest driver of all traffic to websites -- so ranking as high as possible in a search is a must. Google recently launched the helpful content update, which focuses on people-first content. The update rewards content that's informative to visitors and has a primary focus to answer questions.
Don't stray too far from your expertise; your website should answer users' questions and give them relevant information.
Here are some ways to increase your business ranking on search engine results pages to be sure potential and current customers can find your site.
1. Refresh content often
The more frequently you update content on your website, the more often search engines will crawl the site. The more this happens, the faster new content will be discovered, helping it to rank higher.
Ways to update content regularly include adding content such as:
product or service news;
customer testimonials and success stories;
videos about products; and
company news.
Review existing web content at least every six months. And when adding new content, don't forget to remove outdated items or those that are no longer relevant.
Learn more about the different types of marketing videos you can add to your site.
Blogs
Blogs are another great way to refresh content. The key to blogging is having relevant and quality posts along with new content. Each time a blog post is added, it creates another index page that helps search engine optimization (SEO). Try blogging about business, industry, products and events with relevant keywords. Over time, update old blog posts and repost them to get new content.
Encourage readers to share these posts on social media for new leads. A well-written blog can appear in searches for years.
2. Make link building a priority
Using internal and external links properly is another way to improve search rankings.
Internal linking encourages users to click on highlighted anchor text found on the page and then read other items that have been posted on your website. Search engines crawl these links when navigating websites to discover new pages. Choose meaningful keywords as your anchor text so readers know what content they will find on the linked page.
External links point to pages that aren't in your web domain, and should be authoritative sites such as government, higher education institutions, and reputable news and industry publication pages.
You should also regularly fix any broken links, as they can penalize your search engine results. If you don't have time to monitor all your links, services such as Dead Link Checker can check your entire site or certain pages for broken links.
3. Produce high-quality content
Part of Google's helpful content update is to produce human content and not information geared toward search engine ranking. Google has shared questions to ensure content is people-focused, including:
Does your website have focus?
Will viewers be satisfied with the content?
Will readers learn something from your site?
Does your content show first-hand knowledge and expertise of your product or service?
Do you have a target audience?
Is content written to help people and not just for search engine ranking?
Content should be added to your site because it fits your business, not because it's a trending topic with a large search volume. You want people to return to your site, so content should be informative, helpful and relevant to improve the user experience.
To provide high-quality content, know your target audience and focus your posted information based on your industry, business and customer needs. Ensure there are no duplicates in content because that can be harmful to your rankings.
4. Optimize on-page SEO elements
There are additional elements that can help with SEO.
Videos and images
Videos and images provide more information to help readers understand a topic. You can also improve your search engine ranking by using SEO-friendly videos and images.
To improve your SEO with images:
Create an optimized filename such as website_design.jpg instead of image_1.jpg.
Include an alt tag that describes the image -- such as "man creating webpage" -- in the HTML.
Compress image size so the site loads more quickly.
Add captions below images to help improve the user experience.
To improve your SEO with videos:
Include the transcript on the video landing page.
Create a video thumbnail to preview content and entice viewers.
Add a title and description to improve user experience and highlight keywords to make your video stand out.
Meta descriptions
Meta tags don't display on your webpage, but they tell search engines what your page is about. However, search engines may display your meta on the search engine results page. You should provide a clear description of what the content on the webpage is about, including the main keywords describing the subject matter.
Contact information
To make your site appear trustworthy -- another component of search engine ranking factors -- make sure your business contact info is clearly visible and easy to find.
Remember to include a call to action that tells people what you want them to do next. For example, "For a free consultation, call us at 1.800.123.4567."
Headers
Headers can help with your page styling for search engine ranking. Heading tags have more weight with search engine rankings because they make it easy for users to skim a page. The primary heading -- known as an H1 tag -- is the first component a person sees when viewing your site. Subsections are also useful for search engine ranking because they help organize the page.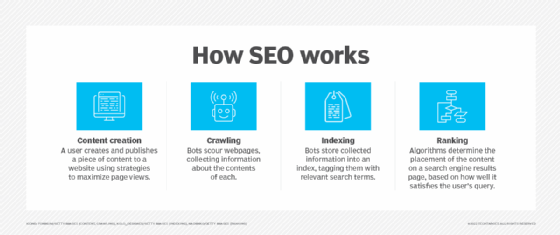 5. Improve page loading time
If your website loading time is slow, search engines will recognize this and lower your ranking. Visitors will also leave a website if it's too slow. Approximately 50% of online shoppers leave a website that doesn't download in six seconds or less, according to a study by Digital.com.
To check your website's speed, visit Google's PageSpeed Insights page. This report will show how quickly your site loads and list areas of improvement.
Components that can affect page load times include:
page size with large images and custom fonts;
problems with content management system plug-ins; and
inadequate bandwidth.
6. Ensure your site is mobile-friendly
Approximately 60% of internet traffic is from mobile devices, according to Statcounter. Because of this, websites must be mobile-friendly to rank higher in search engines.
To see if your website is mobile-friendly, check out Google's Mobile-Friendly Test. It will let you know if your website passes or if you need to make improvements. Page load speed is a big factor that determines if a site is mobile-friendly. Page layout, font size and navigation also contribute to a website's mobile friendliness.
To make a website mobile-friendly:
avoid Flash images and animation because it's not supported by mobile devices;
space out links to avoid a sea of blue text;
limit images and image size to improve page loading time;
avoid a "wall" of text;
use a large font that's also readable on a smaller screen;
create larger buttons and move them toward the bottom of the screen to accommodate scrolling with a thumb vs. a mouse; and
focus on simple designs.
Test your website often from a mobile device to ensure content is easy to read and navigate.
7. Research keywords and use them appropriately
Keywords are the words or phrases users type into a search engine to find a site or business. They. To help customers find your site, you need use keyword phrases on your website that are relevant to your services, business and location. Use these words in your content, page titles, title tags and image names.
Keyword research tools
The following are some examples of free keyword research tools to help you plan your content:
Moz Keyword Explorer,
Semrush,
Keyword Surfer
Google Keyword Planner
Remember to avoid insider language that customers may not use when searching your industry.
Avoid keyword stuffing
Google penalizes sites when they overuse keywords, a tactic known as keyword stuffing. Your text should read naturally and use language that your everyday customer would use.
8. Use local SEO
Ninety-nine percent of people used the internet to learn more about local businesses in the past year.

BrightLocal's 2022 Local Consumer Review Survey
Ninety-nine percent of people used the internet to learn about local businesses in the past year, according to BrightLocal's 2022 Local Consumer Review Survey. A local SEO strategy helps businesses appear in local results, including Google map results, local business listings and organic search results.
To optimize your local results so your business appears when local users search for a term relating to it:
create a location page for your website;
optimize local keywords in your content such as "Houston web developer";
claim your Google Business Profile;
update your Google Business profile regularly;
ensure your online directory mentions -- including name, address and phone number -- are consistent across pages; and
respond to reviews whether they're negative or positive.
Dig Deeper on Marketing and customer experience