8 top marketing certifications and courses for 2023
In 2023, marketers seek certifications to stay updated and gain an edge. By staying current on trends, they differentiate themselves and bring value to teams and customers.
Marketing and advertising are rapidly evolving. As technology advances and buyers' behaviors evolve, so do the skills required in the very competitive field of marketing professionals. Those who want to gain an edge over competitors and accelerate both career growth and opportunity recognize the value in marketing certifications.
To be successful in 2023, marketers must stay up to date on the latest trends and strategies. Marketing certifications allow professionals to gain knowledge, earn credentials and stand out from other job candidates. This quest for further knowledge ultimately brings value to internal teams and external customers.
Why are marketing certifications important?
Marketing certifications provide an opportunity for marketers to demonstrate expertise in various areas, such as social media marketing, content marketing, search engine optimization (SEO) and digital analytics. A certification is proof of knowledge and experience in a specific area that employers need. Earning a certification creates an obvious edge over another job applicant who lacks that training.
Marketing certifications are also important for career growth and professional development, providing marketers with recognition for hard work and dedication to their respective fields and opening doors to in-house opportunities or new positions with other companies. Perhaps most importantly, they allow marketers to become more knowledgeable about different aspects of marketing -- consumer behavior or brand identity, for example. This knowledge can help them create campaigns that yield a higher ROI. By keeping up with industry changes through certification programs, marketers stay competitive in today's ever-changing marketplace, while gaining experience and growing in their careers.
In 2023, having a certification or two -- and an understanding of their value to employers -- can make all the difference between being hired or promoted. Regardless, it indicates a willingness to take the time to advance professional skills and a commitment to staying current with industry trends and best practices. Whether it's a certificate for SEO or digital analytics, investing in certifications is one of the best investments for success as a marketing professional in 2023 and beyond.
Free vs. paid marketing certifications
Earning a marketing certificate is dependent on the time invested by the person seeking the additional experience or training. While there are many ways to earn a marketing certificate, they usually come in two flavors: free or paid.
Paid marketing certifications usually offer more comprehensive education, typically from recognized institutions or experts. These regularly include in-depth course materials and instructors who can provide guidance on the topics covered, such as those issued by professional organizations or through further higher education. These certifications often require tests or projects that demonstrate proficiency in the subject matter, and they may have additional requirements such as experience or prerequisites before taking the certification program.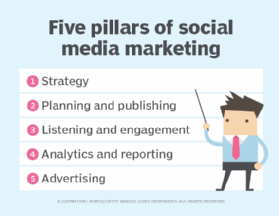 Free marketing certifications often provide an introduction to certain concepts and are widely available from some of the top marketing companies, but they typically lack the depth of paid certifications. However, a certificate of completion, representing proof of experience gained, is granted. Free certifications are usually self-directed and include online tutorials, videos, articles and other resources from various sources.
Unlike paid certifications, which can often take months to complete, free certifications are self-paced and usually result in a badge or other recognition for completing the course. Although free certifications provide some skills development, they cannot replace the benefits of a paid certification program, which includes access to industry experts, structured learning materials, professional feedback on student work and a tangible credential that remains with marketers throughout their careers.
Ultimately, when deciding between paid and free marketing certifications, consider needs and budget. Both options have their advantages. Someone interested in long-term career growth and professional development is more likely to choose paid certification to access quality training materials and earn an official certificate or credential recognized by employers in 2023. On the other hand, free certifications are much more accessible, and many of them can showcase a marketer's commitment to improve professional knowledge to employers.
Marketing certifications and courses for 2023
Popular marketing certifications and courses include the following:
1. Google Analytics Certification
A Google Analytics certification would always have made the list of top certifications, but in 2023 this certification is more needed than ever. This year, Google is going to sunset its Universal Analytics platform and replace it with Google Analytics 4. Marketers have been using the Universal Analytics tool for many years, but transition is on the horizon. To address the learning curve, Google has made training available for more than a year to prepare marketers.
Google offers a free course for marketers to introduce the new Google Analytics 4, instruct how to further use the data within GA4 and offer a new certification, one with historic value in the marketer's toolkit.
Price: Free
Registration: Enroll in a Google Analytics 4 certification course here.
2. HubSpot Inbound Certification
HubSpot was a pioneer in defining and impacting the inbound methodology in marketing. The company has always offered a large suite of free certifications through its HubSpot Academy, and the list of certifications has grown. Each has high production value and offers beginner and experienced marketers detailed training to grow their careers.
The HubSpot Inbound Certification program allows marketers to familiarize themselves with inbound strategies for attracting, nurturing and converting leads in the marketing funnel. The customer-centric approach to inbound marketing is showcased throughout this course, covering how to create buyer personas, map out the buyer's journey and use impactful content to move a prospect to a customer.
Price: Free
Registration: Enroll in HubSpot Inbound Certification here.
3. Professional Digital Marketing Course+
Professional organizations Digital Marketing Institute (DMI) and American Marketing Association (AMA) have teamed up to create the Professional Digital Marketing Course+ to help marketers learn a breadth of skills. This all-encompassing course covers many topics on digital marketing from social media marketing, SEO, email marketing, website optimization and more.
The course is a lengthy time commitment, but it covers everything professional marketers need to grow in their careers. Tailored to marketers in management and senior management, the 30-hour, self-paced course earns the double DMI and AMA certification and refines the skills with which these now-seasoned marketers began their careers.
Price: $1442
Registration: Enroll in Professional Digital Marketing Course+ here.
4. Google Ads Certification
Another entry from Google is the Ads Certification program. Building off the skills learned from the GA4 certification, marketers can further their knowledge of Google platforms by mastering the important skills around digital advertising on the large search engine. This series of courses takes much longer to complete than the analytics coursework, but the implementation of a paid strategy inside an organization can yield significant ROI when done correctly.
Throughout this course, learners have a chance to master the disciplines of search, display, retargeting and video advertising. The certification leaves marketers with the skills to build campaigns and measure their success.
Price: Free
Registration: Enroll in Google Ads Certification here.
5. SEO Toolkit by Semrush
Like HubSpot, Semrush, a recognized leader in the online search community, offers its own Semrush Academy with courses for marketers to brush up on their skills. While the coursework through Semrush Academy focuses heavily on using the Semrush software, the concepts learned within the SEO Toolkit course build a deep understanding of keyword research, ranking and planning for both content creation and digital advertising.
SEO is the primary way brands get their websites and content found online. By mastering the fundamentals of SEO, marketers can begin performing research and implementing good SEO practices into their marketing strategy to attract their target audiences.
Price: Free
Registration: Enroll in SEO Toolkit course here.
6. Social Media Marketing Certification from Hootsuite
Hootsuite, a social media expert brand, offers a course tailored toward intermediate marketers looking to further enhance their skills in the growing world of social media marketing.
The course is designed to develop the foundational skills needed for building a brand using social media. It covers topics such as page creation, leveraging channels, engaging with prospects and customers, and crisis management. The course leaves marketers with the knowledge to grow an audience on social media platforms.
Price: $199
Registration: Enroll for Social Marketing Certification here.
7. Email Marketing Certification from HubSpot
HubSpot's Email Marketing Certification dives into the best practices for email marketing, including list segmentation and management, as well as how to present content in different email messaging types. Content and design are both important elements to good email marketing, as well as how to measure the impact email has on marketing efforts. Additionally, students don't need to buy HubSpot to find this content relevant, although users of HubSpot can best utilize HubSpot's email suite for implementing this training.
Price: Free
Registration: Enroll in Email Marketing Certification from HubSpot here.
8. Microsoft Advertising Certification
Similar to Google Ads certification, Microsoft also offers an advertising certification to help marketers learn advertising strategies focused on the Bing search engine. As Bing is still a widely used search engine, there is a lot of value in becoming a Microsoft Advertising Certified Professional.
This course teaches many of the same advertising foundations, but its focus will be Microsoft's native platform.
Price: Free
Registration: Enroll in Microsoft Advertising Certification here.
Dig Deeper on Marketing and customer experience