Definition
social media analytics
Social media analytics is the process of collecting and analyzing audience data shared on social networks to improve an organization's strategic business decisions.
Social media can benefit businesses by enabling marketers to spot trends in consumer behavior that are relevant to a business's industry and can influence the success of marketing efforts.
Another important example of how social media analytics supports marketing campaigns is by providing the data to quantify the return on investment (ROI) of a campaign based on the traffic gained from various social media channels.
Furthermore, marketers can analyze performance of different social platforms -- such as Facebook, LinkedIn and Twitter -- and of specific social media posts to determine which messaging and topics resonate best with a target audience.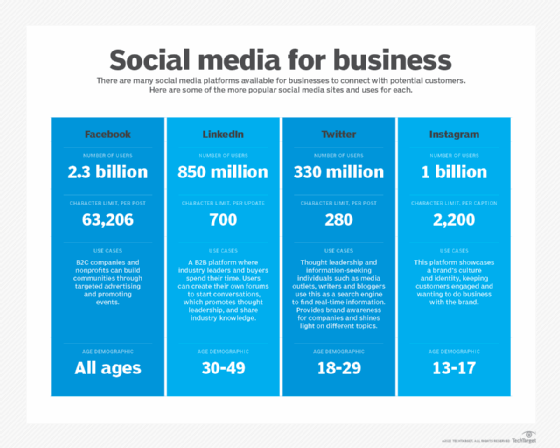 What are the use cases of social media analytics?
Social media analysis platforms can track and analyze a range of data and interactions used in a variety of social media marketing use cases.
Measure the ROI of social media marketing efforts
The main goal for any social media post, like, retweet or share is ROI.
To determine social media ROI, marketers must first determine an initial benchmark and then have a way to measure key performance indicators (KPIs) against that benchmark over time. When efforts aren't working well, analysis of those metrics will reveal tweaks marketers can make to improve the performance of the campaign and overall ROI.
In fact, a recent study from Hootsuite, a vendor offering a social media management platform, found that 85% of organizations that began measuring social media data within their analytics tools were able to accurately show ROI for those efforts.
To begin tracking social media campaign performance, a tracking pixel or Google Analytics UTM parameter can be added to any links used in social media posts or ads. That will show any conversions that came from social media marketing and can help with planning retargeting campaigns for visitors who didn't convert.
Improve strategic decision-making
Social media analytics can improve a marketing team's ability to understand what social media strategies are working and which ones aren't as effective.
However, the analytical results can also provide insight that can be useful for making business decisions about other important aspects of the business not necessarily directly related to the marketing campaigns.
For example, with social listening tools, audience and competition can be analyzed by extracting useful insight from social media data being posted on various social media networks like LinkedIn and Facebook. It can also provide demographic information about the audience that will enable enhanced marketing efforts targeting that sector and more effectively create brand awareness.
By using real-time data, emerging trends may be detected that can give a business a jump on the competition by posting social media content sooner.
Track the efficiency of marketing teams
Most organizations strive to streamline workflows and enable team members to be more productive. A lesser known, but still important, feature of social media analytics is its ability to improve efficiency with your marketing team.
In addition to the KPIs for your social media content, you can also measure aspects like response time and customer sentiment.
Showing the chief marketing officer areas where workflows can be automated and resources can be redirected to strategic activities that directly impact revenue are key to obtaining marketing budget and approvals for future campaigns.
What metrics should be tracked with social media analytics?
There are six general types of social media metrics that should be tracked.
1. Performance metrics
Measuring the performance of social media marketing efforts is critical to understanding where strategic efforts are working and where improvement is needed.
Key performance metrics to track include the following:
interactions across platforms and over time to determine if the posted content is properly engaging the audience;
whether the number of followers is increasing over time to verify consistent progress across platforms; and
click-through rate for link clicks on posts to see if they're properly driving traffic from social media channels.
2. Audience analytics
It's important to clearly understand and define the target audience, as it is the most important element of a social media strategy. Understanding the audience will help create a favorable customer experience with content targeted at what customers want and what they're looking for.
In the past, audience data was difficult to measure as it was scattered across multiple social media platforms. But with analytics tools, marketers can analyze data across platforms to better understand audience demographics, interests and behaviors. AI-enabled tools can even help predict customer behavior. They can also study how an audience changes over time.
The better targeted the content is, the less advertising will cost and the cost-per-click of ads can be optimized.
3. Competitor analytics
To obtain a full understanding of performance metrics, it's necessary to look at the metrics through a competitive lens. In other words, how do they stack up to competitors' performance?
With social media analytics tools, social media performance can be compared to competitors' performance with a head-to-head analysis to gauge relative effectiveness and to determine what can be improved.
Most modern tools that include AI capabilities can benchmark competitor performance by industry to determine a good starting point for social media efforts.
4. Paid social analytics
Ad spending is serious business. If targeting and content isn't right, it can end up an expensive proposition for unsuccessful content. More advanced analytics tools can often predict which content is most likely to perform well and be a less risky investment for a marketing budget.
For best results, an all-in-one platform is the preferred choice to track performance across all social media accounts such as Twitter analytics, paid Facebook posts or LinkedIn ads. Important metrics to track include the following:
Total number of active ads
Total ad spend
Total clicks
Click-through rate
Cost per click
Cost per engagement
Cost per action
Cost per purchase
These metrics will indicate exactly where each dollar spent is going and how much return is being generated for social media efforts. They can also be compared against competitor spending to ensure that spending is at an appropriate level and to reveal strategic opportunities where an increased share of voice may be attainable.
5. Influencer analytics
To gain a leg up on competition in a competitive space, many social media marketers will collaborate with social influencers as part of their marketing campaigns. To make the most of partnerships, it's necessary to measure key metrics to ensure that the Influencer marketing is achieving desired goals.
Social media analytics can provide insights into the right metrics to ensure that influencer campaigns are successful. Some influencer metrics that should be tracked include the following:
total interactions per 1,000 followers to understand if they're properly generating engagement;
audience size and most frequently used hashtags, to help determine the maximum reach of your campaign;
the number of posts influencers create on a regular basis, to help determine how active they are and how powerful engagement can be; and
past collaborations, which can be a great indicator of the potential for success with an influencer.
6. Sentiment analysis
Sentiment analysis is an important metric to measure as it can indicate whether a campaign is gaining favorability with an audience or losing it. And for customer service oriented businesses, sentiment analysis can reveal potential customer care issues.
To ensure that a campaign is in sync with the target audience and maintains a strong rate of growth, interactions and engagement rate should be tracked over time. A decline could indicate that a change of course is needed.
Gathering and analyzing customer sentiment can help avoid guesswork in developing a marketing strategy and deciding which content will resonate best with the audience. This type of analysis can also indicate the type of content that's likely to have a positive impact on customer sentiment If your social media analytics tool detects a spike in negative sentiment, action should be taken immediately to address and correct it before it becomes a PR nightmare.
Social media analytics tools
While many businesses use some sort of social media management tool, most of these baseline scheduling tools don't go far enough to provide the in-depth metrics and data points that social media analytics tools can deliver.
Not only can this deeper level of insight go a long way to inform a successful campaign, it can also be shared with stakeholders to show high-level ROI across disparate social media channels.
An effective analytics tool will have an intuitive, easy-to-use interface that enables transparency in a campaign; it should also streamline the social media marketing processes and workflows.
Examples of social media analytics tools include Sprout Social, Google Analytics, Hootsuite and Buffer Analyze.
This was last updated in
July 2021
Continue Reading About social media analytics
Dig Deeper on Data science and analytics