Fotolia
Taking on a virtual agent helps mint new wine connoisseurs
Having trouble selecting the wine that goes best with a special meal? And what if your preferred shop doesn't have it? Vivino helps you choose -- and, if needed, find -- the right wine.
Heini Zachariassen was standing in a retail store in Denmark one day in 2010, staring at a wall of wine bottles. Wouldn't it be nice, the entrepreneur thought, if he could use an app to learn more about wine? And, thus, Vivino was born.
Flash forward seven years: Vivino is the world's most downloaded wine app, with as many as one million page views per day. It has morphed from a crowdsourcing app, like Yelp, for rating, reviewing and learning about wines, to one that also sells it -- while supplementing humans with a virtual agent.
As the company grew, however, there were kinks to work out. Vivino's team of about 30 customer service agents wasn't equipped to handle the volume of calls or emails that millions of users speaking different languages generated. Agents across seven contact centers were all using different customer service platforms, making it difficult to compare statistics, like average ticket time, from one site to another.
"It was a management and data nightmare," said Chad Boonsupa, the company's San Francisco-based vice president of customer experience.
But it was an app run mostly on smartphones. How do you configure a contact center for this nontraditional business model that, nevertheless, has real people wanting correct answers to their questions?
Enter the virtual agent
To stand up its in-app contact center support, Vivino's technology wish list was long. The company needed the following:
a single customer service platform across all call centers;
a platform that would keep users engaged within the app without having to leave it to communicate with an agent or make a purchase;
customer information stored in one easily accessible place;
fast customer response times;
the ability to communicate in a variety of languages over any channel; and
technology that could scale as Vivino grew.
Vivino decided to implement a customer service platform from Helpshift Inc. in its contact centers. The artificial intelligence-powered software prioritizes messaging, a chatbot virtual agent and self-service to reduce the number of calls and emails required to solve issues -- all in an effort to reduce wait times.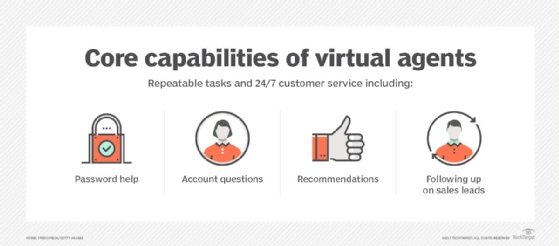 As mobile devices become the preferred method of communication for consumers, this type of mobile-first, in-app contact center software is increasingly popping up, both from startups and legacy CRM vendors.
A virtual agent can gain consumer acceptance
Recent industry research backs up how this trend is emerging, as consumers' tolerance for dealing with a virtual agent instead of a human increases -- if it means less waiting on hold.
Sixty-three percent of U.S. adults use mobile devices several times a month for customer service and support, Software Advice reports.
According to the Aberdeen Group, companies with the strongest omnichannel customer engagement strategies retain 89% of their customers on average, compared to just 33% for companies with weak omnichannel strategies.
Half of consumers now say they're open to communicating with customer service agents via a chat app, according to an Ovum survey. Problem resolution and order tracking are the most popular uses for chat features.
Unlike many legacy CRM products, mobile-first platforms are built specifically to optimize the customer's mobile and in-app experience. Companies usually consider this technology when they notice that app downloads are growing faster than web sign-ups, said Tushar Makhija, vice president of sales and success at Helpshift.
The technology is particularly appealing to B2C companies because it is built to scale, using automation to handle large and growing volumes of customers. Companies such as Microsoft, Honeywell, News Corp, WordPress and Comcast are among the early adopters.
Automating mobile service
Implementing a mobile-first platform meant Vivino's customers no longer had to leave the app for customer support.
The technology also appealed to Vivino because of what Boonsupa calls "enterprise-level integration" with data warehouses. Helpshift's software uses APIs to draw customer information from Vivino's databases.
Agents now have instant access to a detailed view of a customer's activity and preferences, including how much they're spending in the app, when they last visited, where they are located, what type of device they're using and the channel of communication they prefer -- phone, email or chat.
"You want to be able to see all that information, no matter who they are, no matter where they are in the world," Boonsupa said. "You're going to have a very different conversation with someone spending $10,000 a month than someone who is buying for the first time."
The platform gave Vivino the ability to route tickets based on language, agent skill set and time zone, he said. The company now offers customer support for nine countries and seven different languages.
Ultimately, through the use of artificial intelligence and bots, Vivino reduced the time it takes for an agent to respond to a ticket by 90% and boosted its ticket deflection rate to 95%. Most customers are able to get what they need through self-service, Boonsupa said, freeing up agents to focus on priority tickets and complex issues.
Keys to success
Results like Vivino's require the use of a chatbot virtual agent that can gather information directly from the database, Makhija said. For issues that can't be resolved with self-service, the human agent doesn't waste time asking the customer a lot of questions, as the technology has already provided that information on screen.
"We are not replacing [human] agents. The agents are what make the customers happy," he said. "This is all about making the agents efficient so they're not wasting time with busy work. They're always busy solving the problem."
Boonsupa said implementation was simple.
"I set up a few custom filters, created the workflows and, essentially, tickets route themselves." The initial data integration took some time, but now, integration is seamless, he said.
We are not replacing [human] agents. The agents are what make the customers happy.

Chris Boonsupavice president of customer experience, Vivino
For companies considering a mobile-first platform, Boonsupa recommends starting by assessing the needs of the organization. What do you want to achieve using the platform? What are your must-haves, and what features would just be nice to have?
When evaluating vendors, consider whether the company is a flexible partner, he said. Are they willing to grow and evolve along with your company, developing custom features to solve your problems and improve customer service?
"Find a vendor that is willing to adapt and iterate," Boonsupa said. "Are they willing to sit at the table and talk about adding features to enhance the customer experience?"