Getty Images
Zendesk updates focus on customer service AI 'ticket triage'
Zendesk incorporates intelligent triage -- AI-guided routing of tickets based on sentiment, urgency and complexity -- into its customer service platform.
In its latest quarterly update, users of cloud customer service vendor Zendesk get new features that arose from its Cleverly.ai acquisition, as well as deeper Zoom and Slack integrations.
Cleverly, which Zendesk acquired in August 2021, was founded by Cristina Fonseca, who also co-founded Talkdesk, a popular contact center as a service. Zendesk integrated Cleverly's AI Intelligent Triage, which prioritizes service tickets, and Smart Assist, a panel for contact center agents that feeds live suggestions to solve incoming customer calls based on AI contextual analysis.
Intelligent Triage tags events -- the problems customers call in about -- and analyzes the sentiment of each caller. Understanding call complexity and urgency helps determine where and to whom to route a call, be it to automated self-service, a human agent or even a specialist who can deal with specific issues, such as issuing refunds.
Zendesk has focused so far on retail and e-commerce for Intelligent Triage, with more industries to follow. Fonseca -- now vice president of product at Zendesk -- said that Intelligent Triage comes with 313 pre-configured service events, such as refunds, returns and invoice disputes, geared toward retail and e-commerce.
"It is very stupid that it's 2022 and companies are being asked to train machines to recognize refund requests and order tracking," Fonseca said. "From the early days of Cleverly, we've been building a catalog of events that represents pretty much everything that can end up in your customer service operation, and we pre-trained models on that."
Smart Assist finds content that can help prepare an agent for a conversation and also analyzes the sentiment of the caller -- alerting agents that they might be agitated, for example -- from the tenor of texts, chats or emails leading up to a customer's incoming call.
"The ability to leverage AI for key customer service and contact center operations is a no-brainer, and it's one that we don't see enough companies yet using," said Shelly Kramer, principal analyst and co-founder of Futurum Research. "[Zendesk deploys] AI to help agents focus on high-revenue, mission-critical responses and sensitive information detection for security and compliance purposes. AI that guides agents to real-time, next-best responses makes the job a continuous learning experience, which we know is something employees want."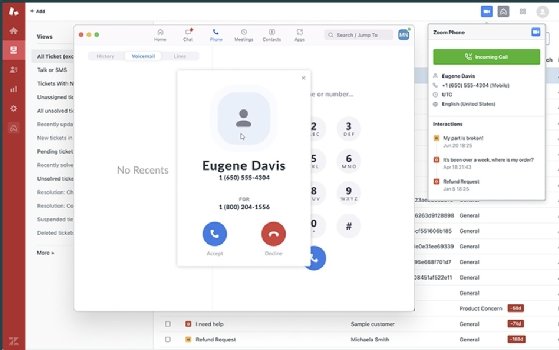 Updated mobile app, integrations
Zendesk also updated its mobile app. The update was necessitated by the fact that more agents work in mobile environments, said Jon Aniano, Zendesk senior vice president of product and CRM applications. Along with that, Zendesk updated its presence feature to understand agent availability in remote work scenarios and give managers visibility into their distributed teams.
"A supervisor who maybe used to be on the contact center floor -- who is now sitting in their guest room -- can get an idea of how many agents are online, in what status, manning what channel," Aniano said. "We have real-time supervisory capabilities and operational management capabilities. We also have historical review of what agents were doing at any particular time."
Zendesk also added a Zoom video and Zoom Phone integration, as well as Slack direct messaging features for joint customers of those products. Zendesk users can use video for service with the Zoom integration and also can generate service tickets from within Zoom and Slack without switching applications, Aniano said. Zendesk had previously enabled Microsoft Teams messaging as well.
On the Zendesk roadmap are future tools that enable admins -- who aren't frontline agents and typically don't answer customer questions themselves -- to track and catalog the agents' answers that best solve recurring questions, which, in turn, helps tune the recommendation algorithm.
Also coming are Intelligent Triage features that will aid in onboarding new agents to be trained on the tasks the contact center needs the most help solving, as well as integration with Zendesk Answer Bot.
Don Fluckinger covers enterprise content management, CRM, marketing automation, e-commerce, customer service and enabling technologies for TechTarget Editorial.
Dig Deeper on Customer service and contact center