Getty Images/iStockphoto
Zendesk unveils tools for agents to improve customer service
The customer service and CRM vendor unveiled no-code tools, including a layout builder to let teams customize agent interfaces for specific roles and workflows.
Zendesk on Wednesday unveiled new no-code tools for customer service agents.
The tools include new configurable object triggers for Zendesk's custom objects, which help admins incorporate business data into Zendesk workflows.
Object triggers help automate tasks based on data brought in by custom objects. For example, object triggers can be configured to automatically update a customer's support tier when the company's contract meets specific criteria.
Another new tool is the layout builder, which lets teams create separate interface layouts for specific functions and tasks. For example, an IT team could create different layouts for general hardware requests and software approvals.
The object triggers are available in an early access program for customers using custom objects and the Agent Workspace, which lets agents work across Zendesk channels from a single ticket interface.
The layout builder will be released Nov. 15. It will be available for Zendesk Suite Enterprise and Suite Enterprise Plus customers on the Agent Workspace.
Automation in customer service
Analyst firm Valoir conducted a study showing that the level of automation in customer service agents' daily tasks lags far behind those in finance, human resources, IT and marketing, according to Valoir CEO Rebecca Wettemann.
This gap is largely because of the multiple systems used to manage customer interactions.

Rebecca WettemannCEO, Valoir
That is so for a variety of reasons, she said.
"This gap is largely because of the multiple systems used to manage customer interactions, but also because many customer service organizations and contact centers in particular were slow to move to the cloud, meaning their systems were more rigid and they didn't have access to things like low-code tools to automate processes without IT's help," Wettemann said.
One example of a customer service vendor that has not moved quickly to the cloud is Avaya, which declared in June that it would continue to prioritize operations for customers who want to remain on-premises.
"Everyone doesn't go to the cloud at the same rate. Many customers go very slowly, if at all," said Avaya CEO Alan Masarek during Avaya Engage, the contact center vendor's annual conference.
Wettemann added that moving to the cloud is important, however, because it enables companies to use automation for more day-to-day customer service operations.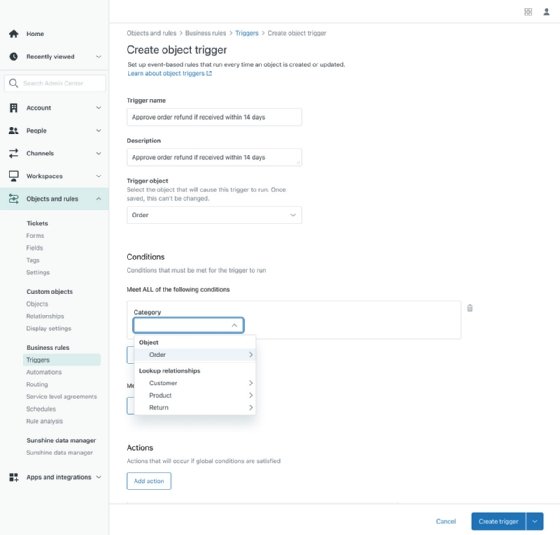 The advantages of using low-code tools
Low-code tools are becoming an essential asset in customer service platform offerings because they perform processes for agents using automation, according to Wettemann.
For example, low-code tools help service organizations automatically initiate and complete the software setup process and make changes as needed. They also give business personnel access to process controls without technical assistance, Wettemann said.
"They enable admin and business users to automate processes without the need for IT," Wettemann said.
With these kinds of capabilities, the next step for customer service vendors like Zendesk is finding ways to measure and manage the data, according to Wettemann.
"[It's] using data to help admins and business users understand adoption trends and where the platform is delivering the most value so they can drive more effective adoption and deliver more value," Wettemann said.
Zendesk should also consider how it is providing effective frameworks for governance and reuse, so service organizations can maximize low-code capabilities for scalability, Wettemann said.
Mary Reines is a news writer covering customer experience and unified communications for TechTarget Editorial. Before TechTarget, Reines was arts editor at the Marblehead Reporter.