vali_111 - Fotolia
Talkdesk adds virtual agents, rebrands CCaaS suite as CX Cloud
Talkdesk refocuses it CCaaS suite on customer experience by adding 20 features, including virtual agents and remote work features for contact center agents.
Users of Talkdesk's contact-center-as-a-service suite have new tools to enhance customer experience, such as virtual agents, remote agent support and deeper hooks into marketing, integrations with CRM cloud platforms and connections to enterprise collaboration tools such as Slack and Microsoft Teams.
The company released 20 new features in the weeks leading up to its recent Opentalk 2020 virtual user conference, and renamed its CCaaS offering Talkdesk CX Cloud. While some of the features, such as a workforce management and business continuity, either were up and running or long-planned, the COVID-19 pandemic gave rise to new ones such as CXTalent, which uses AI to pair job seekers with organizations looking to fill remote contact center roles.
For contact centers, the most significant of the new Talkdesk features revolve around the company's foray into workforce management, said Sheila McGee-Smith, president and principal analyst at McGee-Smith Analytics. That means Talkdesk is taking on new, bigger competitors such as NICE InContact, Verint and Genesys.
"They're building an entire workforce management suite, which includes [agent] performance management and quality monitoring," McGee-Smith said. "It's been on their website, but they've never publicly taken that step to say 'Yeah, we're doing this.'"
Virtual agents, collaboration connectors in Talkdesk CX Cloud
Connecting to enterprise collaboration tools helps agents find answers to customer questions more quickly, said Charanya Kannan, chief product officer at Talkdesk. Customer service cloud vendors including ServiceNow have introduced features to connect agents to their company's in-house experts who help solve account problems or technical issues.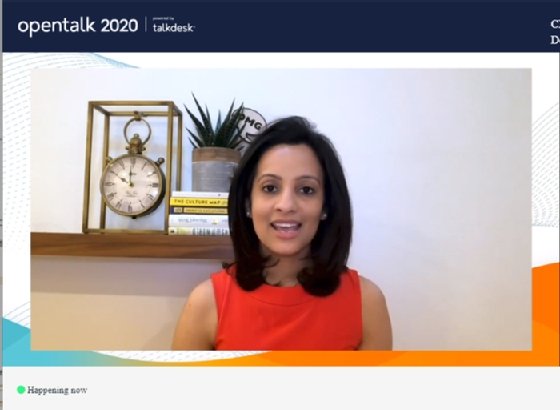 "A lot of times when customers ask questions, agents will have to communicate with the rest of the organization to get answers," Kannan said. "At companies where some of these questions are very deep, you need to bring in your technical account manager or different people internally. This provides a mechanism to collaborate, making customer experience not just the job of the contact center employee."
Many of Talkdesk's customers, she added, run contact centers with 1,000 or more agents. Finding in-house experts via popular collaboration tools can be an efficient way to navigate large, multinational organizations that are in the process of moving whole IT operations to the cloud.
Other new Talkdesk CX Cloud features include connectors to CRM systems, so salespeople can see more detail about their customers' interactions with customer service, and vice versa. Currently, Talkdesk customers connect to about 60 different CRMs, Kannan said. Salesforce is by far the most popular, followed by ServiceNow and Zendesk. About 70% of Talkdesk customers use one of those three CRMs.
"Salesforce and Talkdesk share a lot of similarities," Kannan said, adding that they fit together well because companies that use Salesforce are already familiar with and comfortable working on an extensible multi-tenant cloud SaaS platform, which Talkdesk also is.
Salesforce added voice capabilities for contact centers to its Service Cloud offering late last year, making it a potential competitor for Talkdesk.