AI takes center stage in the future of contact centers
Generative AI has disrupted the technology world, and contact center vendors are already looking to add it to products. Here's what AI in contact centers could mean for agents.
From phones to chatbots to cloud technology, the contact center has transformed drastically over its lifetime. Recent innovations in AI and generative AI allude to more change.
AI took center stage at this year's Enterprise Connect conference, as technologies like ChatGPT have taken the technology world by storm. Contact centers won't escape AI's reign, either.
Vendors such as Salesforce, Nice and Genesys already have plans for the future of their contact center technology -- embracing AI and improving the usage of customer data. These strategies came up during the panel "What Comes After CCaaS?" led by Sheila McGee-Smith, principal analyst at McGee-Smith Analytics.
"AI is the story, but it's all about the data that drives it," McGee-Smith said during the session.
A brief history of contact centers
Contact center advancements follow the technological booms of their times. What started as customers sending letters to businesses became phone calls to call centers. Then, email offered another channel for customers to reach businesses. Email opened the door for multichannel access, including self-service and chatbots.
As call centers offered more channels of contact beyond phone calls, the contact center emerged. With multiple contact streams, organizations could get more and varied types of customer data. Contact centers proved how customers communicate differently through different channels and what they're willing to share with a human agent versus a chatbot.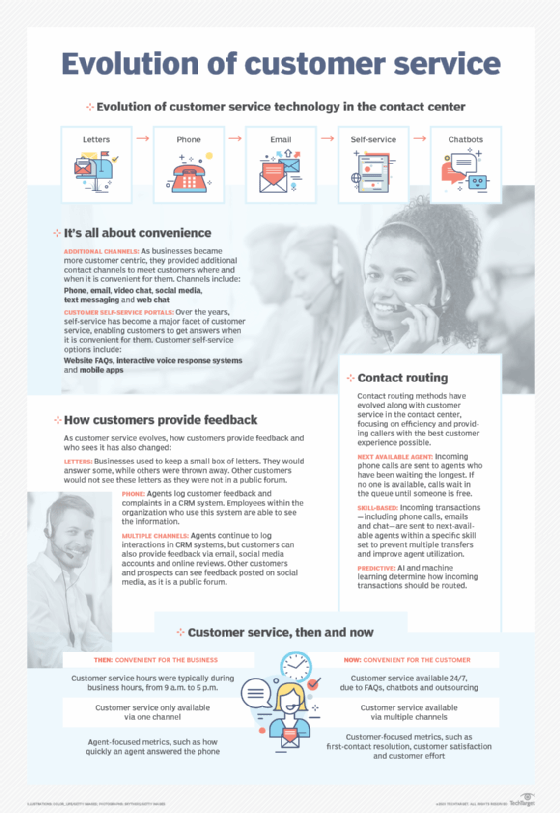 Cloud became popular in the late 2000s, leading CX vendors to develop contact center as a service (CCaaS) offerings. CCaaS has been a popular term in the enterprise market since its inception, but only 30% of organizations currently use CCaaS, McGee-Smith said. So, cloud will still play a role in the future of contact centers.
The next big technology innovation is AI. ChatGPT -- OpenAI's machine learning-based chatbot that emerged in November 2022 -- has rapidly increased consumer and enterprise interest in generative AI, which can produce text, images, sounds, etc. Its influence on technology has already begun to inspire the future of contact centers.
The role of AI in the future of contact centers
Despite its infancy, ChatGPT has demonstrated a type of chatbot that can communicate with customers in a way that mimics a human agent. Vendors and organizations alike are interested in ways to improve and better personalize chatbot interactions, as well as create an experience that feels more like a human connection.
Aside from more advanced chatbots and virtual assistants, AI in contact centers can also enable the following:
Request routing.
Agent analytics.
Transcription and call summary services.
App integrations to connect and share data among agents.
Interoperability.
Integration and interoperability will be key, according to Stephanie Corby, practice director and senior analyst at Enterprise Strategy Group, TechTarget's research, advisory and consulting arm. Organizations want AI to help connect various business apps -- like unified communications as a service and CRM systems -- with their contact center platforms and help share the data between apps and teams.
"How do you create that seamless workflow for contact center agents? … It all has to be streamlined, but it also has to be secure and compliant based on the interactions that are happening," Corby said in an interview after the event.
Vendors have yet to perfect interoperability, but it will be a game changer for the future of contact centers when they do, Corby said.
CX vendors with AI features in development
Organizations will soon be able to take advantage of contact center tools' upcoming AI capabilities, which several vendors announced at Enterprise Connect. Those capabilities include the following:
Amazon will offer new features for Chime SDK, a call analytics tool that can analyze customers' tones to evaluate sentiment.
Cisco has plans to incorporate AI into Webex Connect, its cloud communications and contact center offering. The vendor plans to automate personalization and use machine learning so the platform becomes self-learning.
Five9 has plans to include workflow automation as a standard capability within its CCaaS offering and tools to integrate data across the contact center.
Genesys is offering GCXNow, a free trial offering for SMBs to try out its CCaaS platform and get started with its AI capabilities in the contact center.
Nice will add Enlightened Actions, a generative AI service, to its Enlighten AI for CX offering. The vendor aims for Enlightened Actions to act like ChatGPT, with access to an organization's knowledge base to respond more quickly to user requests.
Verint will integrate its CX automation services with Google Cloud Contact Center AI.
Hesitant market adoption of CCaaS indicates that organizations are wary of adopting newer contact center technologies, however. Security and compliance are key reasons for this, Corby said, as organizations want to ensure that customer and company data remains secure. Vendors with security baked into their infrastructures will likely have an advantage over vendors without it.
"[AI] has caused a lot of contact center buyers to kind of take a pause, assess their full stack and where the data is coming from: How secure is it?" Corby said. "The future is exciting … but make sure to protect your organization from a compliance and security standpoint."
Dig Deeper on Customer service and contact center