Amazon Chime SDK gets new tools for call analytics insights
The communications service's new call analytics tool set enables users to conduct voice tone analysis to track customer sentiment and send the data to their preferred data lake.
AWS on Monday released new features for its web communications service, Amazon Chime SDK, to let developers extract real-time insights from audio calls using transcription, voice tone recognition and speaker search.
The new call analytics tool set was unveiled during Amazon's keynote at Enterprise Connect, being held in Orlando, Fla., March 27-30.
One benefit of Amazon Chime SDK is that it's vendor agnostic, enabling the tech giant's new product to be easily implemented, ZK Research analyst Zeus Kerravala said. AWS doesn't view unified communications vendors such as Microsoft and its Teams platform or Zoom as competitors to Amazon Chime SDK, he said.
"They don't really care which platform you use," Kerravala said of AWS. "It's just a set of SDKs that lets you do more with the tools you're already using, and I think that's a big difference."
Tapping into tone
One tool in call analytics is voice tone analysis that uses machine learning technology to identify a caller's emotions. With this capability, developers can use this data to gauge customers' satisfaction levels during calls.
"It's very easy to pull data out of chat and email, but voice has been very difficult to work with over the years," Kerravala said. "This actually makes voice a usable asset."
While many contact centers use sentiment analysis, Amazon is making voice tone analysis available for workers and teams outside of the contact center.

Blair PleasantAnalyst, Commfusion
This type of voice analysis capability is common in call centers, but Amazon's tool extends it to other business sectors as well, according to Commfusion analyst Blair Pleasant.
"While many contact centers use sentiment analysis, Amazon is making voice tone analysis available for workers and teams outside of the contact center, expanding its usefulness," Pleasant said.
Amazon Chime SDK is an attractive tool for enterprises looking to implement voice analysis capabilities, Metrigy analyst Beth Schultz said.
"Voice analytics isn't a new technology, nor is its application for the customer experience use case," Schultz said. "The Amazon Chime SDK is a good option for companies that aren't yet using voice analytics."
Compiling data analytics
After collecting the analytics, users can send the data to their preferred data lake, and then build dashboards with analytics platforms Amazon QuickSight or Tableau for data visualization.
"The real value of this field is that it creates a single data lake for all your voice communications," Kerravala said.
Users can choose which AWS AI service they want to employ for analyzing live audio data. Compatible services include voice analytics, Amazon Transcribe and Amazon Transcribe Call Analytics.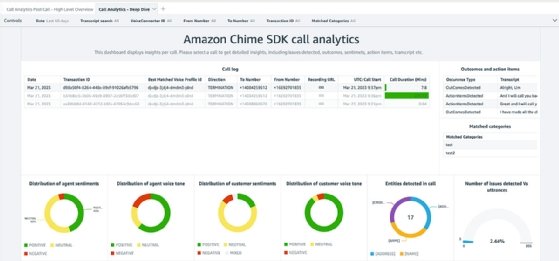 "One of the things that's most exciting about getting the data in a single place is then you can just start to run those analytics and get more data points," said Jennie Tietema, principal product manager for Amazon Chime SDK.
The tech giant also updated the Amazon Chime SDK section of the AWS Management Console. The updates include a simpler graphical interface so that developers can integrate call analytics tools into their call applications, with no extra code necessary.
Call analytics also includes a new tool called speaker search, which aids identity attribution within a call. Speaker search can be used to label callers in real time during conversations taking place over shared devices.
Amazon Chime SDK call analytics is generally available now in AWS regions U.S. East 1 and U.S. West 2.
Mary Reines is a news writer covering customer experience and unified communications for TechTarget Editorial. Before TechTarget, Reines was arts editor at the Marblehead Reporter.
Dig Deeper on Communications platforms and integrations