Definition
speech analytics
Speech analytics is the process of analyzing voice recordings or live customer calls to contact centers with speech recognition software to find useful information and provide quality assurance. Speech analytics software identifies words and analyzes audio patterns to detect emotions and stress in a speaker's voice.
The field is one of the fastest-growing segments in the call center management technology market as of 2018, according to market research firms.
Uses of speech analytics
Speech analytics technologies are often used during customer interactions in call centers to identify things like the reason for the call, the products mentioned and the caller's mood. If speech analytics tools are used effectively, software can analyze phrases used by customers to quickly identify their needs, wants and expectations and indicate areas that need improvement for call center agents and the business.
Speech analytics tools can enable a business to take action on otherwise less usable information from customer service calls and gain insights about customers that might only rarely come up in volunteer surveys. The results can be used to improve the customer experience, analyze the impact of sales and marketing initiatives and hone in on any operational issues in the contact center, among other uses.
How speech analytics works
Real-time speech analytics tools can be used during a customer service call to provide scripted answers based on previous calls about similar issues or alert supervisors when a situation may need to be escalated, based on the caller's tone or inflection.
Post-call speech analytics often starts with the transcription of calls into searchable, actionable data. A speech engine performs the initial analysis and converts the data into a series of phonemes -- small phonetic sounds. The results are indexed and searchable via a query engine and can be viewed via dashboards and generated into reports to help users drill down into and filter results.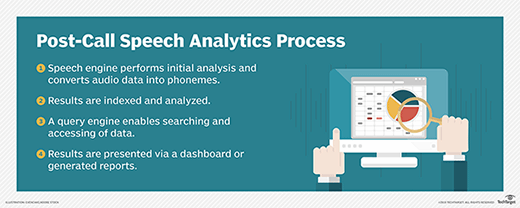 Post-contact tools can also enable agents and managers to forward calls to individuals for further analysis to address recurring issues, as a quality control measure.
Benefits and challenges of speech analytics tools
While speech analytics can be used to monitor and coach call center agents, as well as assist in managing customers and their data, there can be issues as well.
In call monitoring, speech analytics software can identify selling opportunities and track regulatory compliance. When used to help with coaching, the software can help to improve first call resolution and shorten call times. Through monitoring of both customers and agents, operational and performance issues can be found and managed as well.
However, to fully benefit from speech analytics technology, skilled business analysts and data scientists are needed to engage in data mining and analysis. An organization must also have a change management process that enables business analysts to fully utilize information gained from calls.
This was last updated in
February 2018
Continue Reading About speech analytics
Dig Deeper on Customer service and contact center