AWS seeks niche in the cloud UC market
AWS could play a bigger role in the cloud UC market in 2020 and beyond by targeting developers and existing AWS customers.
For years, industry experts have been waiting for AWS to signal how seriously it planned to compete in the cloud unified communications market. Many wondered whether the tech giant would seek to displace established vendors Microsoft and Cisco.
But recent moves by AWS show the company is more interested in using its calling and meetings product Amazon Chime to bolster its core infrastructure-as-a-service business. Whether the cloud provider intends to compete head-to-head with the two cloud UC market leaders remains an open question.
"The big wild card for Amazon is how aggressively they want to move into the market," said Irwin Lazar, analyst at Nemertes Research. "They are sort of picking and choosing their battles right now."
In 2020, AWS will likely focus on developers building applications to run on the company's IaaS platform. That strategy appears centered on two significant components AWS added to its Chime portfolio: Amazon Chime Voice Connector and Amazon Chime SDK.
Voice Connector is a low-cost service for connecting on-premises calling equipment to the cloud using SIP. The offering complements AWS Direct Connect, which links a company's internal network to the AWS cloud.
The Chime SDK, or software development kit, is a suite of tools that will let developers add communications features to their apps. Mitel, an established UC vendor with roots in the on-premises PBX market, will be the first to use the kit. The company's goal is to enhance its offerings for online meetings.
In focusing on its IaaS platform, AWS appears to be pivoting away from competing directly against off-the-shelf collaboration suites from Microsoft and Cisco. The vendor seems more interested in using its communications offerings to enhance existing AWS services.
AWS has also begun to penetrate the communications market through sales of Amazon Connect, a contact center offering. The vendor recently cemented a significant partnership to power calling in Salesforce with Connect. It also added in December a suite of AI tools to provide data and analytics for customer service operations.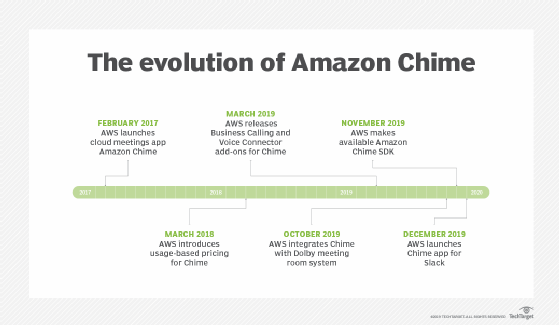 "What is the end game here for Amazon?" said Rob Arnold, analyst at Frost & Sullivan. "It's obviously not just trying to compete head-to-head with Microsoft Teams Meetings or Cisco Webex Meetings."
Instead, AWS is likely using products like the Chime SDK to drive a broader business model, Arnold said. That could include enticing developers to add communications to e-commerce applications running on the cloud provider's infrastructure.
But AWS's developer-focused approach could still threaten established UC vendors, depending on how the cloud communications market matures.
"The more communications become a set of components that you want to integrate into other apps, the more that favors developer-focused companies like Amazon," said Zeus Kerravala, principal analyst at ZK Research. "Amazon won't disrupt the industry through the traditional buyer."
As an app, Amazon Chime trails competition
On the flip side, AWS is continuing to develop Chime as an off-the-shelf app that competes with video-conferencing products like Zoom and Cisco Webex.
In March, AWS added a bare-bones calling service to Chime, which had previously been a video-only app. It later integrated the service with a meeting room system from Dolby and with the team collaboration app Slack.
Still, Chime lags far behind the leading calling and meetings products on the market, both in terms of end-user features and partnerships. "You don't see them in the mix that much amongst the established players," said Jon Arnold, principal analyst at J Arnold and Associates.
Meanwhile, privacy concerns have hampered the vendor's attempt to penetrate the enterprise market with the AI voice assistant Alexa for Business. The system lets users control business apps and meeting room equipment with their voices.
AWS has won a few marquee customers for Alexa for Business, including Condé Nast, Brooks Brothers and General Electric. But the company has also faced setbacks, such as when WeWork halted its rollout of the service late last year.
Amazon and other tech giants came under scrutiny earlier this year when news reports revealed they were letting contractors listen to voice recordings. Many enterprise buyers remain wary of placing such listening devices throughout their offices, at least for now, analysts say.
"There are lots of concerns around security right now with [Alexa for Business]. And that's valid. But I think we'll get there," Rob Arnold of Frost & Sullivan said. "Like with voice over IP or video conferencing, it just needs time to be matured and groomed."
Analysts are hoping that 2020 will bring greater clarity to the tech giant's plans for winning more cloud UC subscribers. They also want to know whether Alexa will play a more prominent role in that strategy.
"Amazon can be disruptive in any market if they choose to be," said Wayne Kurtzman, analyst at IDC. "The question is, will they choose to be disruptive in the collaboration applications market, and what value will they bring that's not yet on the market?"