Fotolia
Talkdesk cloud contact center integrates with on-premises PBXes
Talkdesk is opening its cloud contact center to on-premises PBX systems from vendors, including Avaya and Cisco -- a move that should help the company win larger customers.
Talkdesk's cloud contact center platform now connects to on-premises telephony infrastructure from third-party vendors, a feature that could help the company win deals with larger organizations.
Businesses are now able to connect IP-based PBX systems from vendors such as Avaya and Cisco to Talkdesk's cloud contact center through a Session Initiation Protocol (SIP) trunk. The new setup, called Talkdesk xConnect, also lets businesses link Talkdesk to telecommunication services from service providers with which companies have existing contracts.
Talkdesk is positioning itself to move upmarket by enabling hybrid cloud deployments, as many enterprises want to safeguard prior investments in expensive telephony hardware, said Zeus Kerravala, founder and principal analyst at ZK Research in Westminster, Mass.
"They are really the first pure-cloud provider to come out with a solution that addresses the legacy telephony investments," Kerravala said.
In its most recent Magic Quadrant report on the contact-center-as-a-service market, Gartner noted that Talkdesk had limited experience supporting large and very large contact centers. The research firm labeled Talkdesk a visionary for its tight integrations with Salesforce and its reputation for high-quality customer service.
Talkdesk also announced this week that its cloud contact center would support standards-based phones. That will enable customer service representatives to use mobile phones or open-SIP desk phones with Callbar, the vendor's user interface for agents. Talkdesk will continue to support its softphone client.
Other aspects of Talkdesk's winter release include bringing native omnichannel capabilities to Callbar and giving businesses tools to build speech-to-text interfaces for customer self-service. For example, companies could create an automated voice system to let customers check the status of an order.
Talkdesk cloud contact center expands single sign-on, information security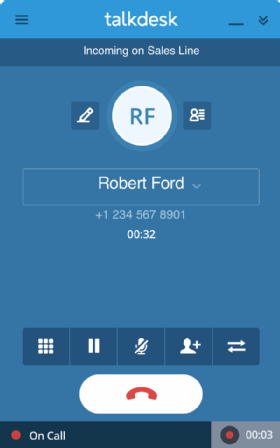 Talkdesk also highlighted new security features, including an expansion of its support for single sign-on to include any third-party authentication vendor that complies with the protocol SAML 2.0. Talkdesk previously supported a limited number of authentication providers, such as Okta.
Single sign-on, which lets employees use and manage the same password for every app, is vital in contact centers, where customer service agents switch between a large number of applications to answer customer inquiries.
Meanwhile, Talkdesk announced support for a new method of collecting credit card information that avoids a customer disclosing personal details to a customer service agent. The feature would let agents send a form to customers' phones or computers through which they could provide credit card information, rather than collecting that information verbally.
"I think it's a good step forward for Talkdesk," Kerravala said about Talkdesk's winter update. "I think all of these releases here go toward creating a much more personalized experience between the agent and the customer."