Getty Images/iStockphoto
Zoom expands workspace offerings with AI-supported Zoom Docs
The videoconferencing vendor unveiled a document creation product that features AI Companion and content organization components to build layouts and workflows and manage data.
Zoom is bringing a document creation tool, Zoom Docs, to its workspace portfolio.
The video communications vendor on Tuesday unveiled the new product at Zoomtopia, its annual user conference, held this year in San Jose. Zoom Docs will be generally available sometime in 2024, according to the vendor. Pricing information is not yet available.
Creating documents with AI assistance
Zoom is incorporating its generative AI assistant, AI Companion, into Zoom Docs to help users create workspace content and collaborate faster.
Within Docs, AI Companion can alter wording for tone adjustment, brainstorm ideas based on a prompt, and summarize or query content stored within the Zoom product suite. For example, AI Companion can retrieve information from Zoom Meetings and Team Chat to answer users' questions.
Zoom Docs aims to not only reduce workspace collaboration app clutter by offering more tools within the Zoom portfolio but also let users manage and sync information faster between their Zoom products with AI Companion.
Zoom Docs is an ambitious undertaking for the videoconferencing vendor since it pits Zoom more directly against Microsoft, a giant in the digital workspace market, according to ZK Research analyst Zeus Kerravala.
"Zoom Docs is certainly a bold move for them as it goes after Microsoft's core business," he said.
Initially, Zoom Docs will likely be aimed at smaller companies, given how larger vendors like Microsoft are dominating the enterprise arena, Kerravala said.
But while Zoom Docs might not attract large enterprise customers at the outset, its ease of use within the Zoom product suite could potentially sway bigger companies, Kerravala added. "Zoom can deliver something Microsoft can't, and that's a suite of products that are tightly integrated."
The advent of generative AI also gives smaller workspace vendors like Zoom the opportunity to offer more capabilities with their collaboration products, he said. "AI creates a seminal moment in the document collaboration space and if [Zoom] can use AI to deliver an entirely new experience, it could gain traction."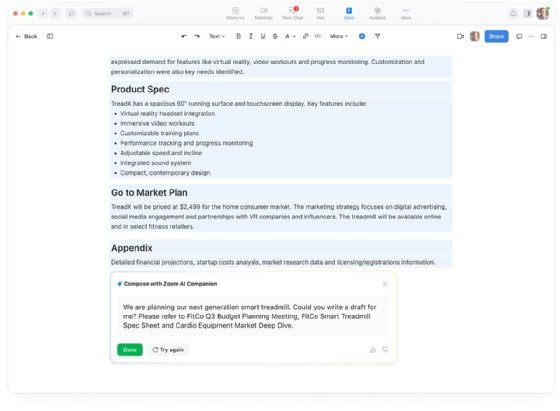 More collaboration with content creation
Other features in Zoom Docs aim to make workspace communication more collaborative with different tools for building, organizing and sharing content.
Zoom Docs lets users organize content into content blocks, which are components that can then be used to build layouts and workflows. Zoom Docs also offers content organization into table blocks, which are components for managing tasks, data, projects and schedules and can be sorted by columns, filters and groups.
For more organizational context, Zoom Docs also lets users create wikis to connect related pages and present them in a tree format, so teams can understand how pages are linked.
In addition, Zoom Docs can also integrate with third-party apps.
More generative AI in the contact center
Since releasing the Workforce Engagement Management suite in September, Zoom has continued to build on its AI-supported offerings for Zoom Contact Center.
Zoom can deliver something Microsoft can't, and that's a suite of products that are tightly integrated.

Zeus KerravalaAnalyst, ZK Research
Zoom on Tuesday also unveiled new tools for Zoom Contact Center, including Zoom's AI Expert Assist, which gives contact center agents helpful steps in real-time and automatically serves relevant customer and knowledge base information as needed.
AI Expert Assist also aims to support contact center supervisors with actionable insights that can help supervisors minimize costs and pinpoint weak areas in the workflow.
In addition, Zoom said it will also offer generative AI in Zoom Virtual Agent, which will let users create auto-generated bot flows, giving all team members the ability to create workflows with a simple text prompt.
These features are expected to be generally available by the end of the year, according to Zoom.
As the generative AI features for Zoom Contact Center accumulate, the platform becomes a stronger opponent against established workspace vendors that are still forming their generative AI strategies, according to Commfusion analyst Blair Pleasant.
"Zoom keeps adding more and more capabilities to Zoom Contact Center, making it increasingly competitive and even leapfrogging more mature solutions that have been around for a while," she said.
Mary Reines is a news writer covering customer experience and unified communications for TechTarget Editorial. Before TechTarget, Reines was arts editor at the Marblehead Reporter.
Dig Deeper on Video conferencing and visual collaboration