carloscastilla - Fotolia
UC presence evolves amid remote work revolution
UC presence technology must evolve to be effective in today's world of remote work and multi-device communication. Learn how presence can adapt to new ways of working.
Presence technology has long been a core component of unified communications, or UC, to indicate a user's availability to chat or meet. But it has been historically unreliable, with an inability to set presence across various apps and devices or requiring users to set their status manually.
"Presence for years has been talked about but never found a reliable enough implementation to be useful," Nemertes Research analyst Irwin Lazar said. "People are so conditioned not to trust a presence indicator."
Often, a big presence indicator is when users snooze their notifications, he said. In Slack, for example, if a user is reaching out to a co-worker who has snoozed notifications, the user will receive a message stating that notifications are turned off and asking if the user would like to send a chat anyway.
User-created whereabouts channels in team collaboration apps have also become replacements for presence, Lazar said. Instead of updating their presence status, users will post messages in the channel if they plan to step out for coffee or head to a doctor's appointment.
Despite the absence of presence over the years, the technology is seeing a reemergence as employers now want to keep closer tabs on their remote employees' availability and productivity. Vendors, for their part, are listening to their customers and rolling out presence updates.
Addressing remote management challenges
In response to user demand for more accurate UC presence, Microsoft rolled out a Teams update in August. Prior to the update, changes to a user's presence status would take about five minutes to display. The real-time presence update determines a user's status based on manual user presence status, Outlook status and activity within the Teams app.
Microsoft also plans to roll out an update that enables users to set their presence status for specific time periods.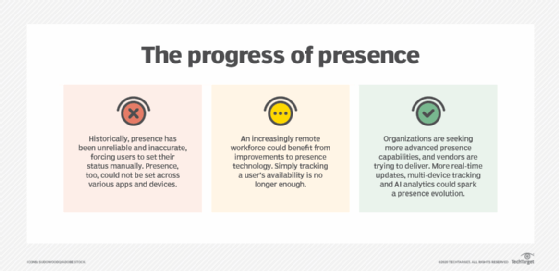 The biggest challenge in remote work is managing people, according to Nemertes. Managers may find it difficult to gauge what employees are doing at a given time. It's not enough to know if employees are present, Lazar said.
Organizations reopening their offices using a flexible, hybrid scenario could use presence information to tell when employees are in the office or when they're working from home. A combination of presence and analytics can also help determine when employees are working, the apps they use most and how long they're at their desk, Lazar said.
Presence for years has been talked about but never found a reliable enough implementation to be useful.

Irwin LazarAnalyst, Nemertes Research
As work from home becomes the new normal, organizations need new metrics and applications specific to measuring productivity. IT and line-of-business managers are hungry for tools and apps that can help monitor employees without being intrusive, said Jon Arnold, analyst at J Arnold & Associates.
The next generation of UC presence technology
Presence was built in a world where employees were using mostly one device: their desktop. But most employees today use multiple devices to get work done, and presence capabilities need to keep up.
"Presence is something you want to be able to trust -- if you don't trust it, you stop using it," said Clément Wehrung, product manager at cloud communications provider Fuze.
Fuze recently acquired a patent for a unified user presence system, which uses APIs to tap into devices on Fuze's network -- including desk phones, desktops and mobile devices -- to track user activity and set presence status accordingly.
The system also enables users to set preferences for how they want to be contacted. For example, in the evening, a user may prefer to be contacted through messaging rather than a phone call. If someone was looking to contact that user, the system would notify the person to send a chat.
"That approach is far more useful than expecting users to manually set status or only having presence indicated by an icon," Lazar said.
The addition of AI to UC presence technology could also improve accuracy by pulling data from different sources, he said. For example, AI could monitor user activity across applications or tap into a webcam for motion detection to create a more reliable, automated approach to presence.
While these types of AI applications have privacy considerations, they could also be used constructively to monitor employee performance and engagement. Capabilities like sentiment analysis, for example, could detect when an employee may need to take a break after working in a specific app for a certain amount of time, Arnold said.