Sergey Nivens - Fotolia
StorageCraft update adds converged appliance, data protection
StorageCraft's new OneXafe converged primary, secondary and backup appliance and ShadowXafe data protection software replace the vendor's OneBlox and ShadowProtect products.
In a move that was hinted at earlier this year, the latest StorageCraft update revamps the OneBlox and ShadowProtect products into the new OneXafe and ShadowXafe. More than just a name change, both products bring significant changes, bringing together primary, secondary and cloud storage, and the means to back them up onto a single platform.
With OneXafe, the StorageCraft update integrates the OneBlox scale-out storage appliance with the company's backup and data protection software. StorageCraft acquired object storage vendor Exablox in 2017 for its OneBlox platform.
"We've taken the technology and the products we bought through the Exablox acquisition, which is mainly the scale-out storage for primary and secondary markets, and tightly integrating that with the data protection technologies from StorageCraft," said Shridar Subramanian, vice president of marketing and product management at StorageCraft Technology Corp.
OneXafe will come in HDD-equipped 4400-series models, which start at $14,000 for 144 TB, and all-flash 5400-series models, which start at $38,000 for 38 TB. They will be available later this year.
The StorageCraft update revamps ShadowProtect as well, with the new ShadowXafe. This data protection software product is tightly integrated with the company's existing cloud-based disaster recovery as a service (DRaaS) offering and boasts a near-instant recovery from physical or virtual machines. ShadowXafe's features also include agentless support for virtual environments, service-level agreement-driven backup policy orchestration, and the ability to recover to dissimilar physical or virtual environments. The ShadowXafe software is currently available.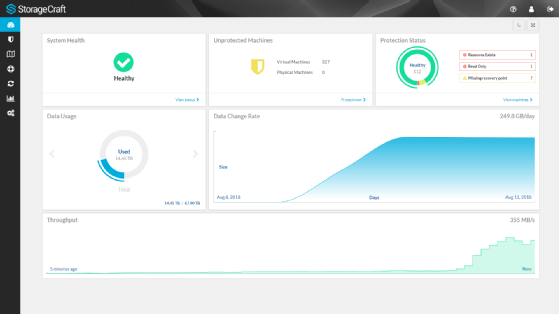 Although ShadowXafe makes up the data protection component of the total OneXafe package, both products can be purchased independently. ShadowXafe is hardware-agnostic and can be deployed to any system, and OneXafe without ShadowXafe is essentially a OneBlox appliance with hardware upgrades.

Targeting the midsize enterprise, the StorageCraft update was designed to be easy to deploy. "We've made something that's easy to manage and something that does primary, secondary and data protection," Subramanian said.
With other vendors, IT administrators would have to pick out those three components piecemeal and then figure out how to build a backup infrastructure with them, effectively becoming "pseudo-system integrators," according to Subramanian. "With our system, they don't have to worry about any of those things. They can just put these solutions in play. It is a plug-and-play model, and they can grow capacity and protection capabilities as the need arises," he said.
According to Amita Potnis, research manager at IDC, StorageCraft has had a history of enticing the midsize market with its object storage, which scales better than file-based systems.
"Generally speaking, when using a file-based storage environment, they probably will not have the ability to scale to the extent that an object store does," she said. "I think having the ability to scale dramatically, and easily, and affordably, it would help midsize customers especially."