Petya Petrova - Fotolia
Retrospect backup wants to get more ROBOs on board
Retrospect version 17 makes deploying its backup software easier. The new onboarding feature focuses on simplicity, which is demanded regardless of customer size.
The newest version of Retrospect backup software can make it easier to protect new servers and devices at endpoints.

Retrospect 17, released today, includes new automatic onboarding feature. Admins looking to deploy Retrospect to new devices can point employees to a download link for a Retrospect client. Once installed, Retrospect automatically discovers and backs up data on the new endpoint. The admin can monitor and manage the endpoint on the web-based Retrospect Management Console.

This makes it easier for organizations to perform remote office/branch office (ROBO) deployments. The employee who owns the laptop or the office manager in charge of the server can download and install the Retrospect client on their end, so IT administrators do not need to be directly involved. This can be especially useful for businesses with few IT resources or geographically dispersed offices.

Retrospect backup software is priced according to the number of endpoints and servers a customer wants to protect. The smallest version, Retrospect Solo, only protects one endpoint, and costs $3.99 a month for a subscription license and $49 for a perpetual license. The Multi-Server version, which protects up to 150 servers and endpoints, is $179 a month or $2,999 for the perpetual license. There are also Desktop and Single-Server versions between those.

Customers with support contracts in place can update to Retrospect 17 for free.
Retrospect general manager JG Heithcock said large organizations including NASA, ABC and the U.S. Army deploy Retrospect backup to protect servers, desktops, laptops and other endpoint devices. He said Retrospect is usually a small-scale deployment within a particular department at those large organizations rather than as backup software the entire organization uses. The target audience for Retrospect is small businesses and prosumers.
"Our sweet spot is the local dentist, the vet and the construction company down the road," Heithcock said.

The automatic onboarding feature was also added to Retrospect Virtual 2020, a separate standalone product for protecting VMware and Hyper-V environments. Retrospect initially released its virtual edition in 2018 and it runs on common public cloud platforms such as Amazon EC2, Microsoft Azure and Google Cloud Platform. The latest version added support for Wasabi cloud and Backblaze B2 cloud, as Heithcock said he noticed increased customer demand for smaller cloud providers.
Backup vendor Carbonite is also known for initially targeting consumers before moving upward to small businesses, and Heithcock cited Veeam and Acronis as other vendors Retrospect directly competes with.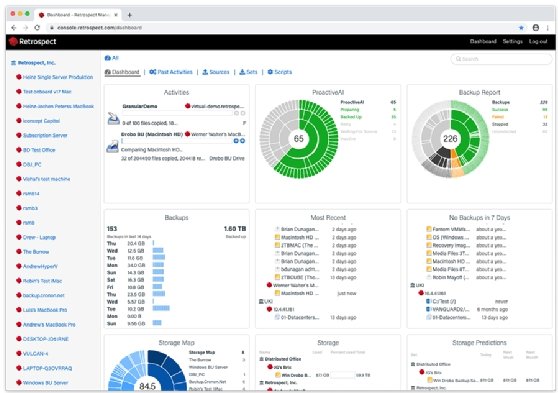 "They've specialized in endpoint, and they're moving upmarket," said Steven Hill, senior analyst at 451 Research, who had followed Retrospect since its early days when it was one of the few vendors that sold backup for Macintosh computers.

Retrospect, which was first developed by Dantz Development Corporation in 1989, added support for Windows computers before EMC acquired Dantz in 2004. The Retrospect product has changed hands several more times, and was most recently acquired by StorCentric in June 2019. Under StorCentric, Retrospect operates as its own independent subsidiary.

Hill said Commvault and Veritas are backup vendors with a dominant hold in the enterprise market, which even a vendor as recognized as Veeam still hasn't fully penetrated. However, Hill said for smaller vendors, tapping into larger customers is possible by playing toward small, but independent branches within the larger organization. He said that's where Retrospect is doing well, and it's how they claimed Sony and Warner Brothers as customers.

He noted that Retrospect 17's idea of simplified onboarding isn't anything new, as Cohesity recently launched a bundle specifically aimed for rapid deployment at ROBOs. It points at a larger trend toward simplicity and helping organizations easily manage data protection that is deployed at multiple locations.

"The big news here is simplification. That's the new challenge," Hill said.

Organizations today have a lot more flexibility in terms of how and where they handle data protection, Hill said. The drawback to that is added complexity to their infrastructure. Simplicity is demanded regardless the size of the organization, but it's especially important for small businesses with limited IT resources.
Hill said automation will be the key to providing that simplicity, and he expects to see vendors developing in this direction. Customers are looking for an "easy button," and AI and machine learning will help automate some of the more tedious tasks in backup. He said something as simple as automatically determining when to perform a backup goes a long way, as organizations can't even count on people to do them regularly.

"Counting on people has always been problematic," Hill said.