How to choose hyper-converged backup for data protection
Data protection is essential for any hyper-converged infrastructure. How you back up data -- natively, agentless or using agents -- depends on your environment and other factors.
We're squarely in the middle of an era in which hyper-converged infrastructure has broken through the reins of a "could be" technology to one that is fully realized and supporting even the most critical of mission-critical workloads. Of course, as you migrate more workloads, bigger workloads and more important workloads from legacy environments, hyper-converged backup becomes increasingly important. Such environments must enjoy data protection capabilities that are equal to or surpass those present in the legacy environments.
HCI introduces new opportunities in the world of data protection, while also imposing some new challenges. On the opportunities front, HCI products come with their own data protection capabilities. On the challenges front, some of the architectural design decisions made by certain hyper-converged vendors have resulted in industry-standard data protection solutions that don't -- or, at least, haven't -- always been able to be used for hyper-converged backup. For example, with the rise of Kernel-based Virtual Machine (KVM)-centric offshoot hypervisors, some hyper-converged systems haven't been able to utilize host-based data protection.
As time has gone by, though, this situation has slowly changed. Data protection vendors are now eager to capitalize on the growing interest in hyper-convergence, evolving their offerings to embrace HCI. Now, with all of that said, how do you make the decision around an appropriate data protection and hyper-converged backup solution for your HCI platform?
Common data protection methods
First, let's talk about two common methods for data protection: host-based backups and guest agents.
Host-based backups gained favor as virtualization took hold. With a host-based backup system, the backup application uses software hooks provided by the hypervisor vendor to back up guest VMs with ease. Host-based backups are favored in virtualized environments since the abstraction provided by the hypervisor makes recovery far easier. Furthermore, the backup system is able to use centralized change tracking to more efficiently back up hosts.
HCI introduces new opportunities in the world of data protection, while also imposing some new challenges.
That centralization also extends to overall backup management. It can be a lot easier to manage backups in a host-centric environment. And, finally, in terms of recovery, with host-based backup systems, you don't need to undertake -- potentially somewhat painful -- bare-metal recoveries.
Next, let's talk about guest agents. Back in the days before virtualization, every server had to have a backup agent installed on it to back up the files and applications on that server. This method is still in wide use today, even if it's not generally considered all that efficient or as capable as a host-based backup system.
There is a potential downside, as somewhat longer recovery time objectives are often associated with guest agent backups. You need to recover some semblance of the server before you can restore everything else. Guest agents have a huge benefit, however: They work for every HCI offering on the planet, regardless of hypervisor and regardless of, well, anything else. The only dependency is whether or not the OS running inside the guest VM is supported by the backup application.
Hyper-converged backup and data protection
Now, let's get back to hyper-convergence. Many HCIs that run atop what you might see as mainstream hypervisors, like vSphere or Hyper-V, have a lot of data protection options at hand. Just about every data protection vendor on the market supports those hypervisors. Some hyper-converged vendors, however, have chosen to forge a different path to provide additional value to their customers.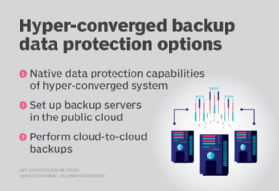 Companies like Nutanix, Scale Computing and Cloudistics use KVM-centric hypervisor variants. KVM doesn't have the same level of support enjoyed by those other mainstream systems, however, although that situation is changing as these companies continue to develop their products, which, by extension, increases KVM's place in the market.
In addition to HCI vendors creating their own offerings to protect data on their platforms, other data protection vendors are jumping into the hyper-converged backup game, too. For example, Nutanix has partnerships with companies, including Veeam and HYCU, to provide complete support for its AHV hypervisor. Unitrends, meanwhile, has added support for Scale Computing, and this kind of hyper-converged backup support continues to proliferate.
Hyper-converged backup and data protection considerations
As you go down the hyper-converged data protection path with your HCI, there are three areas of choice you need to consider:
Can you use the HCI's native data protection capabilities? Quite a few hyper-converged offerings include native backup and data protection in various forms. Study these, and determine if they meet your needs.
Would a host-centric offering for hyper-converged backup work? If you're operating a hyper-converged platform that supports one, consider using a host-based or agentless data protection system.
Should you go the agent-based hyper-converged data protection route? Whether by default or if you decide you want some level of additional control over backups, you may decide on taking the agent-based route.

When it comes to hyper-converged backup and data protection, it pays to understand what your chosen HCI can do first. If it can't meet your needs natively, assess the market to see what other products might bring you the features and capabilities you need to protect your company's data. Lastly, be sure to take ROI into consideration as you determine which hyper-converged data protection route to take.