Definition
Cloud-to-Cloud Backup (C2C Backup)
What are cloud-to-cloud backups?
C2C backup (cloud-to-cloud backup) is the practice of copying data stored on one cloud service to another cloud service. The backup stored on the second cloud service serves the same purpose as an off-site backup.
Cloud-to-cloud backup is important for organizations that rely on software-as-a-service (SaaS) applications like Microsoft Office 365, Box and Zendesk. SaaS vendors back up their customers' data, but any system can fail, and restores can be difficult if the SaaS vendor's backup software is fairly basic.
As more software applications are being delivered as services, there are an increasing number of vendors who are specializing in C2C backups for specific applications. In this scenario the C2C provider manages both the backup software and its implementation for the C2C customer. Typically, C2C backups are run automatically without manual intervention. Customers can restore data from the target cloud if it is no longer available through the SaaS app.
Why do you need C2C backups?
As SaaS applications have increased in popularity, so has cloud-to-cloud backup. The technology provides enhanced data protection beyond the basics offered by SaaS applications. However, customers should not assume their data is protected by a SaaS provider against any type of data loss or error, as backups are often created only for the provider's purposes.
For example, a SaaS application may not have native protection against user error. It may be more expensive and time-consuming to try to recover data from a SaaS provider than through a cloud-to-cloud backup service.
Pros and cons of cloud-to-cloud backups
C2C backup provides users with a convenient way to store data in multiple locations. However, it also increases the possibility of sensitive information being compromised as compared to offline hard backups. Due to proximity, local backups can also provide faster recovery than pulling data out of the cloud.
Although cloud backup has generally proven to be more reliable than local efforts, any system can fail. Backing up to multiple locations is therefore advised for added data security. It makes practical sense to use a low-effort, reliable product for backup and to protect data from failure of that service by adding redundancy at a second location. If data created in SaaS applications, such as Salesforce or Microsoft Office 365, is lost or deleted due to human error, the company is held responsible. Because SaaS vendors often charge large fees to restore that data, many businesses are turning to cloud-to-cloud backup.
Backing up data in the cloud often falls to the information technology (IT) department. The ability to recover data in its last known good state is important for business continuity (BC). It can be easy to make a mistake in a SaaS application, so cloud-to-cloud backup is a critical availability element for companies that do business in the cloud.
C2C backup offers a number of advantages over a SaaS vendor's native data protection:
It is more comprehensive, as it protects the user against many possible cases of data loss.
A cloud-to-cloud backup provider's sole focus is on backup data, so backups and recoveries are quicker and easier to perform.
Data backed up to another cloud is accessible from almost anywhere in the world.
C2C backups are generally immune to ransomware attacks on an organization because they are not on the office network.
Cloud services are scalable, so backup data sets can grow easily in the storage space. However, organizations need to be careful about the volume of data, as costs will escalate and management will become more difficult. Most management of the backup data falls to the service provider, though this element could be seen as a negative for those customers that wish to have total control over their backups.
Data backup for an application like Salesforce can be complex, and an organization needs to make sure it knows exactly what a cloud-to-cloud backup provider is backing up. Additionally, if an organization uses more than one application, it may need a variety of products to back up all of its SaaS data.
Furthermore, bandwidth and latency are always concerns with the cloud. If many organizations use the same connection, speed and performance may be worse than normal. One way for an organization to gain confidence in its C2C backup strategy is through testing. The same methods used to test backup and recovery for on-premises data should be applied to cloud-to-cloud backups.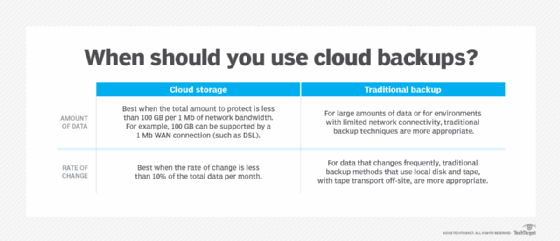 Cloud-to-cloud backups vs. traditional backups
Some of the biggest benefits of traditional backup over C2C backup are speed and ease of recovery. If an organization uses a tape or disk backup, it uses that media on its own to continue business operations, rather than going through a cloud-to-cloud backup service provider for recovery. Other organizations may prefer to leave that backup management to another vendor. Traditional backup is especially useful if a large amount of data needs to be recovered, as that volume of recovery takes a long time to cross a network.
Tape backup involves copying data from primary storage to a tape cartridge. Because tape media capacity has grown so much in recent years -- hitting 30 TB in Linear Tape-Open 8 (LTO-8) -- tape is a good backup choice for organizations with massive data sets. Tapes are also comparatively cheaper to own and operate than disk and the cloud. The restoration process can be slower because tapes do not provide random access.
The biggest benefit of disk backup is access speed as they provide random access. Disk backups often run throughout the day, while tape backup is less continuous. The risk of human error in disk-based backup is smaller, as it is generally self-contained. In addition, disk is not as portable or as durable as tape. Disk is also expensive, often more so than tape or cloud.
There is more flexibility in restoring from cloud-to-cloud backups, as an organization can restore to different machines, such as laptops or mobile devices. There is also flexibility in that cloud-to-cloud backup does not require additional hardware. The cloud and tape both provide ample protection from ransomware and other cyberattacks. The cloud is off-site backup, but tape backups are even more protected because they are offline. In addition, the lifespan of a C2C backup could outlast that of disk or tape backups, as long as the vendor stays in business.
Choosing a service provider
Important business data stored off-site should have the same level of protection as on-premises data, and customers should treat the selection of a cloud-to-cloud backup vendor just like that of a more traditional backup vendor. Some common SaaS applications include Microsoft Office 365, Salesforce and G Suite (formerly Google Apps). Customers may need a variety of products to protect cloud data, as a cloud-to-cloud backup product will often focus on a specific application.
When choosing a cloud-to-cloud backup service provider, important factors to consider are the level of support for a given SaaS application, compliance with regulations and backup frequency. Application subscription independence is an often overlooked element. For example, if an organization cancels its subscription to Salesforce, data recovery could still be possible through a provider.
According to storage experts, when picking a cloud-to-cloud backup service provider, questions should include:
What are the customer's recovery time objectives (RTOs) and recovery point objectives (RPOs) for SaaS applications?
Does the backup and restore process meet the customer's RTOs and RPOs?
How easy is it to test the backups for recovery?
Are backup exceptions necessary for certain users?
Data created in the cloud comes with security risks. Because a third party is handling the data, it should be encrypted at the original cloud site, when it travels between clouds and at rest in the backup location.
Cloud-to-cloud backup vendors
Up until late 2014, cloud-to-cloud backup was generally viewed as a niche market. At that time, Dell EMC acquired Spanning Cloud Apps and Datto bought Backupify. The market has continued to grow since that time, in both the number of vendors that provide C2C backup and in the breadth of SaaS protection offered.
Datto Backupify protects data stored in applications like Salesforce, G Suite and Microsoft Office 365. Spanning Cloud Apps, founded in 2010, has three products: Backup for G Suite, Backup for Office 365 and Backup for Salesforce.
While Backupify and Spanning Cloud Apps offer backup software specifically designed to protect data created in the cloud, Asigra was the first to build the functionality into an all-purpose backup application. Asigra Cloud Backup software first added the function in 2012. Asigra Cloud Backup protects Salesforce, G Suite and Office 365 data.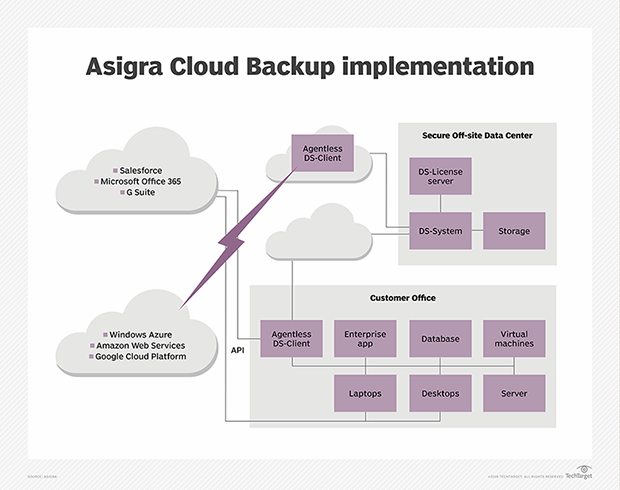 Additional cloud-to-cloud backup vendors include:
OwnBackup. A startup that provides backup for Salesforce, ServiceNow and Slack.
Barracuda Cloud. Backs up Office 365 data, including data from Exchange Online, OneDrive for Business and SharePoint Online. The vendor also protects physical workloads, virtual machines (VMs) and cloud data and separately provides email protection and network and application security.
Druva. A data protection vendor that offers backup for Amazon Web Services, Office 365, G Suite, Box and Salesforce with its inSync software.
Acronis. Added C2C backup for Microsoft Office 365 to its Acronis Backup product.
Veeam Software. Provides backup for Office 365 to another cloud or on premises.
This was last updated in
December 2022
Continue Reading About Cloud-to-Cloud Backup (C2C Backup)