georgejmclittle - Fotolia
Major funding, SaaS trends top data backup news in 2019
Several data backup vendors, including Carbonite, Commvault and Clumio, had a bustling 2019. The backup market continues to develop with acquisitions and more cloud-based products.
In the backup market, 2019 started with a financial bang.
On back-to-back days in January, Rubrik announced a $261 million funding round, while Veeam disclosed that Insight Venture Partners invested an additional $500 million in the data backup and management vendor.
That data backup news set the tone for a busy year of more funding rounds, acquisitions, CEO changes, new products and key trends in a market that is constantly evolving.
Backup business busy with acquisitions, funding, leadership changes
Much like recent years, backup was big business in 2019.
Carbonite had one of the busiest years of all. In March, the data protection vendor acquired cybersecurity firm Webroot for $618.5 million, with a focus on fighting ransomware. In July, CEO Mohamad Ali left to take the same job at tech media company International Data Group, with board chairman Steve Munford filling the role at Carbonite on an interim basis. Then in November, following months of rumors of a possible sale, content management provider OpenText acquired Carbonite for $1.42 billion, to help expand its cloud offerings.
Commvault also transitioned to a new leader, as longtime CEO Bob Hammer stepped down and former Puppet CEO Sanjay Mirchandani stepped in. The company made its first acquisition in September, buying software-defined storage vendor Hedvig for $225 million to help converge primary and secondary storage for better data management.
Acronis became the latest unicorn, closing a $147 million funding round in September at a valuation of more than $1 billion. The company has shifted from a backup-focused product portfolio to a more comprehensive cyber protection platform. Like Carbonite, Acronis now has a major emphasis on cybersecurity.
Druva and its cloud-focused backup and recovery product set received a $130 million funding haul. Just a month later, the vendor acquired CloudLanes and its cloud migration technology.
Veeam Software, which is on the lookout for acquisitions, actually did the reverse this year. The vendor sold back AWS data protection provider N2WS, a company it acquired two years ago, to the original founders. Veeam is launching its own products focused on AWS and Azure backup.
In other data backup news developments:
Veritas Technologies acquired Aptare to improve its storage analytics and monitoring.
Cohesity made its first acquisition, choosing Imanis Data for NoSQL database protection.
Spencer Kupferman took over as CEO of AWS data protection provider Cloud Daddy, a recent entrant into the market.
OwnBackup secured $23.25 million, its largest funding round, for expansion of its Salesforce data protection.
David Bennett, previously the chief revenue officer at Webroot, became the new CEO of backup and disaster recovery vendor Axcient.
SaaS backup continues its ascent
The software-as-a-service backup market remains one of the hottest in tech. The word is out that SaaS applications such as Salesforce, Google's G Suite and Microsoft Office 365 need backup because these vendors typically have protection for their own infrastructure but not for your individual files.
Clumio came out of stealth in August with its cloud-based backup as a service. Noting that "SaaS is taking over," Clumio CEO Poojan Kumar described his company's founding vision as "building a data management platform on top of the public cloud." The vendor originally offered protection for VMware on premises, VMware Cloud on AWS and native AWS services. While closing a $135 million funding round in November, Clumio pledged support for more public clouds, SaaS applications and containers, starting with Amazon Elastic Block Store protection.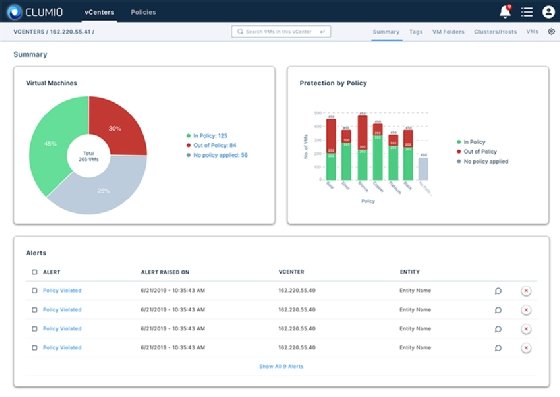 Commvault launched a SaaS backup subsidiary, Metallic, with an emphasis on protecting servers and VMs, Office 365 and endpoints. The data protection vendor is aiming Metallic at smaller businesses than its usual enterprise customers.
Much like recent years, backup was big business in 2019.
In other notable data backup news on the SaaS front:
Druva enhanced its SaaS backup capabilities, adding restore options to its Office 365 protection and introducing backup for Slack and Microsoft Teams conversations.
Odaseva, a data protection vendor focused on Salesforce, unveiled a high-availability option for the customer relationship management provider.
The newly launched Actifio Go SaaS platform offers direct-to-cloud backup to AWS, Azure, Google, IBM and Wasabi public clouds.
Arcserve updated its Unified Data Protection product to provide granular, file-level backup and recovery for Office 365.
Veeam enhanced its Backup for Microsoft Office 365, the fastest growing product in the history of the company, to back up directly to the cloud to either Azure or AWS.
Container backup takes the spotlight
One area that emerged in 2019 is backup of containers. As Kubernetes workloads in particular increase in popularity, organizations will need specifically targeted protection. Newer vendors, including Kasten, Robin and Portworx, focus on Kubernetes protection and management. Products from other vendors, including IBM Spectrum Protect, tackle Kubernetes protection in addition to other capabilities.
Container and SaaS backup will likely increase in 2020. Organizations should continue to keep an eye on data backup news, as products and businesses are evolving at a dramatic pace.