makspogonii - Fotolia
Kasten backup aims for secure Kubernetes protection
Container storage backup is an emerging trend. Kasten K10, which launched in 2017 and provides backup for Kubernetes, takes on security in its major 2.0 update.
People often talk about Kubernetes "Day 1," when you get the platform up and running. Now Kasten wants to help with "Day 2."
Kasten's K10 is a data management and backup platform for Kubernetes. The latest release, K10 2.0, focuses on security and simplicity.
K10 2.0 includes support for Kubernetes authentication, role-based access control, OpenID Connect, AWS Identity and Access Management roles, customer-managed keys, and integrated encryption of artifacts at rest and in flight.
"Once you put data into storage, the Day 2 operations are critical," said Krishnan Subramanian, founder and chief research advisor at Rishidot Research. "Day 2 is as critical as Day 1."
Day 2 -- which includes data protection, mobility, backup and restore, and disaster recovery -- is becoming a pain point for Kubernetes users, Kasten CEO Niraj Tolia said.
"In 2.0, we are focused on making Kubernetes backup easy and secure," Tolia said.
Other features in the new Kasten backup software, which became generally available earlier in November, include a Kubernetes-native API, auto-discovery of the application environment, policy-driven operations, multi-tenancy support, and advanced logging and monitoring. The Kasten backup enables teams to operate their environments, while supporting developers' ability to use tools of their choice, according to the vendor.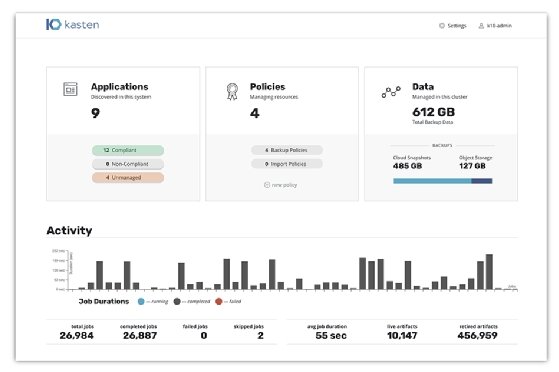 Kasten backup eyes market opportunity
Kasten, which launched its original product in December 2017, generally releases an update to its customers every two weeks. An update that's not as major as 2.0 typically has bug fixes, new features and increased depth in current features. Tolia said there were 55 releases between 1.0 and 2.0.
Day 2 is as critical as Day 1.

Krishnan SubramanianFounder and chief research advisor, Rishidot Research
Backup for container storage has become a hot trend in data protection. Kubernetes specifically is an open source system used to manage containers across private, public and hybrid cloud environments. Kubernetes can be used to manage microservice architectures and is deployable on most cloud providers.
"Everyone's waking up to the fact that this is going to be the next VMware," as in, the next infrastructure of choice, Tolia said.
Kubernetes backup products are popping up, but it looks like Kasten is a bit ahead of its time, Rishidot's Subramanian said. He said he is seeing more enterprises using Kubernetes in production, for example, in moving legacy workloads to the platform, and that makes backup a critical element.
"Kubernetes is just starting to take off," Subramanian said.
Kubernetes backup "has really taken off in the last two or three quarters," Tolia said.
Subramanian said he is starting to see legacy vendors such as Dell EMC and NetApp tackling Kubernetes backup, as well as smaller vendors such as Portworx and Robin. He said Kasten had needed stronger security but caught up with K10 2.0. Down the road, he said he will look for Kasten to improve its governance and analytics.
Tolia said Kasten backup stands out because it's "purpose-built for Kubernetes" and extends into multilayered data management.
In August, Kasten, which is based in Los Altos, Calif., closed a $14 million Series A funding round, led by Insight Partners. Tolia did not give Kasten's customer count but said it has deployments across multiple continents.