lassedesignen - Fotolia
Castellan Solutions launches with business continuity suite
Newly rebranded Castellan's offerings include risk management, business continuity and disaster recovery management, and emergency notification and incident management.
Now is as good a time as any to formally launch a business continuity software supergroup.
Three top names in business continuity management software and services -- Assurance Software, Avalution Consulting and ClearView Continuity -- have rebranded as Castellan Solutions.
"A growing number recognize the need to be prepared and ready for disruption," Castellan Solutions COO Brian Zawada said. "COVID-19 has demonstrated the need for that."
How the companies came together
The wheels have been in motion for the launch of Castellan Solutions for years.
Private equity firm Resurgens Technology Partners acquired Assurance Software from Sungard Availability Services in 2018. ClearView Continuity merged with Assurance in 2019. In April 2020, Assurance acquired Avalution Consulting.
Now the three companies are together under the rebranded Castellan name. Resurgens strategically and financially backs Castellan, which is based in Audubon, Penn.
Previous employees of the three companies became Castellan employees. The new company has one consistent management team, operating procedures and culture, Castellan Solutions CEO Jon Ezrine said.
Ezrine was CEO of Assurance. Zawada was COO of Assurance, as well as chief visionary officer and co-founder of Avalution before it was acquired by Assurance.
Assurance, Avalution and ClearView have been leaders in the resilience profession and each is established internationally, said Paul Kirvan, an independent consultant and IT auditor specializing in business continuity and disaster recovery.
"Other players are likely to watch the new company closely to see how it builds on what is probably now a very large customer base, as a potential model for other firms to consider," Kirvan wrote in an email. "Smaller more specialized software firms may become acquisition targets for the remaining large software houses. All this may foreshadow a shrinking of the business continuity software market over the next three to five years."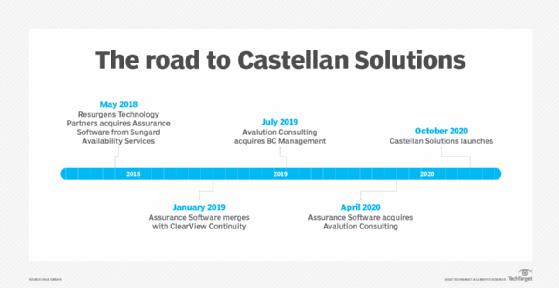 Castellan offerings: Now and later
Each company's products will be known by their legacy names. Assurance offers risk management, business continuity and disaster recovery management, and crisis management software. Avalution sells business continuity software with its Catalyst product. ClearView provides business continuity management, emergency notification and incident management, and disaster recovery planning software.
Various products have shared features and functions.
"We were able to find things that were best about each of the three companies," Ezrine said.
There are plans for more integration. For example, one of the features launching in Assurance simplifies the user experience into a single container of organizational information similar to what ClearView offers, Zawada said.
Kirvan said the combined services should generate new revenue opportunities, but he is curious about what might happen to Castellan's three software systems down the line.
"Can Castellan support all three or have they already decided that one product will ultimately be the flagship," Kirvan wrote, "and the others will either be phased out or repurposed to something else?"
Castellan Solutions also includes access to BC Management, an international executive search firm for business continuity and resiliency professionals that Avalution acquired in 2019.
Castellan features experts in all areas of the business continuity profession, from software development to professional services, according to Kirvan.
A growing number recognize the need to be prepared and ready for disruption.

Brian ZawadaCOO, Castellan Solutions
"The firm may leverage its expertise to develop and introduce new products that could compete more aggressively in the SMB market," Kirvan wrote. "The impact of the pandemic could also impact the new firm, especially if existing customers decide to expand their current programs to focus more on preparations for future pandemics, in addition to the usual power failures, fires, hurricanes and earthquakes."
Castellan's products have helped businesses respond to the pandemic in providing a platform to collaborate, share information, deliver communication and provide updates, Zawada said. The company will seek to adapt to customers' changing expectations, for example in how they receive services and how they can best communicate.
Castellan competes with businesses that build their own business continuity tools, such as with SharePoint or Office documents. It also competes with Fusion Risk Management and other risk and compliance vendors that have business continuity offerings.
Castellan Solutions claims more than 800 customers.
Dig Deeper on Disaster recovery planning and management