Fotolia
NetBackup at core of Veritas services platform
The Veritas services platform addresses protection, availability and data intelligence by unifying multiple products around NetBackup and its metadata catalog.
Veritas has its Enterprise Data Services Platform that creates a single interface to use the vendor's NetBackup, InfoScale, Information Studio and Aptare applications.
The Veritas services platform keeps the products separately licensed, while adding a "connective tissue" to manage them all, said Jyothi Swaroop, vice president of product and solutions at Veritas, based in Santa Clara, Calif.
"We have a large clientele of customers who have been using these products for over 20 years. If they just want a NetBackup license, we don't want to force-feed a platform to them," Swaroop said.
Swaroop said the three main business outcomes the Veritas services platform addresses are protection, availability and insights. NetBackup and InfoScale handle the two. The platform has two products for providing insights: the recently acquired Aptare and a new intelligence tool, called Veritas Information Studio.
Swaroop said NetBackup's metadata catalog, which contains exabytes of data for gleaning insight and feeding predictive analytics and machine learning algorithms, is the core of the platform, but customers do not need to purchase NetBackup to power the other products on the platform. The metadata catalog will still be shared with those products, even without a NetBackup license.
Information Studio provides visualization of data sitting in multiple repositories and can identify what the data is, where it is and who has access to it. It can also identify personally identifiable information. Swaroop said it allows users to confidently delete data, either because they know it has no value or to comply with a regulatory request.
The launch of the Veritas services platform also coincided with added platform support for NetBackup and InfoScale. NetBackup has been upgraded to version 8.2 and gained support for Red Hat Kernel-based Virtual Machine, OpenStack and Docker containers. InfoScale gained support for Chef and Ansible.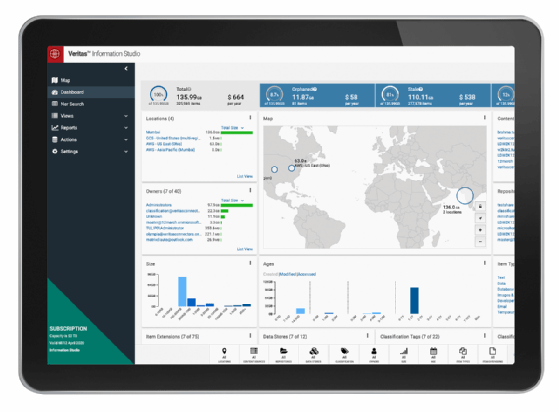 These are small updates to the products themselves, but they're part of a bigger play, said Steven Hill, senior analyst at 451 Research. The Veritas Enterprise Data Services Platform enables using backup data for other purposes.
Complexity is often an unfortunate byproduct of flexibility. The answer doesn't lie in fighting complexity. It's more about managing it with increasingly intelligent automation.

Steven HillSenior analyst at 451 Research
"While it's hard to get excited about a fractional update, NetBackup remains a key element in Veritas' strategy as the ingest point for a broader data management ecosystem. So, we can always expect future updates that will continue to expand support for new production environments," Hill said. "The real story lies in the evolution of data backup into content-aware information management that's consistent across hybrid platforms, provides the tools for automation and meets the growing BC/DR [business continuity and disaster recovery] needs of next-generation hybrid IT."
Veritas acquired storage analytics vendor Aptare in March 2019. Aptare software can crawl storage data and use it to build ROI models, factoring in capacity and protection costs and egress charges in the case of public clouds. This lets customers make informed decisions when buying storage.
Swaroop said, in the spirit of reducing complexity, there would ideally be one Veritas product for addressing each of the use cases of protection, availability and generating insights. However, it was important that Aptare remain as a separate business unit to avoid conflict of interest.
"If Veritas is more expensive, Aptare needs to be able to tell customers that," Swaroop said.
Hill said Veritas is moving in the right direction in going after the problem of IT complexity. More capabilities inevitably lead to more complexity, and he said he doesn't see Enterprise Data Services Platform reducing complexity as much as abstracting it and automatically managing it in the background.
"Complexity is often an unfortunate byproduct of flexibility. The answer doesn't lie in fighting complexity. It's more about managing it with increasingly intelligent automation," Hill said.
Hill said Veritas has been moving beyond NetBackup and building a data management platform that can use metadata for policies and orchestration for years now. He said the next challenge is getting customers to embrace the holistic package it has put together.
In the future, the Veritas services platform will have an online marketplace or app store. Swaroop predicted Veritas' channel partners will build new services on the platform. Described as an open platform with open APIs, he said, "even our competitors can build an application and run it on this platform."