buchachon - Fotolia
NetBackup 8.3 adds cloud data protection, DR
NetBackup 8.3 folds in two other Veritas products, expanding its data protection into public clouds and providing resilience against ransomware attacks.
The latest NetBackup is three products in one.

Veritas expanded NetBackup in version 8.3 by including two of its other products -- Veritas Resiliency Platform (VRP) and CloudPoint -- into the platform. VRP is a disaster recovery (DR) product that provides near-zero recovery point objectives and recovery time objectives using continuous data protection. CloudPoint is cloud-native snapshot management software that integrates with AWS, Azure and Google Cloud. The combination of VRP and CloudPoint gives NetBackup application availability and simplified backup data management between on-premises and cloud, as well as between public clouds.

With NetBackup 8.3, Veritas also extended support to more than 800 workloads, and made changes under the covers to improve performance. These include faster data discovery for VMware vCenter and vCloud. 8.3 Veritas also gave NetBackup a web-based interface and new APIs to facilitate self-service.
NetBackup 8.2 users will have to manually download 8.3, but future updates will be presented within the console for easy discovery.

Doug Matthews, vice president of product management at Veritas, said including the two other Veritas products into NetBackup addresses two key problems customers face today. COVID-19 has led to an increase in ransomware attacks, so customers need tools that can keep ransomware out, but also get everything running again quickly if an attack gets through. Also COVID-19-related, Matthews said more businesses use the public cloud as they are less incentivized to maintain data centers that they can't fully staff. As they migrate workloads into the cloud, businesses come under pressure not to introduce additional cost or complexity to their infrastructure. He added that it didn't make sense to charge extra for these new features because all of the use cases are related.
"Ransomware is a huge talking point, and cloud adoption has taken a massive turn. These problems are all interconnected," Matthews said.

VRP will continue to be sold separately. Matthews said there are some customers who just want a pure DR product without operational backup capabilities, and some use VRP for cloud migration, as well. He said some customers have been using VRP's "fire drill" feature, which is normally used for testing restores without impacting production, to test migrations. They've also been using failback as a way to reverse a migration they weren't happy with.

CloudPoint will be an agent of NetBackup from now on and will no longer be sold as a separate product.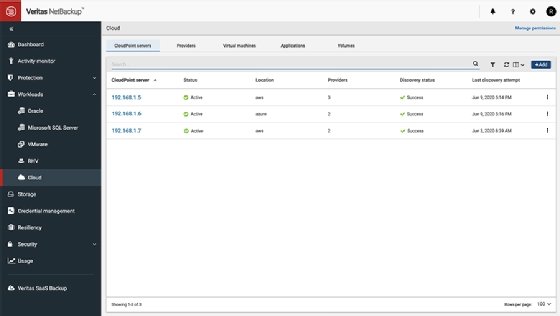 Phil Goodwin, research director at IDC, saw NetBackup 8.3 as a solid update with nothing flashy. However, it's an important one for NetBackup because it addresses customer challenges that Veritas's competitors have already started working on. For example, in the first week of July, veteran backup vendor Commvault sensed the increased importance of cloud and deepened its partnership with Microsoft, jointly engineering and marketing its Metallic SaaS product with Azure.

Goodwin observed that there is new demand for data availability, driving vendors such as Commvault and Veritas to push DR capabilities into their backup products. Interestingly, this demand isn't driven by a fear of ransomware or natural disasters, but a desire to improve the competitiveness of their organization. Goodwin said having the ability to back up and migrate data between locations to guarantee their most critical data is also the most highly available gives businesses a competitive edge. DR tools can achieve this, but this sort of use case hardly falls under "disaster recovery."

"We're increasingly moving away from DR as a separate activity. Instead, we're moving toward a continuum of availability," Goodwin said.
The integration of DR into NetBackup comes a week after Veritas rival Commvault broke out its Disaster Recovery and Backup & Recovery software into separate applications. Commvault now sells them independently for the first time, although it continues to offer them packaged as Commvault Data Protection.
Goodwin highlighted the ease-of-use component of NetBackup 8.3 as particularly noteworthy. Products that have been in the market for a long time run the risk of looking the part and of suffering inefficiencies under the hood simply because they have been updated and patched so many times. Newer products have the "benefit of youth," as they are built from the ground up on the latest technology. Goodwin said NetBackup has done a good job avoiding the ravages of age, continually improving its interface and making a concerted push to make it simpler and more efficient.

Goodwin said the next challenge for Veritas -- and other backup vendors -- is building in support for Kubernetes. NetBackup can currently back up Docker containers, but Goodwin said backing up Kubernetes environments is a massive endeavor that would require major architectural changes.