Fotolia
Acronis automates '3-2-1' rule for small business backup
Acronis True Image 2020 improved its small business backup capabilities with simultaneous replication to local storage and the cloud, automating the '3-2-1' backup rule.
Home office and small business owners might not always follow the "3-2-1" rule of backup: three copies of the data, on two different media, with one copy off-site. Acronis True Image 2020 is trying to make observing that rule a little easier.
True Image is Acronis' small business backup software tool, aimed at consumers, home offices and SMBs. The 2020 version introduced a feature called Dual Protection, which automatically replicates a backup copy to the Acronis cloud when it's creating the local copy. Aside from satisfying the 3-2-1 rule, it allows customers to have both a local copy for fast recovery and one more copy off-site as an extra failsafe.
True Image currently has 5.5 million users, according to Gaidar Magdanurov, chief marketing officer at Acronis. Magdanurov said approximately 70% of them are small businesses with fewer than five employees and "prosumers" -- single-person businesses like consultants and lawyers who have a decent level of IT skill. The remaining 30% are consumers with limited IT skills who want to protect files such as music, photos and movies.
Magdanurov said businesses of all sizes understand the importance of protecting their data, and cyberattacks are not limited to large organizations. However, in the world of small business backup, cost can be a much bigger factor than in the enterprise space.
"Backup is like insurance -- and nobody likes to pay for insurance," Magdanurov said.
True Image 2020's price didn't change from its 2019 version. It is still split into three versions: Standard, a one-time purchase for $49.99 with no cloud backup component; Advanced, a one-year subscription for $49.99 that includes cloud features and 250 GB of Acronis Cloud Storage; and Premium, a one-year subscription for $99.99 that adds blockchain-based data certification and electronic signature capabilities.
The 2020 version also added some quality-of-life features for end users. Backup-related notifications can be pushed to the desktop tray, power management settings will suspend all scheduled backup tasks when a laptop's battery drops below a chosen threshold and there's an option to select only Wi-Fi networks the user trusts to upload backups to the cloud.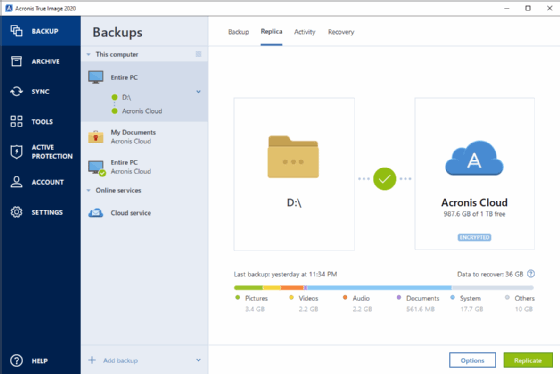 All versions of Acronis True Image include Acronis Active Protection, a malware detection tool that uses AI to detect anomalous data changes, which could be indicators of unauthorized encryption. Rubrik Polaris Radar works similarly. Phil Goodwin, research director at IDC, said this is a better approach to combating ransomware because it thwarts attacks before they happen instead of rebuilding afterward.
"Acronis has some of the most advanced technology in the industry at this level," Goodwin said. "It's proactive rather than simply trying to restore data after it's been lost."
Acronis True Image competes against Carbonite, CrashPlan and Backblaze in the small business backup market. Goodwin said Carbonite, thanks to its acquisition of Mozy and Code42's cloud backup customers, controls the lion's share of this market. Magdanurov claimed a lot of new True Image customers switched from Carbonite specifically for ransomware detection or data protection for mobile devices.
They're not backup experts, so the system has to be simple enough for them that once they set it up, it just runs.

Phil GoodwinResearch director, IDC
Other than cost, simplicity is another big concern among small business backup customers. These customers might not have the IT resources to implement or maintain complex infrastructure, even if they fully understand the benefits of having a hybrid environment or multiple clouds. Goodwin said even something as conceptually simple as the 3-2-1 rule can be more steps than a small business or home office is willing to deal with, which is why the True Image update is so significant.
"They're not backup experts, so the system has to be simple enough for them that once they set it up, it just runs," Goodwin said, referring to most small businesses.
For the most part, the more set-and-forget, one-and-done a backup product is, the better it is for these types of users. However, Goodwin added that Acronis made a good move adding a few customization options for the more IT-savvy power users -- namely, the trusted Wi-Fi security settings and battery-saving power management feature.
Acronis True Image is aimed at small businesses of no more than five computers. Acronis Backup is geared for customers looking to protect more than that.