Acronis True Image 2021 is backup and antivirus in one
Acronis True Image 2021 added malware detection, monitoring and quarantining capabilities. It can now deliver both backup and security in one product, on one UI.
In a bid to make standalone backup and security obsolete, Acronis combined both into its latest version of True Image.
Acronis True Image 2021 integrated cybersecurity in the previously backup-focused software product. New features include malware detection, on-demand virus scanning, web filtering and video conference protection. These are the same capabilities found in Acronis' Cyber Protect product, which is built for corporate customers. True Image is aimed at home users, prosumers and small businesses with five or fewer endpoints. The added security comes as the workforce largely shifts to home offices, and criminals look to exploit those users.
Acronis True Image 2021 also bolstered its backup capabilities. Users can now resume a local-to-cloud replication job if it gets interrupted due to poor connectivity. This new version also introduced the ability to quickly validate the latest backup copy and convert backups to virtual hard disk (VHD) format, which lets them run as virtual machines.
The antimalware capabilities are only available on Advanced and Premium editions of Acronis True Image 2021, but Standard and Essential editions each offer a free three-month trial of the feature. Prices vary depending on edition, topping off at $209.99 per year for a Premium license for five machines. True Image runs on Windows and Mac, but the Mac version lacks web filtering, video conferencing protection and quick backup validation features.
Ransomware attacks are rising as businesses adjust to a mostly at-home workforce. Backup vendors have scrambled to add security features to protect backup copies from attacks, such as Asigra introducing multiple layers of multi-factor authentication to its software and Druva integrating with FireEye Helix.
Acronis COO Gaidar Magdanurov said home users and small businesses aren't immune to the new wave of attacks, and are underdefended. Bad actors have access to cloud computing and AI to develop their malware -- the same tools large, multimillion organizations also use to scale their operations. But much smaller businesses, such as a law practice or a dental office, don't typically tap into these resources, making for an unfair fight.
"All the bad guys are using cloud and AI, so they can scale. They're now attacking home users because they don't have to fight through a corporate network," Magdanurov said.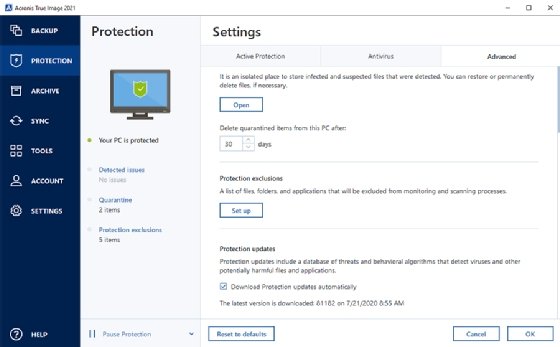 Phil Goodwin, research director at IDC, said Acronis True Image 2021 is the only single product he knows of that combines backup and antimalware. He said in the case of True Image's typical competitors such as Carbonite with Webroot security, it's a base backup product protected by a separate security product, with some degree of interface integration. True Image can single-handedly serve backup and security, and the technology for both functions are developed by Acronis. Goodwin said not having to worry about learning and using multiple products is especially useful to True Image's target market, which are entities that don't always have dedicated IT staff.
Goodwin said it would be difficult for another backup vendor to copy what Acronis has done. He described data security as, "a totally different animal," from data protection, as the technology for identifying threats and quarantining possible infections calls for a different skill set. Most vendors acquire or form partnerships to gain these capabilities rather than develop them in-house. Goodwin said the market is generally tolerant of these types of partnerships, but Acronis True Image nonetheless has a unique position. He said especially for single-person businesses, he could see the appeal of not having to separately run Norton or McAfee.
"Acronis has staked their market capabilities on the combination of security and data protection. They have first-mover advantage," Goodwin said.
That said, Goodwin conceded there will always be a portion of the small business crowd that is satisfied with default security tools such as Microsoft Defender. Acronis True Image anticipated this and will not compete with other installed antimalware software for system resources. Users can also suspend or disable True Image's antimalware functions. However, Goodwin said the tech-savvy small businesses will recognize the advantages of having cloud storage, backup and antivirus in one product, and that's where he anticipates True Image will find the most success.