bas121 - Fotolia
Carbonite acquisition of Webroot merges backup, cybersecurity
The Carbonite acquisition of Webroot is a big play in the SMB market. Carbonite's backup and recovery platform will combine with Webroot's cybersecurity.
Carbonite's latest and largest acquisition brings the cloud data protection vendor network and endpoint security capabilities.
Boston-based Carbonite said last week that it will pay $618.5 million in cash for Webroot, which has its headquarters in Broomfield, Colo.
Both vendors sell cloud-based software; both started out offering services for home users and have since expanded heavily into the business market. Carbonite products provide backup, recovery, high availability (HA) and data migration. Webroot offers network and endpoint protection, security awareness training and threat intelligence services.
While Carbonite has been successful with its backup and recovery platform, it has seen the need for customers to have security that proactively prevents threats, said Norman Guadagno, senior vice president of marketing.
A holistic approach for data protection, security
Combining business continuity (BC), backup and recovery with cybersecurity would solve a key need for SMBs, said Mike Potts, CEO and president of Webroot.
Ransomware in particular has been a recurring problem for businesses. More than 12,000 Carbonite customers have been hit with ransomware and then worked with the vendor to successfully recover data, Guadagno said.
If the Carbonite acquisition can combine BC and endpoint security succinctly, Potts said, "we may be able to put an end to ransomware."
Phishing attacks and the need for domain name system protection are also major issues in security, Potts said.
Phil Goodwin, research director at IDC, said Carbonite functions like a cloud service provider because its go-to-market strategy is in backup as a service. And a cloud service provider needs a bigger portfolio of products, including data security, in addition to backup.
"This is an important and interesting way for them to fill out that broader list of requirements," Goodwin said.
In addition, a lot of businesses are conflating data protection and data security.
"People are looking at data protection and security holistically," Goodwin said.
The Carbonite acquisition is financed through existing cash and $550 million in fully committed term loan financing from Barclays, Citizens Bank and RBC Capital Markets. It's expected to close by the end of March.
Carbonite agreed to pay the $618.5 million to Webroot's majority owners, TCV and Accel, both venture capital firms, as well as option holders.
Webroot will be a wholly owned part of Carbonite, at least initially serving as a stand-alone business, Guadagno said.
Guadagno said he couldn't disclose much about the integration but would offer more details after the closing. He couldn't speak to pricing or the actual integration of products, such as whether customers will buy separately from Carbonite and Webroot.
"Our goal is to make the buying process and use process as simple as possible," Guadagno said.
Webroot claims 300,000 SMB customers and 14,000 managed service providers. Carbonite claims about 100,000 business customers.
Carbonite is evolving from a consumer-oriented company to one targeting more SMBs, Goodwin said, and this acquisition plays well into Carbonite's SMB position. The hard part is integrating seamlessly.
"Integration isn't always as easy as you would think," Goodwin said.
We see this as a combination of two very strong businesses.

Norman GuadagnoSenior vice president of marketing, Carbonite
Carbonite has about 1,000 employees, and Webroot has about 650. Potts said Webroot is continuing to hire. Guadagno said Carbonite hasn't disclosed plans specific to employees but sees the acquisition as including the entire Webroot team.
"We see this as a combination of two very strong businesses," which are different but complementary, Guadagno said, noting that it's not a consolidation. "This is about growth."
There are no plans to move offices, according to Carbonite.
"This makes so much sense," Potts said. "We have such an excited workforce."
Carbonite continues acquisition activity
In addition to organic development, acquisitions have been a major piece of Carbonite's growth strategy for years, CEO and President Mohamad Ali said on the vendor's earnings call last Thursday.
"Many of these acquisitions were acquiring a specific piece of technology to help build out our platform or increase our efficiencies of scale by adding a large number of customers to our platform," Ali said.
In 2018, Carbonite acquired Mozy, one of its oldest cloud backup competitors. That Carbonite acquisition was largely to acquire a customer base. At the time, Mozy had about 100,000 consumer customers and 35,000 business subscribers. Ali said Carbonite has migrated more than 25,000 Mozy customers onto its platform.
Carbonite has been building a data protection portfolio that includes backup, HA, disaster recovery (DR) and migration tools.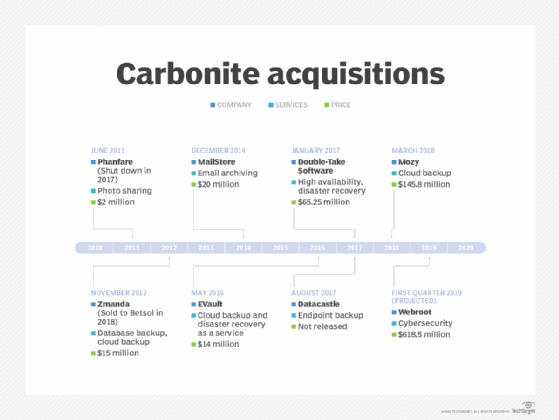 In 2017, Carbonite purchased Datacastle's endpoint backup and Double-Take Software for HA technology. In 2015, Carbonite purchased Seagate's EVault cloud backup and DR-as-a-service business.
With the Carbonite acquisition of Webroot, Goodwin said he sees Code42 and Barracuda targeting similar segments in the market. In addition, backup vendors such as Asigra have been adding more security features devoted to ransomware detection.
"Protection is not an option," Guadagno said. "It has to be a requirement."
Earnings report mixed
In the fourth quarter of 2018, Carbonite had slightly higher bookings and slightly lower revenue than expected, said CFO Anthony Folger.
Carbonite reported $77 million in revenue for the fourth quarter, less than its projected $77.6 million to $80.6 million. That reported revenue marked an increase of 25% year over year.
Carbonite consumer bookings measured $23.9 million for the quarter, an increase of 23% year over year. Business bookings totaled $54.9 million for the quarter, a 35% year-over-year increase.
Revenue for 2018 was $296.4 million, according to Carbonite, under the projected $297 million to $300 million. The yearly revenue was a 24% year-over-year increase.
Net income for the year was $7.6 million, compared to a net loss of $4 million in 2017.
Folger said the Webroot acquisition will help Carbonite reach its goal of achieving $1 billion in annual revenue.