IBM Spectrum Protect Plus 10.1.2
IBM's Spectrum Protect Plus focuses on virtual data protection. Judges praised its VMware backup, instant recovery and potential for being part of overall data management strategy.
Bronze winner in Storage magazine and SearchStorage's 2018 Products of the Year in backup and disaster recovery software and services category.
IBM Spectrum Protect Plus is a data protection and availability product designed for virtual environments. Version 8.1.2 of IBM Spectrum Protect, a more general-purpose data protection product, was a finalist in this category last year.
Spectrum Protect Plus features virtual machine (VM) backup and recovery with user-facing portals for management and monitoring. It provides an enterprise-wide view of IT objects and files, according to IBM.
Features in version 10.1.2 include service-level agreements that automate protection management, instant recovery with data stored in its native format, long-term retention in on-premises object storage and the cloud, and a drill-down dashboard with proactive alerts. The product's global, Google-like search makes it easy to find files, databases and VMs for the instant recovery, IBM said.
In addition, with RESTful APIs and predefined policies, users can quickly integrate their applications and orchestrate the data lifecycle.
"This is a gold standard in data protection and [disaster recovery]," one judge wrote. "When integrated with Watson, it will be part of a comprehensive data management service."
Another judge said the update is a much-needed modernization of Spectrum Protect. While still costly, the judge noted, its key additions include data management functionality, VMware backup and instant recovery.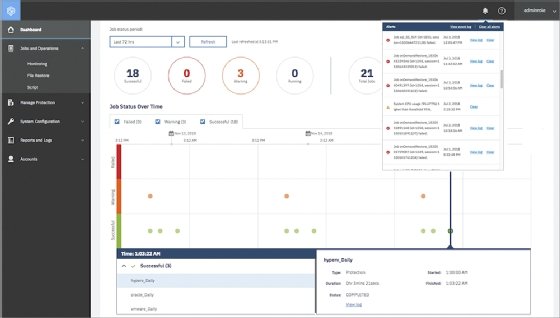 "It's actually a completely different product," the judge wrote.
IBM Spectrum Protect Plus is designed to be used stand-alone or integrated with Spectrum Protect to support compliance or corporate governance for long-term retention.
The least expensive licensing option for IBM Spectrum Protect Plus is $60 per 10 managed VMs, per month, with no minimum licensing term. In addition, a starter license of Spectrum Protect Plus is included with IBM's FlashSystem 9100, an NVMe-based all-flash array.
Dig Deeper on Data backup and recovery software