Virtual Instruments VirtualWisdom 5.6
With the latest version of VirtualWisdom, Virtual Instruments adds greater automation to both the discovery and resolution of storage system and network management issues.
Gold winner in Storage magazine and SearchStorage's 2018 Products of the Year storage management tools category.
Virtual Instruments VirtualWisdom 5.6 is the biggest overhaul of the monitoring and performance management platform since 2013. Virtual Instruments has increased the number of products the software can monitor, added to application awareness and enhanced machine learning-based analytics. The expanded product support and analytics helped VirtualWisdom to the 2018 gold for storage management.
VirtualWisdom takes an app-centric approach to infrastructure monitoring and analytics. In the latest version, the company has added integration with Cisco SAN Telemetry Streaming and the application performance monitoring platform from AppDynamics. In addition, the software can now discover key applications automatically and map topology from application to infrastructure.
Virtual Instruments VirtualWisdom 5.6 collects machine and network traffic data from Ethernet and Fibre Channel fabrics, software-defined storage systems, hyper-converged infrastructure platforms, and SAN and NAS systems. It then takes all that data, gathered in under a second, and runs it through AI-based analytics to quickly identify any problems.
One judge commented that the automation and machine learning features make the "usual black box" of storage fabrics "completely transparent end-to-end," while adding, "it provides simplified troubleshooting and root cause analysis and actionable insights into sticky network problems."
One way automation and the machine-learning analysis come together is how Virtual Instruments VirtualWisdom 5.6 will now automatically open a support case when the platform detects a problem.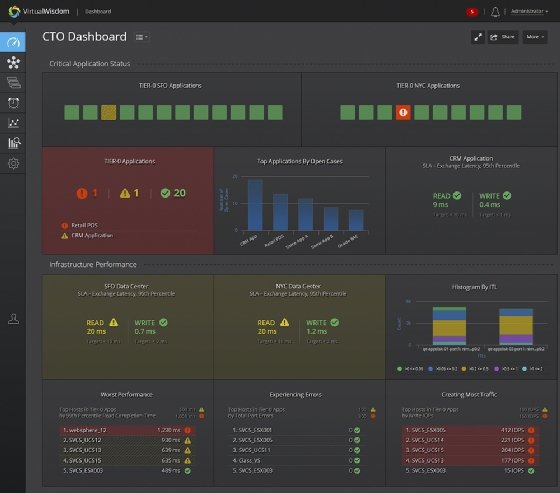 Another judge touted how Virtual Instruments "isn't promising the moon, just a rock-solid way to collect info on storage infrastructure and the workloads that are using it."
Some judges noted a few drawbacks to VirtualWisdom 5.6, however, including that "setup in real world environments can be tricky," and that it is a "bit on the pricey side."
Virtual Instruments claims VirtualWisdom 5.6 is the industry's first application-aware storage monitoring platform and has also said that it has been adopted faster by both existing and new customers than any previous edition.