peshkova - Fotolia
Virtual Instruments VirtualWisdom 5.6 enhances Cisco support
Virtual Instruments shows off newly integrated Cisco SAN Telemetry Streaming and AppDynamics technology and troubleshooting improvements in its VirtualWisdom 5.6 tool.
Virtual Instruments this week showcased a new version of its infrastructure performance monitoring and analytics product that supports Cisco's SAN Telemetry Streaming and AppDynamics' application monitoring technology, dashboard drilldowns and proactive charts for troubleshooting.
The integration with Cisco's SAN Telemetry Streaming (STS) technology in the new Virtual Instruments VirtualWisdom 5.6 release eliminates the need to deploy Traffic Access Points and hardware probes to capture wire data in SAN environments built on Cisco's MDS 32 Gbps Fibre Channel (FC) technology. Additional integration with AppDynamics enables granular insight into applications and their dependencies to improve end-to-end visibility from the application infrastructure to the storage.
VirtualWisdom provides the visualization and analytics capabilities to help customers gain insight into SAN performance, service-level issues, applications that might be affected and actions they need to take to resolve problems, noted Tim Van Ash, senior vice president of products at Virtual Instruments, based in San Jose, Calif. The company demonstrated the new 5.6 version this week at Dell Technologies World.
"The traditional SAN environment has visibility from the compute to the storage, but it really didn't understand the applications or the workloads running across that infrastructure," Van Ash said. "By being able to bring AppDynamics and STS together in those environments, we can now say what applications are out there, what workloads are generating against the infrastructure, how that is impacting the infrastructure and what we need to do to meet the needs of those applications."
Expanding beyond NAS and SAN focus
Van Ash said customers provided feedback that they didn't understand how their applications were using the infrastructure or how to optimize application performance. So, Virtual Instruments expanded beyond its NAS and FC SAN focus into application-centric infrastructure performance management and partnered with vendors such as Cisco.
Last year's Virtual Instruments VirtualWisdom 5.4 release included support for Cisco's NetFlow protocol, enabling visibility directly off the IP network into application flows going into physical or virtual servers and into virtualized storage, Van Ash said.
With VirtualWisdom 5.6, Virtual Instruments built a special integration probe to consume the STS data. Cisco's 32 Gbps line card equipped with the SAN telemetry chip does the monitoring, and the performance data goes directly from the switch to VirtualWisdom. The STS capability delivers about 32 metrics per application conversation with 10-second granularity, compared with the VirtualWisdom performance probe's 400 or so metrics with per-second granularity, according to Van Ash.
"The value in deploying Cisco STS only is that it's [a] pure software solution. But if you want the visibility to absolutely assure the performance in mission-critical applications, the hardware capabilities are still available from Virtual Wisdom as add-ons," Van Ash said.
Virtual Instruments VirtualWisdom now supports application discovery through Cisco's AppDynamics and NetFlow, native host discovery via Secure Shell and Windows Management Instrumentation, and manual data import.
"This enables us to fill in the blind spots that [application performance management] APM tools have traditionally had," Van Ash said. "It's all about mapping applications to infrastructure -- knowing where they live so that you can track the workloads that are being generated by those applications and how infrastructure is responding to those workloads."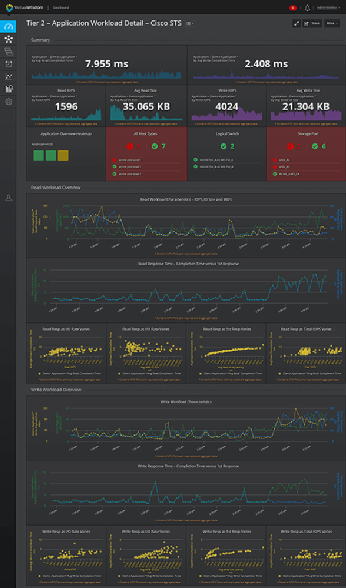 Adding proactive charts
Virtual Instruments VirtualWisdom 5.6 also automatically generates charts to help customers analyze and respond to alerts the tool triggers in the event of problems. The prior 5.4 version provided text-based explanations and recommendations. But users can now receive a summary identifying typical causes and charts to help them troubleshoot and resolve issues.
Van Ash said the guided investigations are designed to extend Virtual Wisdom from the architects and engineering groups that typically used the product to the operations team and help desk that are at the front line of support and may not have the same level of technical expertise.
New management dashboards and drop-down menus in VirtualWisdom 5.6 can further help users interpret data the tool collects and solve problems. Summary views are available showing the overall health, performance and infrastructure utilization.
"Most IT people don't have the time or ability anymore to take corrective measures based on what the data capture is telling them," said George Crump, founder president of Storage Switzerland. "As the infrastructure becomes increasingly complex and IT skill sets become thin, the system and the machine have to be able to initially guide the customer to fixing the problem. And eventually, long term, the solution has to just go fix the problem, because the environment will be too big. There will be too many parts, and the human won't be able to get to it in time."
Crump said the initial integration that Virtual Instruments is providing to AppDynamics in VirtualWisdom 5.6 is also critical to enable end-to-end visibility from the application to the storage system and facilitate problem resolution.
"The challenge that you have with most of these tools is they tell you that the patient's bleeding, but they don't tell you where or how to stop it. So, what you're seeing Virtual Instruments and others start to do is give you the ability to say, 'OK, here's where the patient's bleeding. Here's what we think is causing the problem. And here's what you need to do to take corrective measures,'" Crump said.
Virtual Instruments VirtualWisdom 5.6 is free to existing customers with current support contracts. The list price starts at about $45,000 to $50,000 for new customers and depends on the number of ports or servers they monitor, according to Van Ash.
Dig Deeper on Storage management and analytics