Luiz - Fotolia
Virtual Instruments becomes Virtana, adds cloud monitoring
Virtual Instruments' focus expands to hybrid IT infrastructure management, as company changes name to Virtana and adds CloudWisdom monitoring and cost optimization.
Virtual Instruments changed its name to Virtana today to coincide with its expansion into hybrid infrastructure management through a new SaaS-based CloudWisdom monitoring and cost analysis tool.
CloudWisdom is the latest example of Virtual Instruments extending its capabilities through acquisition. In August, the company completed its purchase of Metricly, formerly Netuitive, to bolster its public cloud options. Virtual Instruments previously offered only limited cloud server monitoring through its VirtualWisdom product.
"This was a much-needed move by Virtual Instruments, as they were in danger of becoming yesterday's technology solution. With this new cloud capability, they have moved to become relevant in the new era," said Roy Illsley, a distinguished analyst at Ovum, a research and consulting business that is a division of Informa UK Ltd.
Bob Laliberte, a senior analyst at Enterprise Strategy Group, said Metricly's main differentiator is software-as-a-service-based cost and capacity analysis for Amazon Web Services (AWS). He said he expects the new CloudWisdom will target big AWS shops and Virtual Instruments' VirtualWisdom users who want unified hybrid infrastructure capabilities.
CloudWisdom software uses machine learning algorithms and can detect system anomalies, let customers set alerts and policies, help users to right-size AWS resources and plan purchases, and analyze bills and utilization to provide cost-saving suggestions.
Customer estimates $100,000 savings
One Metricly customer, Oomnitza, estimated the right-sizing and billing analysis enabled it to save $100,000 on an annual basis. Oomnitza hosts its SaaS-based IT asset management software platform on AWS. The Metricly software tracks the company's AWS Elastic Cloud Compute (EC2) usage and indicates which server instances are over, under or correctly provisioned, according to Oomnitza director of engineering Jon Burt.
"By taking all that information, it will then make a set of recommendations on how to more appropriately achieve the compute resources that you need at the least cost," Burt said.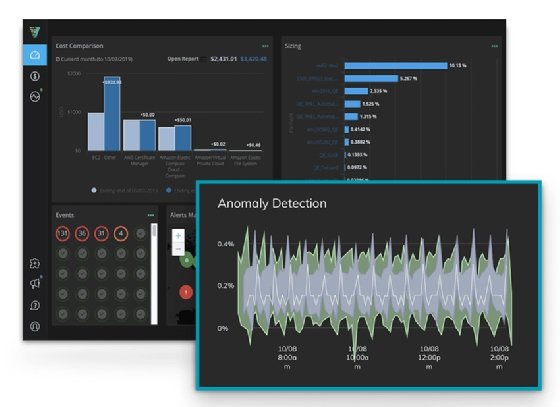 Metricly was the third acquisition in the last four years to bring key capabilities to Virtual Instruments' product portfolio. Virtual Instruments merged with Load DynamiX in March 2016 to get the storage performance testing and validation technology at the heart of its WorkloadWisdom IT planning product. Later in 2016, Virtual Instruments bought Xangati to add server and limited cloud monitoring to its VirtualWisdom core monitoring and analytics platform.
Name change rationale
The Metricly/Netuitive acquisition spurred Virtual Instruments to change its name "to get people to think differently" about the company, said Len Rosenthal, Virtana's chief marketing officer. The name Virtana incorporates the "VI" from Virtual Instruments, the "rt" from the product's real-time monitoring capabilities, and the remainder from analytics and automation.
Virtual Instruments started out in SAN monitoring and gradually expanded its reach to NAS, virtual servers, IP networks, applications and now the public cloud. Rosenthal said CloudWisdom also extends the Virtana monitoring portfolio to middleware, containers and microservices.
Virtana's 2020 roadmap includes plans to integrate its products to enable customers to access CloudWisdom, VirtualWisdom and WorkloadWisdom through a unified interface, according to Rosenthal. He said, in the meantime, VirtualWisdom's on-premises users could view data from CloudWisdom.
Virtana inherited 80 customers from Metricly, which is based in Reston, Virginia. CloudWisdom is currently available only in AWS, and Azure is in beta. Rosenthal said Virtana also plans to support for Google and offer customers a unified view of all three environments.
CloudWisdom pricing
CloudWisdom costs $15 per physical or virtual server, independent of the number of CPUs and cores. Metrics collected from the middleware, database and application layers are included in the per-host fee, according to Virtana.
Paul Bevan, a research director for IT infrastructure at Bloor Research, said the integration of Metricly's technology and the entry-level pricing would give Virtana a chance move beyond its sweet spot of large companies with big projects. It could potentially bring Virtana into smaller and cloud-only companies trying to manage multi-cloud or hybrid environments, he said.
"Metricly has jumped them forward pretty radically in the cloud environment -- but more than that, it's given them a capability around quite sophisticated AI that's probably ahead of the market. If you're looking at infrastructure performance management, automation is absolutely critical these days, and machine learning at the very least is needed to drive a lot of automation," Bevan said.
Bevan said Virtana is one of the few companies that can handle huge volumes of real-time data and start to do predictive analytics on the fly. Those capabilities can be worth millions of dollars to users such as online traders if they stop outages and present performance degradation, he added.
Bevan said the infrastructure performance management market includes 40 to 50 vendors globally. Many are new and small companies with roots in performance monitoring areas such as applications, servers or networks, he said. The field is starting to consolidate through acquisition, including Virtual Instruments' recent purchase of Metricly, Resolve Systems' buyout of FixStream and Splunk's pickup of SignalFx.
"Most of the key players are trying to get into this new integrated sort of hybrid cloud infrastructure performance management space" that is increasingly referred to as AIOps, Bevan said.
Virtana also offers Cloud Migration Readiness (CMR) services to validate performance, dependencies and estimated costs for customers considering moving workloads to the cloud. Rosenthal said the company sends specialists to customer sites to install probes, analyze workloads, run simulation tests, and provide reports and recommendations. He said Virtana has offered the CMR services for about two years and eventually plans to offer them as a fully automated SaaS-based option.