Sergey Nivens - Fotolia
Virtual Instruments rebrands Load DynamiX as WorkloadWisdom
Virtual Instruments rebrands Load DynamiX Enterprise storage performance validation software, updates its user interface, boosts performance and adds 25 GbE and SMB support.
Virtual Instruments rebranded and updated its Load DynamiX Enterprise storage performance validation software to deliver faster performance, a consistent user interface, and support for 25 Gigabit Ethernet fabrics and the SMB file protocol.
The vendor, based in San Jose, Calif., changed the Load DynamiX product name to WorkloadWisdom to fall in line with its VirtualWisdom software that monitors and analyzes performance with production systems. Virtual Instruments and Load DynamiX merged in 2016 and kept the name of the larger company, as well as the original product names, until this week.
"What we're really trying to focus on is workload intelligence -- understanding workload behavior, workload performance characteristics and making better workload-placement decisions," said Len Rosenthal, chief marketing officer at Virtual Instruments. "That's how the product is going to be evolving over time. Today, it's 100% storage and storage network-focused. But over the future, it'll be much broader than that, beyond storage."
How WorkloadWisdom works
The WorkloadWisdom software gathers data to create a workload profile for the Virtual Instruments' Workload Generator appliance. The data is used to simulate traffic loads and perform a what-if analysis to help customers ensure their storage can meet expectations or application needs.
With the new WorkloadWisdom 6.0 release, Virtual Instruments changed "the internal guts of the system" to boost the performance of results reporting by up to 10 times over the prior product version, Rosenthal said. He noted some customers that do large-scale testing for days and sometimes weeks had complained about the time required to generate reports.
Virtual Instruments also redesigned the WorkloadWisdom user interface to enable a consistent "look and feel" with VirtualWisdom and reduce the time required to find old test results. VirtualWisdom could feed workload profile data into Load DynamiX Enterprise in the past, but the user interfaces of the two products looked different, Rosenthal said.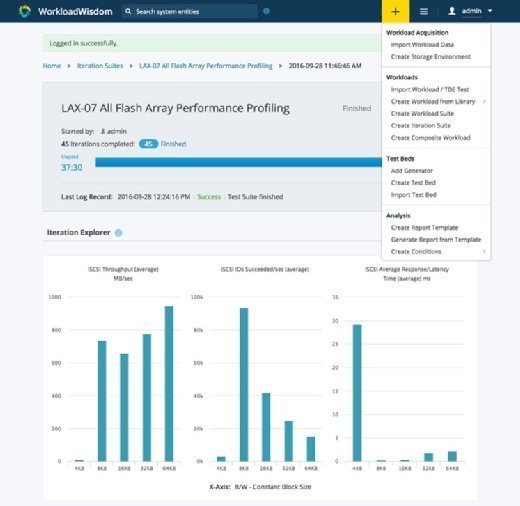 Support for 25 Gigabit Ethernet
The vendor also added 25 Gigabit Ethernet Workload Generators to complement the high-speed 32 Gbps Fibre Channel and 40 GbE generators the product previously supported.
"More data centers are really starting to aggressively evaluate 25 Gig Ethernet, and they're trying to understand, 'What's that going to do for me?'" said George Crump, founder and president of Storage Switzerland. "This is one of the few products that could deliver a really valid test of the difference between a 10 Gig [Ethernet] and a 25 Gig [Ethernet] system."
Virtual Instruments is also adding support for the SMB file protocol, to go with the NFS and object storage the Load DynamiX product already supported. SMB file environments can now access production workload data using the company's Workload Data Importer (WDI), and users can get SMB production workload data from VirtualWisdom ProbeNAS, which monitors SMB- and NFS-based file environments.
"We call it production-to-lab automation. What this means is you can take data right out of an SMB file server from NetApp or Isilon or Hitachi and put it right into WorkloadWisdom and start doing performance testing on it," Rosenthal said. "We had that capability for NFS, and now we're doing it for SMB. So, this completes all the storage protocols that we couldn't do before."
"It gives them a really nice, rounded product that can pretty much test any protocol that's current in the world today as far as NFS, Fibre Channel, object storage, SCSI and now SMB," Crump said. "They're following a logical path as technology advances. It's safe to assume NVMe [nonvolatile memory express] over Fabrics is probably on the radar screen."
Virtual Instruments updated WorkloadWisdom's WDI to cover major storage arrays from Dell EMC, Hewlett Packard Enterprise, Hitachi, IBM, NetApp, Oracle and Pure Storage to ease the workload-creation process. Rosenthal said the product could automatically extract the transaction log and other core historical data from the management tools in those vendors' arrays and load it into WorkloadWisdom.
"In the past, we had a utility that allowed people to write their own policies. But now, we've automated all that," Rosenthal said. "It simplifies the workload model creation process."
List pricing is $19,000 for the WorkloadWisdom virtual appliance software and starts at $39,500 for the hardware-based Workload Generator, according to Rosenthal.
Technology vendors constituted the bulk of the original Load DynamiX Enterprise customer base. But Load DynamiX and later Virtual Instruments worked to expand the product's feature set to target enterprise IT organizations. Rosenthal said the customer split is currently about 50-50 between vendors and IT organizations.
"Typically, it's larger customers that are using it -- folks that are spending many millions of dollars per year on storage systems," Rosenthal said. "When you're spending millions of dollars, it makes sense to invest in WorkloadWisdom to make sure you're making the right decisions, because it can literally cut your storage costs in half."