Kit Wai Chan - Fotolia
Virtual Instruments WorkloadWisdom adds NVMe-oF support
Virtual Instruments product update adds support for NVMe over Fibre Channel workload modeling and improves testing capabilities in large-scale environments.
Virtual Instruments is giving enterprises the ability to test the impact of NVMe-oF on storage systems.
WorkloadWisdom 6.2 -- the latest version of Virtual Instruments' workload modeling and performance validation software -- lets customers test the impact of NVMe on production workloads and evaluate new storage arrays that support NVMe-oF.
WorkloadWisdom enables enterprises to simulate and analyze block, file and object workloads in the lab to help them configure and optimize their production storage systems. The software gathers data, creates a workload profile and sends a command stream to a load-generating appliance.
The Virtual Instruments WorkloadWisdom 6.2 virtual appliance will initially target storage vendors that need to test products designed to support high-performance, low-latency NVMe-oF technology. But Tim Van Ash, senior vice president of products at Virtual Instruments, said the vendor is seeing interest from enterprise customers in the healthcare, financial services and service provider markets.
Justifying NVMe-oF cost premium
George Crump, president of analyst firm Storage Switzerland, said WorkloadWisdom could help enterprises determine if they're going to get enough of a performance benefit to justify the cost premium of end-to-end NVMe.
"If it's part of a formal testing process where an enterprise is constantly evaluating new storage technologies and storage protocols -- which most do -- then it's well worth it because you can use it repeatedly," Crump said.
Crump noted that WorkloadWisdom is intended for vendors and enterprise users, not the small-to-medium-sized business market. The starting list price for WorkloadWisdom is $30,000.
Virtual Instruments partnered with SANBlaze Technology, a specialist in storage protocol testing, to accelerate WorkloadWisdom's NVMe over Fibre Channel (FC) capabilities. SANBlaze handles the NVMe protocol emulation and traffic generation between the initiator and the target, and Virtual Instruments builds a model on top to simulate the application behavior.
Van Ash said that SANBlaze's VirtualLUN storage emulation for NVMe-oF also supports RDMA over Converged Ethernet (RoCE) and Internet Wide Area RDMA Protocol (iWARP) fabrics. But he said Virtual Instruments hasn't seen demand for RoCE and iWARP.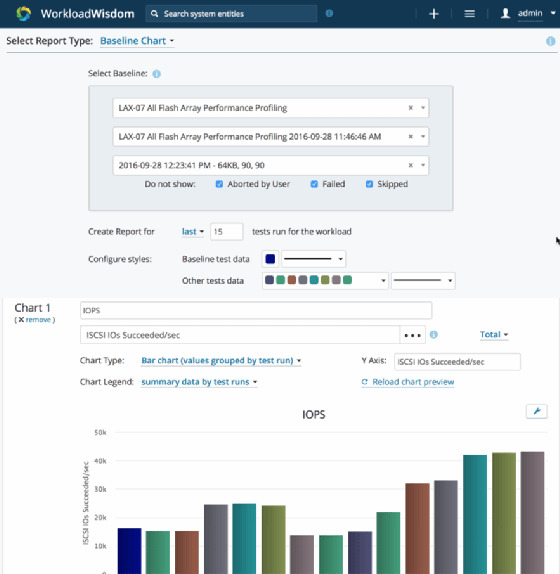 Upcoming NVMe over TCP support
Van Ash said Virtual Instruments plans to add support for the new NVMe over TCP specification in early 2019 when SANBlaze makes it available. WorkloadWisdom currently supports FC-SCSI, iSCSI, SMB, NFS, Amazon S3 and OpenStack Swift, as well as the newly added NVMe over FC workload modeling and testing.
WorkloadWisdom 6.2 also improves support for large-scale test environments with a new browser window showing FC port information to show users how their initiators are mapped to LUNs. The update also enables automatic discovery of lab configurations for iSCSI so users don't have to manually import iSCSI information, and bulk imports of Server Message Block (SMB)/Network File System (NFS) user information.
"Once upon a time, we had customers who were importing 1,000 or 2,000 users. Now we've got customers who are importing 50,000 or 100,000, and the largest is over a million. We needed to improve the way we handled that sort of scale and make it very easy for people to be able to test any number of users across their environment," Van Ash said.
Other new features in WorkloadWisdom 6.2 include support for distributed SMB file system testing in response to requests from hyper-converged infrastructure vendors, single-click data integrity verification, and real-time alerts and diagnostics to help customers identify issues as they happen and find the root cause.
WorkloadWisdom is packaged as a virtual machine and available as a software-only or physical appliance. Virtual Instruments also sells a sister VirtualWisdom product to manage and monitor infrastructure performance in production environments.