Computational storage takes spotlight in new NGD Systems SSD
See how startup NGD Systems' 16 TB NVMe-based SSD can run applications inside the SSD controller to eliminate the need to move data between storage and host.
Startup NGD Systems this week launched a 16 TB SSD equipped with multi-core processing technology for computational storage.
Computational storage devices -- such as the new NGD Systems Newport platform -- run operating systems and execute applications inside SSDs. That eliminates the need to move data between the storage and a host computer.
Like traditional SSDs, computational storage devices contain NAND flash memory chips, a controller to manage data writes and RAM to buffer reads and writes. But the new Newport In-Situ Computational Storage (ICS) 8100 SSD embeds a quad-core ARM processor into NGD's custom-built 14-nanometer (nm) application-specific integrated circuit (ASIC) to run Ubuntu Linux and enable functions such as indexing and searching data within the device.
NGD Systems used field programmable gate arrays (FPGA) rather than ASICs to accelerate the release of its Catalina-1 and Catalina-2 prototypes in 2017. But NGD designed the new 14 nm, 16-channel ASIC for its Newport platform. Scott Shadley, NGD's vice president of marketing, said the vendor switched to an ASIC to facilitate higher performance and scalability, reduce power consumption and drive down costs by packing more die per silicon wafer.
"ASICs run tens of dollars. FPGAs are hundreds of dollars," Shadley said.
NGD Systems also sells a High Capacity Storage (HCS) 8100 model based on the same ASIC but disables situ processing. The HCS 8100 is for customers who don't need computational resources within the device.
Lower power than other NVMe SSDs
The ICS-8100 and HCS-8100 models support NVMe over a PCI Express bus for high performance and low latency. NGD CEO Nader Salessi said the SSDs are power efficient, using 0.4 to 0.9 watts per TB depending on the form factor, compared to the 3 to 4 watts per TB that other NVMe SSDs use.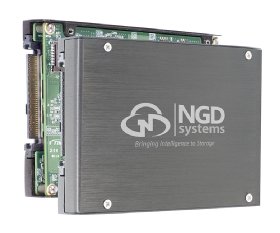 NGD's Newport SSDs currently ship in the U.2 form factor and use triple-level cell 64-layer 3D NAND to facilitate high capacity. The maximum capacity with the current ICS and HCS models is 16 TBs, but NGD plans to release a 32 TB model later this year.
Shadley said NGD Systems will add additional form factors later this year, including a gumstick-sized M.2 SSD at 8 TB and Enterprise & Datacenter SSD Form Factor SSDs at 16 TB and potentially 32 TB. Another possibility is a 64 TB add-in card, he said.
Use cases are just starting to emerge for the nascent computational storage SSDs. NGD targets hyperscale workloads, content delivery and edge devices that require low power and computational resources. The company works with two major server OEMs, at least three white box vendors and major OEMs in edge platforms, Shadley said.
Microsoft Research project
One NGD Systems partner, Microsoft Research, is working on proofs of concept to illustrate the potential benefits of computational storage SSDs. One project targets the processing of search requests for large image files.
Microsoft researcher Jaeyoung Do said computational storage could reduce the amount of expensive dynamic RAM required to maintain the images in the host-based cache. He said it could also offload processing to the SSD to save I/O bandwidth by not transferring all images from the storage device to the host servers and free up host resources for other applications.
The embedded Linux OS is another advantage of computational storage for a wide range of use cases. Do said developers would be able to program directly to the SSD -- which he likened to a minicomputer -- using the same user-friendly tool sets they rely on to build other applications on the host.
"Clearly, it will be the very technically able organizations with big problems, like the hyperscalers or the next tier down from the hyperscalers," that will use computational storage, predicted Tim Stammers, a senior analyst at 451 Research. "I don't believe it's going to be enterprises, although it might be one or two banks that are really clever with IT and really need to do it. We're running out of processing power. One way to help that problem is to move computing to the storage."
IT pros in learning phase
Julia Palmer, a research vice president at Gartner, said IT pros are just starting to learn about computational storage and figure out the use cases it might address. She wrote via email that they would want to see a broad ecosystem around it -- with "killer apps" or software-defined storage from many vendors -- for computational storage to become "relevant for mainstream adoption." But she said it holds potential for emerging workloads such as AI, machine learning and IoT.
Palmer pointed to OpenIO and ScaleFlux as NGD's main competitors in the emerging market for computational storage.
"It's a tough crystal ball call for me. We've spent so many years taking costs out of storage devices. We've been giving more control to the host side of the equation. This kind of goes in the other direction," said Don Jeanette, a vice president at Trendfocus. "But, on paper, it helps a very critical metric that [hyperscale companies] are looking at. NGD wouldn't be doing this if they didn't have feedback from a marketplace that was interested in it. There are a lot of smart people over there."
Jeanette said NGD "is a compelling story" if it can live up to its promises of lowering price and power consumption.
NGD Systems hasn't provided pricing for its Newport U.2 SSDs. Shadley said NAND flash represents more than 80% of the bill of materials to produce the 16 TB SSDs. Because NAND costs are currently fluid, NGD would set prices with customers based on their delivery time, Shadley said.