Sergey Nivens - Fotolia
Flash storage grows up with new EDSFF SSDs, denser 3D NAND
Expansive new directions for flash memory technology shine brightly in the launch of 176-layer 3D NAND chips, EDSFF E1.S and Zoned Namespace SSDs, and computational storage drives.
Cutting-edge product launches at this week's Flash Memory Summit spotlight denser 176-layer 3D NAND and new types of solid-state drives that have the potential to lower costs and bolster storage performance, capacity and efficiency.
Micron staked a claim as the first flash manufacturer to hit the 176-layer mark in 3D NAND. Flash storage drives on the way include Kioxia's small form factor E1.S XD6 Series, designed to replace M.2 in servers, and Western Digital's Zoned Namespace (ZNS) SSD that writes data sequentially to discrete regions of a drive to boost performance and usable capacity.
Other new flash options include computational storage drives equipped with processors to enable compute services on SSDs. Xilinx and Samsung worked on an adaptable computational SmartSSD that will start shipping early next year, after a proof-of-concept phase of about 18 months. NGD Systems is adding a 12 TB NVMe E1.S SSD that, like Kioxia's XD6, supports the up-and-coming Enterprise & Datacenter SSD Form Factor specification.
Latest flash storage trends
The upshot of the latest flash storage developments for enterprise and data center users is that they'll increasingly see SSDs in form factors other than the 2.5-inch flash and hard-disk drives (HDDs) they're accustomed to using in servers and storage systems. Plus, the drives will be packed with higher-density 3D NAND flash that soars well past 100 layers.
"There's kind of a macho contest about how many [NAND flash] layers you have," said Jim Handy, general director and semiconductor analyst at Objective Analysis. "What it comes down to at the end of the day for enterprise customers is cost. They're going to be able to manage this ballooning amount of data that everybody needs without having to have ballooning costs."
But enterprise users will have to wait for SSD manufacturers to start using the most cutting-edge, ultra-dense flash chips. Micron, for instance, offered no timeline for when its 176-layer 3D NAND flash might reach data center SSDs.
"The enterprise space sometimes takes a little bit of time to adopt new technology," cautioned Derek Dicker, corporate vice president and general manager of Micron's storage business unit.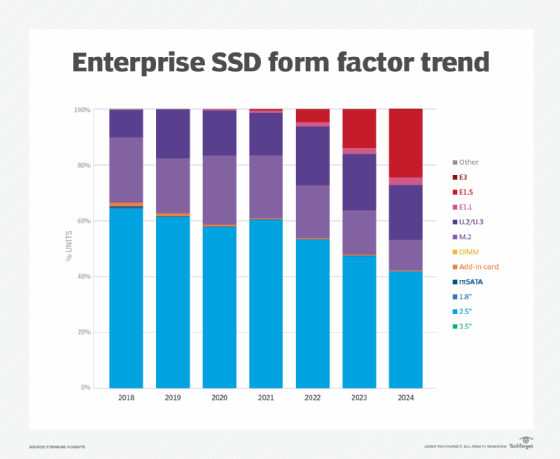 Denser NAND benefits
But Dicker said, once available, the 176-layer 3D NAND would enhance the quality of service (QoS) and performance of SSDs in addition to bringing down the cost per bit -- a trajectory that should "hopefully translate" into beneficial pricing for enterprise end users. And the QoS improvements could be especially helpful in accelerating workloads such as data lakes, artificial intelligence and big data analytics.
Micron began its transition from floating gate to charge trap technology with 128-layer 3D NAND, and the new 176-layer fifth-generation 3D NAND is the second to use its replacement-gate architecture. The 176-layer 3D NAND is now in volume production and shipping to customers for consumer use, according to Micron.
Greg Wong, founder and principal analyst at Forward Insights, estimated that Micron is three to six months ahead of the competition. The maximum NAND layer count from other major NAND manufacturers ranges from 112 from Kioxia and Western Digital, to 128 from Samsung and SK Hynix, to 144 from Intel, he said. Intel recently disclosed plans to sell its NAND business to SK Hynix for $9 billion.
IDC research vice president Jeff Janukowicz noted that most enterprise SSDs currently use 64-layer flash. But he said the roadmaps that NAND manufacturers have laid out for denser flash show that enterprise customers will have advanced options for data-intensive workloads and next-generation infrastructure at lower costs in the future.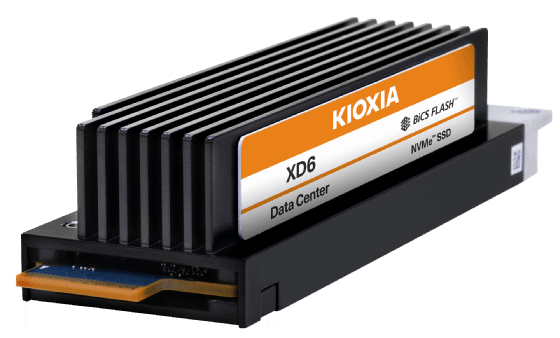 EDSFF vs. M.2 SSDs
Cloud and hyperscale data centers are already drawing the attention of SSD producers. For instance, Kioxia America (formerly Toshiba Memory America) worked to address the performance, power and thermal requirements that hyperscalers outlined in the Open Compute Project's NVMe Cloud SSD specification with its new EDSFF E1.S SSD.
Kioxia's XD6 Series is the vendor's first to support the EDSFF specification. EDSFF E1.S SSDs offer advantages over the gumstick-shaped M.2 SSDs that many hyperscalers have been using, especially with their higher density and hot-plug capability to keep systems running when they need to replace a drive. M.2 SSDs are now most common in laptops and other client devices.
There's kind of a macho contest about how many [NAND flash] layers you have. What it comes down to at the end of the day for enterprise customers is cost.

Jim HandyGeneral director and semiconductor analyst, Objective Analysis
The XD6 Series from Kioxia also supports PCI Express (PCIe) 4.0 and NVMe 1.3c specifications to boost performance over PCIe 3.0-based SSDs. Kioxia's new single-port E1.S SSDs are sampling to select customers with options for 9.5 mm, 15 mm and 25 mm form factors and capacities of 1.92 TB and 3.84 TB.
Intel and Samsung have also been sampling E1.S SSDs, and startup Fadu Technology ships E1.S SSDs, according to Wong. Fadu's Bravo E1.S SSD became generally available in March, and a new performance-doubling Delta E1.S SSD is due to ship next year, the startup announced Tuesday.
Don Jeanette, a vice president at TrendFocus, predicts that E1.S SSDs will ramp in volume in 2022 and 2023, as hyperscale customers shift from M.2 SSDs to scale performance and capacity. "Whether it goes to OEM customers like HPE or Dell or Lenovo is to be determined," Jeanette said.
Although EDSFF SSDs are gaining momentum, they won't displace popular 2.5-inch storage drives any time soon, according to Joseph Unsworth, a research vice president at Gartner.
"Traditional data center systems take an eternity to change, and given the lifecycles of five to seven years or more, 2.5 inch will linger for decades," Unsworth predicted. "Enterprise HDDs are still shipping, and nearline HDDs have a long future ahead in the 2.5-inch form factor, so that will ensure that the HDD form factor lasts for a long time."
Zoned Storage from Western Digital
Western Digital's new Ultrastar DC ZN540 SSD is sampling to select customers in a standard 2.5-inch U.2 form factor, but the new NVMe-based drive is hardly conventional. The Ultrastar DC ZN540 is the company's first SSD to support Zoned Storage, an initiative that Western Digital started in 2019 to facilitate greater storage efficiency.
Flash storage drives need to erase data blocks in order to overwrite them with new data. Conventional SSDs provision extra capacity to help with the write-erase operation and store unused and unerased blocks that the system cleans up periodically through a process called garbage collection. SSDs also use a significant amount of expensive DRAM for the flash translation layer to map logical blocks to the physical drive.
Zoned Storage enables the host operating system to control the sequential data writes into independent zones on the SSD so the drive doesn't need to use as much DRAM, overprovision capacity and overcome performance hiccups for garbage collection. The Linux kernel recently added support for Zoned Storage, but application support remains a work in progress.
"It seems like there's a lot of excitement in the software community," Objective Analysis' Handy said. "If they can write programs that perform better by using Zoned Namespace drives, and if that translates into dollars and cents for servers and for data centers, then I could picture that being a big advantage for them."
Western Digital claims its dual-port Ultrastar DC ZN540 ZNS SSD can improve performance by 4x and QoS by 2.5x over conventional SSDs. The ZN540 is currently sampling to select customers with capacity options of up to 8 TB.
Wong said ZNS could be especially useful in enabling quad-level-cell (QLC) SSDs that suffer from poor random performance. Western Digital's ZN540 now uses triple-level cell (TLC) flash but QLC is on the roadmap, according to Eric Pike, Western Digital's senior director of cloud enterprise flash marketing.
Also, this week, Western Digital announced an NVMe-based IX SN530 SSD designed for automotive and industrial applications that have extreme temperature, performance, endurance and reliability requirements. The IX SN530 is sampling in compact M.2 2230 and M.2 2280 form factors at capacity points from 85 GB to 2 TB.
New computational storage drives
NGD Systems became the first computational storage drive vendor to release an NVMe-based EDSFF E1.S SSD. Scott Shadley, the company's vice president of marketing, said the cased, plug-and-play E1.S form factor is easier to use in systems than a screwed-down, uncased M.2 SSD that's challenging to replace.
"The E1.S and the entire EDSFF family of drives are sorely needed for the data center and edge platforms with enterprise environments," Shadley said.
Shadley said NGD's Newport Platform E1.S SSD uses TLC NAND and an upcoming version will support denser QLC in the first quarter of next year. Customers that use the 12 TB E1.S SSD could pack 432 TB into a 1U server from AIC, which supports three dozen 9.5 mm symmetrical drives. Shadley said NGD could also support 15 mm and 25 mm E1.S SSDs if customers require them. The company also sells M.2 and U.2 computational storage drives.
Like all computational storage drives, the new Samsung SmartSSD enables users to offload workloads from overtaxed server CPUs and do high-speed computation on the storage device at low latency. Xilinx supplies the SmartSSD's field programmable gate arrays (FPGAs) and provides storage services such as compression and encryption.
The SmartSSD platform and Xilinx's Vitis tool and libraries can also enable developers to program hardware-accelerated custom applications. Examples include Bigstream's Apache Spark accelerator, CTAccel's video file transcoding, Lewis Rhodes Labs' storage search offering for data lakes, and Eideticom's compression-enabled computational storage drive.
TrendFocus' Jeanette sees computational storage drives as a niche market. He said the drives will be useful for some companies, but the added cost to put the processors on the drives will keep them at lower volume than cheaper storage alternatives.