Eclipse Digital - Fotolia
Top enterprise cloud storage systems win 2019 Products of the Year
Startups LucidLink and Hammerspace and object storage vendor Scality focus on hybrid and multi-cloud use cases to take top honors as best in cloud storage for the enterprise.
Winning products in this year's Storage magazine and SearchStorage Products of the Year contest for the enterprise cloud storage category illustrate the movement toward hybrid and multi-cloud. Promising startups LucidLink and Hammerspace and object storage specialist Scality snared top honors.
The newly crowned gold, silver and bronze medalists took their cues from major enterprise cloud storage trends and focused on access and management of large sets of data that can span multiple on-premises and public cloud systems. Like many storage vendors, winners target the growing number of organizations taking a hybrid or multi-cloud approach to address application needs in a more cost-efficient way.
Gold medalist LucidLink, a startup with offices in California, Bulgaria and Germany, impressed judges with its new Filespaces cloud file service that can accelerate access to data in globally distributed cloud object stores.
Startup Hammerspace, based in Los Altos, Calif., won silver with its eponymous data-as-a-service product that launched in October 2018. The Hammerspace data virtualization technology aims to help customers access and manage files and objects stored in private and public clouds whenever and wherever they need it.
Well-established object and file storage vendor Scality captured third place with a major upgrade to its flagship Ring software that features multi-cloud data management and orchestration technology for large-scale hybrid cloud environments.
All entries in the enterprise cloud storage category run on standard server hardware with no dependencies on underlying hardware. Products eligible for consideration included file systems not tied to specific storage arrays, software that pools and centrally manages storage across servers or cloud object stores, and gateway appliances for cloud backup and replication.
Gold winner: LucidLink Filespaces 1.0
LucidLink CEO Peter Thompson and CTO George Dochev sought to combine the cost advantages of cloud object storage with the performance of NAS systems in the startup's Filespaces cloud service that launched in the spring of 2019.
The LucidLink cloud-native file system can run on top of any S3-based object store and enable streaming read/write access to data from any location. The technology splits metadata from the data and synchronizes it locally. Users and applications connect to the same namespace and employ Filespaces as a local shared volume.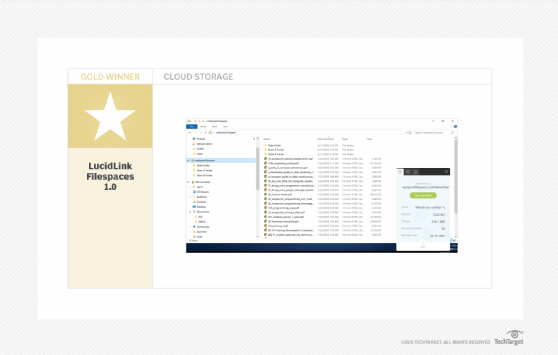 "This is a file system overlay on S3 object storage," noted one judge. "Most object storage [systems], including open source [software], have file system overlays, except AWS, Azure, [Google Cloud Platform], IBM cloud object storage. That's where this plays. Persistent caching and prefetching is a key advantage for [LucidLink's] file system."
LucidLink uses multiple parallel data streams, local write-back caching for frequently accessed data, in-line compression and a proprietary adaptive algorithm to facilitate prefetching and reduce latency in cloud environments. Filespaces supports encryption of data and metadata in transit and at rest for security, snapshots to restore data in the event of a ransomware attack or system outage and global file locking to enable remote users to collaborate. Administrators can control which parts of the filespace a given user can access.
One judge said LucidLink's Filespaces approach improves on concepts of existing enterprise file sync and share and cloud NAS options. "File sync and share creates too much opportunity for the wrong data to be on the wrong systems, and cloud NAS solutions have the potential to create too big of a bottleneck," he said.
Filespaces pricing is based on the number of connected devices and data capacity. Prices start at $8 per connected device and $20 per terabyte of capacity for customers using their own object storage provider. LucidLink customers using Wasabi enterprise cloud storage pay $8 per connected device and $26 per terabyte of data.
Silver winner: Hammerspace
Runner-up Hammerspace abstracts data from the underlying storage infrastructure to enable users to locate and manage files and objects independent of their location through a universal global namespace that can span multiple on-premises and public cloud sites.
Hammerspace extracts and stores sophisticated metadata that provides data's physical location. Users can non-disruptively add metadata to files and set policies to automatically react to changes and move data. Hammerspace supports site-to-site data transfers and tiering to cloud storage.
Customers can opt to specify where they want to store data or let Hammerspace's data control plane make decisions. Hammerspace uses telemetry, machine learning and optimization technologies to determine the storage that best meets a customer's performance, protection and cost needs.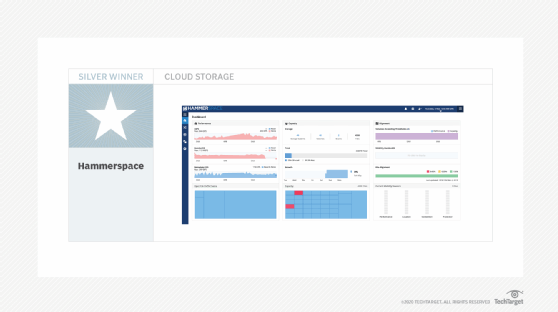 Hammerspace's scale-out data services enable parallel I/O across storage resources to boost performance. The services support NFS and SMB file protocols and Amazon's S3 object storage API.
It can move data through the global namespace during active read/write operations so workloads can non-disruptively scale up and down on demand across storage systems and clouds. The product compresses and globally deduplicates data and uses WAN optimization technology to minimize network traffic.
"Hybrid storage has been great in concept, less great in execution," one judge said. "Hammerspace seems to provide a big part of what has been missing to make hybrid seamless and efficient."
Hammerspace runs on physical or virtual servers located on premises or in public clouds such as AWS, Azure and Google. The startup added a Kubernetes container storage interface driver for container-based deployments last spring. Consumption-based pricing for Hammerspace starts at 80 cents per gigabyte, per year for hot, active data and 5 cents per gigabyte, per year for cold data.
"The service's approach to separating the data plane from the control plane makes this a promising storage technology," one judge said. "It also has solid support for integrating with other systems, with lots of thought given to management."
Bronze winner: Scality Ring8
The most important enhancement in Scality's Ring8 file and object storage software is multi-cloud eXtended Data Management (XDM) that enables users to orchestrate data across on-premises private and public clouds.
Scality began selling the technology as a separate product under the name Zenko in 2018 and added XDM to Ring8 a year later. XDM separates metadata from data and creates a global metadata namespace to enable customers to view and search for information and set policies to migrate data. Supported private cloud options include Ring, Dell EMC and NetApp NAS, and Ceph. Public cloud support extends to AWS, Azure, Google, Digital Ocean and Wasabi.
"This offering will be helpful for many enterprises experiencing rapid evolution and particularly so for those with edge compute requirements because of its ability to integrate dispersed and dissimilar data and data management activities," one judge said.
"This enables multiple Rings in the same or distributed locations to appear and function as a single system for data access and movement," another judge noted.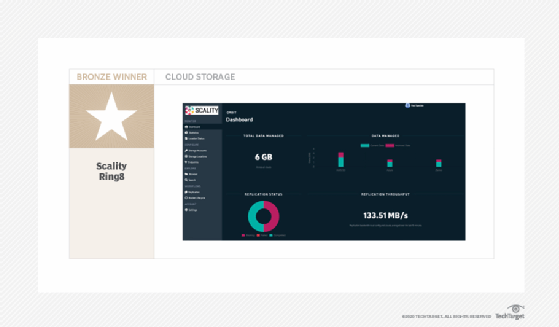 Scality improved security in Ring8 with support for role-based access control, the Key Management Interoperability Protocol 1.2, Security Assertion Markup Language/Active Directory and Security-Enhanced Linux.
Other Ring8 features include support for Amazon's S3 bucket lifecycle transition and bucket notification APIs, the Queens release of the OpenStack Swift API and NFS version 4. Scality also enhanced multi-tenancy for service providers with support for S3-based quotas and AWS Identity and Access Management bucket policies.
"Scality is a proven veteran of the object storage market. They continue to innovate, making the platform easier for legacy applications to store data onto and making it easier to connect the solution to multiple clouds," one judge said.
List pricing for Ring8 with XDM is $150 per terabyte based on protected capacity. Scality also continues to sell the separate Zenko product.
Find out who won top honors in each of the five categories in the 2019 Products of the Year competition.