Klemsy - Fotolia
Scality Ring upgrade targets hybrid cloud data management
Scality Ring8 file and object storage adds Zenko cloud data orchestration -- called Extended Data Management (XDM) -- but for now that feature is a separate software installation.
Scality marked its 10th anniversary with an upgrade to its flagship Ring file and object storage software that targets customers coping with data management in large-scale hybrid cloud environments.
The main new feature in Ring8 -- which will become generally available mid-July -- is the multi-cloud data orchestration technology that Scality began selling last year under the product name Zenko. Scality will call the feature Extended Data Management (XDM) in Ring8 and continue to sell Zenko as a separate product.
Zenko-XDM decouples metadata from data and creates a single metadata namespace to enable customers to view and search for information across private and public clouds. Users can also set policies to migrate data between edge and core sites and public clouds.
The Scality Zenko-XDM technology supports Amazon Web Services S3, Google Cloud Storage, Microsoft Azure Blob Storage, DigitalOcean and Wasabi public cloud storage. Private-cloud and on-premises storage options are Ring, Ceph and NAS systems from Dell EMC and NetApp, according to Scality's chief product officer Paul Speciale.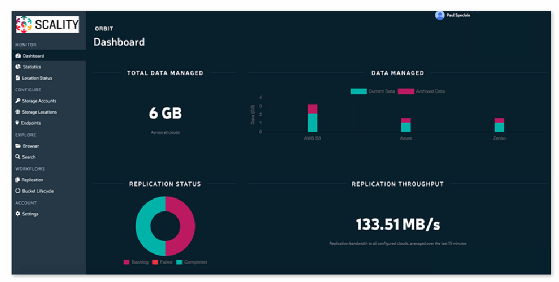 XDM needs extra compute resources
Although XDM will be free for Scality Ring8 customers, they'll need to separately install the XDM software on one or more discrete servers or as a virtual machine on a powerful server if they want to use the feature with the initial release. Speciale said XDM requires additional compute resources for the workflow manager to queue up files and push data to one or more cloud sites.
"There's no free lunch in computing. You just need the resources to be able to do that," Speciale said. "It's mainly a memory requirement. It's going to need minimally 32 GB of RAM to run the workflow manager, and it's probably better to have 64 GB."
Customers that use the initial 8.0 product release will have to manage XDM from a different user interface (UI) than the Ring storage software. But subsequent Ring updates due by the end of 2019 will support a common management UI and the unified installation of Ring and XDM, Speciale said.
"There are multiple parts to the integration. In 8.0, you get the back-end data integration, including knowledge of existing data. I would argue that's the hardest part," Speciale said. "Then we'll do the management integration, bringing the portals together with the Ring supervisor. The code you have to write to do integration of the UI is much less than the integration of back ends."
Speciale said Scality has five banks that want the XDM functionality as soon as possible, and those customers are willing to deploy extra servers and manage from a separate UI.
Upgrading to Ring8
But other customers may choose to hold off for the fully integrated Ring8.1 release. Matt Latter, a solution architect at Telent Technology Services, said having Zenko-XDM "out of the box" in the base Ring product is preferable to installing separate software. He said Telent will probably wait for Ring8.1 to simplify the upgrade and get the unified UI for management.
U.K.-based Telent has used Scality Ring for two years as part of the platform it developed to run cloud services for clients. The company's customer list includes organizations responsible for critical national infrastructure in the U.K. and Ireland. Although Telent hasn't used Zenko, Latter sees the XDM multi-cloud data management and mobility capabilities opening up "a world of opportunities" to enhance services or create new ones.
"Take the backup scenario as an example. Once we've captured that data in the Ring, if we've got built-in capability to connect to other clouds, you could open up that capability for long-term archive into some public cloud S3-compliant storage at an even more cost-effective price point," Latter said.
XDM could also help manage and move data captured in a small edge-based Ring installation to the larger core Ring system in Telent's core data center, Latter said. He said Telent customers such as the London Underground and Highways England use sensors and other edge devices to capture data.
New security features
Ring8 also includes new security features that Latter said would be useful for Telent's customer base. Ring8 adds support for encryption key management systems via Key Management Interoperability Protocol (KMIP) 1.2, Active Directory/Security Assertion Markup Language (SAML) integration, and Security-Enhanced (SE) Linux.
Speciale said SE Linux is especially important for the government customers that represent about 25% of Scality's business. He said Scality Ring8 also adds support for Network File System (NFS) 4 to enable authentication and IPv6 to encrypt data over the wire.
Other updates in Scality Ring8 include support for the latest OpenStack Swift API and Amazon's S3 bucket lifecycle transition API for data tiering and AWS bucket notification APIs. Ring8 also enhances multi-tenancy for service provider deployments with support for S3-based quotas and AWS Identity and Access Management (IAM) bucket policies.
Object storage is a very mature market now. If you want to play on every table, from service providers to large organizations, you have to give options.

Enrico SignorettiSenior data storage analyst, Gigaom
"Object storage is a very mature market now. If you want to play on every table, from service providers to large organizations, you have to give options. Having all of these features is important," said Enrico Signoretti, a senior data storage analyst at Gigaom.
Julia Palmer, a research vice president at Gartner, said Scality's native support for file and object protocols positions the company well to address unstructured data storage needs. She added that Scality is one of the first object storage vendors to recognize the need to make hybrid cloud workflows possible, through its Ring8 and Zenko-XDM cloud data orchestration.
"IT leaders are looking to take advantage of public cloud agility, efficiency and cloud computing capabilities and are only willing to invest in products that will enable hybrid cloud workflow," Palmer said.
Scality Ring pricing will remain unchanged with XDM bundled into the product. The list price for a single-site hardware lifetime license is $150 per TB, with a minimum purchase of 200 TB. Scality offers an open source CloudServer suited to deployments of up to 200 TB of usable capacity.
Hardware options include Hewlett Packard Enterprise's rebranded HPE Scalable Object Storage with Scality Ring. Cisco Systems resells Ring on its UCS servers through channel partners. Scality also has a historical reseller relationship with Dell EMC that predates Dell's acquisition of EMC, which has its own object storage product.
Pricing for the separately sold Zenko Enterprise Edition starts at $86 per terabyte, per year. Customers also have the option to use a free open source edition of Zenko.