Sashkin - Fotolia
Scality launches NAS Archiver to migrate cold file data
Scality's new NAS Archiver product assesses tier-1 NAS systems for inactive data and lets customers set policies to move the data to its Ring object and file storage.
Object storage specialist Scality introduced a new NAS Archiver product to move cold data off primary filers to a more economical alternative.
The Scality software scans the NAS systems to identify infrequently accessed files, reports the findings and lets customers set policies to automatically migrate cold data based on file age, file type, file size or more granular options.
"If you run these assessment tools, you find out that in many cases half or more of the tier-1 NAS is filled up with files that haven't been touched in over a year," said Paul Speciale, Scality's chief product officer. "Sometimes you even find that 60%, 70% or 80% of the files are inactive."
Speciale said customers had been asking sales representatives for ways to address the problem of NAS systems hitting full capacity. He said Scality had directed customers to third-party partners in the past, but last year, decided to build its own data migration product to make it easier for them.
How NAS Archiver works
NAS Archiver can run on a virtual machine or a discrete server. The Scality software replaces each migrated file with a stub pointing to the file's new location and maintains a database to catalog the records. The small stub file resides on the primary NAS system and redirects data requests to Scality's Ring storage. Because the NAS Archiver is not in the I/O path, the data goes directly from the Ring to the NAS system for rehydration, Speciale said.
Scality's Ring object storage scales out on inexpensive commodity server hardware. Ring also supports NFS and SMB and provides tier 2 file storage. Speciale said Ring can provide high throughput for large files, but it is not a primary tier-1 NAS system suitable for applications that require high IOPS or random I/O. He said data access latency could be in the range of 1 millisecond to 5 milliseconds with tier-1 NAS systems such as NetApp or Dell EMC Isilon, whereas it would exceed 10 milliseconds with the Ring system.
"It's the price you pay in any scale-out system for having scalable capacity," Speciale said.
List pricing for Scality's NAS Archiver starts at $76,000. Although NAS Archiver is available as a stand-alone product and technically could move data to any object storage, Speciale expects most customers will use it to move data to Scality's Ring.
"Object storage is cheaper than NAS in the end," GigaOm research analyst Enrico Signoretti said. Signoretti said he expects current customers will purchase additional capacity from Scality to archive their NAS data, and potential new customers will see Scality demonstrate an additional use case for its software.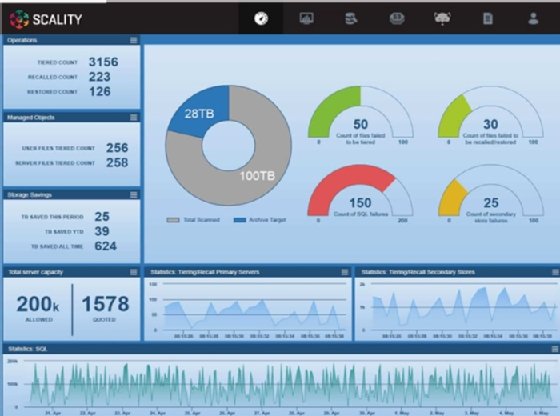 Scality created a NAS Archiver online calculator to give customers a rough estimate of the backup footprint reduction they might achieve based on the capacity of their NAS systems, the percentage of inactive data, and their backup retention policies.
"Not only are we offloading a large percentage of files on the tier-1 NAS, it also means you don't have to do as much backup on that NAS system or create as many snapshots," Speciale said. "And once things are on the Ring, it's highly durable and persistent for long term."
Data migration competitors for NAS Archiver include Hewlett Packard Enterprise's Data Management Framework (DMF), Komprise's Elastic Data Migration and Spectra Logic's StorCycle.
Amita Potnis, a research director in IDC's enterprise infrastructure practice, said NAS Archiver would give Scality customers a product that is tightly integrated with the Ring storage instead of third-party options that might require testing to ensure the data movement happens accurately.
"From a general functionality standpoint, there are competitive products in the marketplace, so I wouldn't consider this groundbreaking," Potnis said. "But cost is an important thing for any end user, and this allows Scality to be tier 2 two storage in an environment where more expensive and more performant NAS can be used more effectively."