Fotolia
Komprise stretches NAS migration tool for multi-cloud use
Komprise's Elastic Data Migration moves beyond NAS-to-NAS migration over LANs to enable customers to shift file and object data over WANs to one or more public or private clouds.
Komprise rearchitected the NAS-to-NAS migration tool it launched a year ago to address the customer pain point of moving data across a wide area network to one or more sites or clouds.
The startup created the stand-alone Analytics-Driven Data Migration tool strictly for NAS migrations over a local area network (LAN). Komprise renamed the product Elastic Data Migration with the newly added capabilities for a WAN. Elastic Data Migration is available as a stand-alone product or as part of the more comprehensive Komprise Intelligent Data Management application.
Customers can still use Elastic Data Migration for NAS-to-NAS migrations over a LAN. But they'll now also be able to move data from on-premises NAS or object systems across a WAN to file or object stores in one or more public clouds, as well as between public clouds.
Migrations are a big problem with traditional NAS systems, especially those of significant size, according to Enrico Signoretti, a research analyst at GigaOm. He said most IT organizations use free tools such as rsync and robocopy to migrate.
"The problem is that these migrations are complex, bandwidth is limited at times, and you won't get them done as soon as possible" with the free software, Signoretti said.
Signoretti said the Komprise Elastic Data Migration software would simplify and speed the operation and minimize downtime, as well as the impact on end-user productivity.
Data migrations are really hard. There's lots of ways to solve the problem, and none of them are perfect.

Scott SinclairSenior analyst, ESG
Data migration was the second most commonly identified challenge related to file storage in an August 2019 survey of 372 IT professional done by Enterprise Strategy Group (ESG). ESG senior analyst Scott Sinclair said in addition to free software, major storage vendors and cloud providers offer migration options, but the tools are generally designed to move data to their own systems.
"Data migrations are really hard. There's lots of ways to solve the problem, and none of them are perfect," Sinclair said. "Having a tool that makes it incredibly easy for 'any to any' file movement simplifies one of the most complex, time-consuming and riskiest processes in IT right now, which is doing a big migration of a bunch of file storage."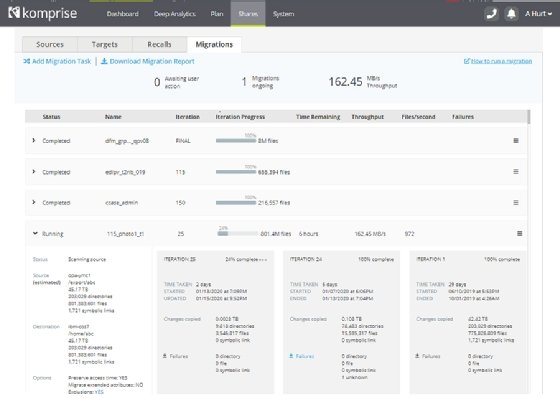 Komprise makes substantial changes
Komprise substantially changed its original migration tool to address the latency issues associated with WAN-based migrations. Elastic Data Migration automatically adapts and manages parallelism at multiple levels -- including file shares and volumes, directories and threads -- to balance the load and improve performance.
"We do that for these WAN situations because you want to eke out any performance gain that you can get to minimize the network latency," Komprise COO Krishna Subramanian said. "This auto parallelism at different levels is actually technically not easy to do, but it's required if you want to be efficient over a WAN."
Elastic Data Migration seeks to minimize round trips over the network and NFS protocol "chatter" to improve efficiency and performance. The Komprise tool also does MD5 checksums on every file or object to ensure the migrated data remains intact with all its associated permissions and metadata.
"Many of our customers are now going to multi-cloud, and they've been asking for our data migration to be efficient over a high-latency network," Subramanian said. "Increasingly, customers are saying, 'I'm going to turn off this data center and just go to the cloud.' Or, 'I don't want to just go to one cloud, I want to go to two clouds. I want to take everything in my Amazon cloud and copy it into the Azure cloud.'"
Common migration use cases
The most common migration use cases are going from NFS-to-NFS or SMB-to-SMB file-based storage, or S3-to-S3 object stores -- not from file-based storage to object-based storage, Subramanian said. She drew distinctions between migration, where a customer turns off the original storage system and completely moves data to another system, and archiving, where a customer shifts cold data to the cloud but keeps the original storage running.
Subramanian said cloud file storage options such as Amazon's Elastic File System (EFS) and FSx for Windows File Server, Azure Files, Google Cloud Filestore and NetApp Cloud Volumes OnTap are growing in popularity.
Although Komprise can migrate file data to object stores in the cloud, Komprise has no designs on becoming a cloud gateway, such as Nasuni or Panzura, with a file system. Subramanian said Komprise will continue to concentrate on analyzing, moving and managing data.
"We are giving you a view to the data, but we are not actually saying use us as the front end to your data," Subramanian said. "If you are in [AWS] S3 and you want to promote some data to EFS and find those files, we give you a file view so you can find the files you want and move them to EFS. We're not doing primary data access."
Komprise Intelligent Data Management costs $130 per terabyte, and Elastic Data Migration is $95 per terabyte, with volume discounts available.